CrimpLab 2
Comprehensive Software for Crimp Cross Section Analysis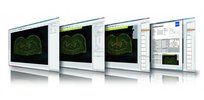 Overview
The CrimpLab 2 software is designed specifically for the analysis of cross sectioned terminals and replaces the previous software version, CrimpLab 1. Two different versions of the updated software are available, CrimpLab 2 Standard and CrimpLab 2 Automatic, both with many enhancements that make cross section analysis easier than ever. With the CrimpLab 2 Standard software users can measure all critical crimp dimensions using simple measurement tools. The CrimpLab 2 Automatic software features an automatic contour recognition function allowing users to measure all cross section dimensions of standard B-crimps automatically with just a few clicks. Automatic measurements can be taken in a fraction of the time required with manual measurements therefore efficiency is significantly increased when using CrimpLab 2 Automatic software.
Separate jobs can be created including critical dimensions and tolerances for each terminal and wire size combination. Job information indicates which measurements are required for that particular job since different users might have different requirements. The user can instantly see if the measurements pass or fail. When all measurements are taken, a complete report can be quickly generated and saved in a clear .pdf format. The reports include photos and all dimensions compared to nominal values and tolerances. Quick measurements are also possible for samples not loaded into jobs.
CrimpLab 2 analysis software makes cross section analysis simple, fast and traceable.
Application Range
CrimpLab 2 is designed for use with Schleuniger MicroGraph and SawInspect Systems. All key dimension requirements according to the VW 60330 standard can be measured, including critical heights, widths and angles. Additionally, strands can be counted, crimp compression and crimp symmetry can be determined, and physical measurement data can be imported from crimp height measurement devices. Users can also analyze other aspects of processed wire ends such as strip quality and wire position in the crimp.
Comprehensive software designed specifically for crimp cross section analysis with simple tools for all critical measurements.
Save time with predefined job templates for a variety of measurements
Clear and comprehensive reports are quickly generated for complete traceability
User management with language selection
A variety of languages are supported for worldwide use
All other aspects of processed wire ends can be evaluated quickly and easily
Fully automatic cross section analysis in seconds with CrimpLab 2 Automatic software
Technical Data
Analysis

All measurements required by VW Norm 60330 as well as strand count, symmetry, compression ratio, external crimp height measurement device (CHM)

Measuring Method

CrimpLab 2 Standard: Manual
CrimpLab 2 Automatic: Automatic with manual adjustment capability

Order Management

Definable requirements and settings for simple recall such as:

Company name and logo
PDF Reports
Required measurements for each job
Tolerance values

Reporting

PDF report including cross section photo, job information, test data, terminal data, wire data, measurements and results

Language

English, German, Portuguese, Polish, Czech, French, Bulgarian, Spanish, Italian, Chinese, Japanese

System Requirements

CPU: Intel Core 2 Duo or higher
RAM: 2 GB
Hard disk: min. 1 GB available
Graphics card: min. resolution of 1024 x 768, DirectX 9 compatible
Slots: 2 free USB slots (1x License Dongle, 1x camera)
Auxiliary equipment: Mouse and keyboard
Operating systems: Windows XP (32Bit/64Bit), Windows Vista (32/64Bit), Windows 7 (32/64Bit), Windows 8
(32/64Bit; without RT versions)
Crimp Micrograph Analysis