The Schleuniger family says THANK YOU!
Die Schleuniger-Familie sagt DANKE!

"orange. electrifies. - one family. endless ideas." - with this motto we welcomed our guests at productronica21.
In our luggage we had not only Bavarian pretzels and doughnuts, but numerous innovations and proven products with some novelties. Our subsidiaries and partners KMF from Sömmerda (new: Schleuniger Messtechnik), Cirris from Salt Lake City, DiIT from Krailling and adaptronic from Wertheim were also present. Visitors to the booth were able to see complete production lines, semi-automatic production and test solutions, fully automatic modular process platforms and new benchtop machines from the Schleuniger family portfolio. The range was rounded off with specialized test setups, innovations for quality assurance and industry-specific software.
Parallel to the live trade fair, we broadcast an online event from the trade fair building. In virtual presentations and direct broadcasts from Schleuniger locations, everyone who could not be on site could experience our product range and ask the speakers questions in live Q&As.
"orange. electrifies. – one family. endless ideas." - mit diesem Motto begrüssten wir unsere Gäste an der productronica21.
Im Gepäck hatten wir nicht nur bayerische Brezeln und Krapfen, sondern zahlreiche Innovationen und bewährte Produkte mit einigen Neuheiten. Unsere Tochter- und Partnerfirmen KMF aus Sömmerda (neu: Schleuniger Messtechnik), Cirris aus Salt Lake City, DiIT aus Krailling und adaptronic aus Wertheim waren mit von der Partie. Die Standbesucher konnten aus dem Portfolio der Schleuniger -Familie komplette Produktionslinien, halbautomatische Produktions- und Testlösungen, vollautomatische modulare Prozessplattformen und neue Benchtop-Maschinen kennenlernen. Mit spezialisierten Testanordnungen, Neuheiten zur Qualitätssicherung und branchenspezifischer Software wurde die Palette abgerundet.
Parallel zur Live-Messe übertrugen wir eine Online-Event aus dem Messegebäude. In virtuellen Präsentationen und Direkt-Übertragungen von Schleuniger-Standorten konnten alle, die nicht vor Ort sein konnten, unsere Produktpalette erleben und den Referenten in Live-Q&As Fragen stellen.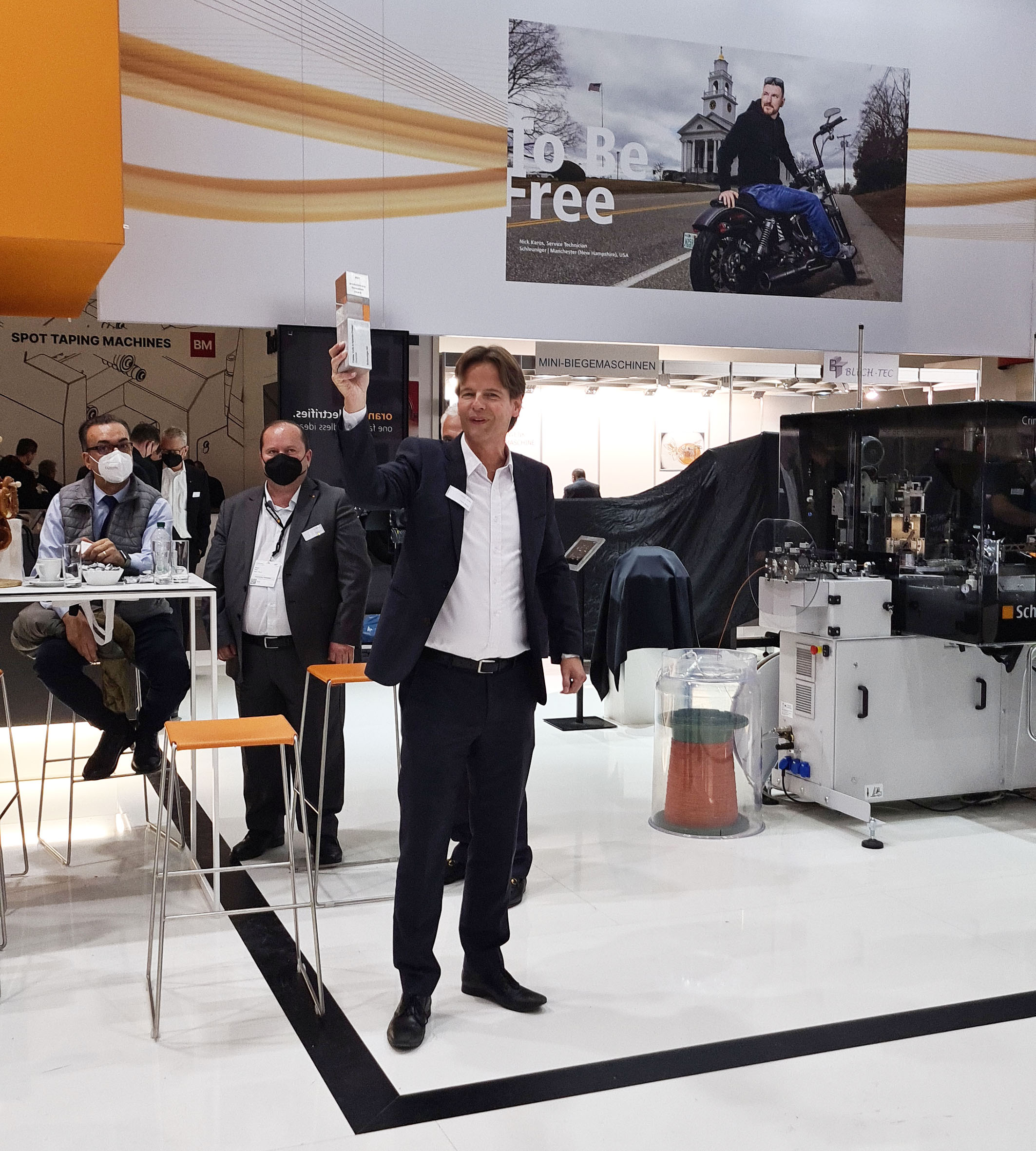 Electric vehicles are rapidly gaining popularity, so much so that the market is expected to grow exponentially over the next ten years. To prepare the automotive industry for this e-mobility boom, Schleuniger has developed the fully automatic Transfer Line Family S70.
The modular platform with unlimited expandable processing stations Transfer Line Family S70 won this year's productronica Innovation Award 2021 in the Cables, Coils, and Hybrids cluster. Schleuniger Head of Business Segment Solution, Software, and Testing and CTO Dr. Frank Breme presents our award the morning after the award ceremony.
Elektrofahrzeuge gewinnen schnell an Beliebtheit, sodass der Markt in den nächsten zehn Jahren exponentiell wachsen soll. Um die Automobilindustrie auf diesen E-Mobilitäts-Boom vorzubereiten, hat Schleuniger die vollautomatische Transfer Line Family S70 entwickelt.
Die modulare Plattform mit unbegrenzt erweiterbaren Verarbeitungsstationen Transfer Line Family S70 gewann den diesjährigen productronica Innovation Award 2021 im Cluster Cables, Coils, and Hybrids. Schleuniger Head of Business Segment Solution, Software, and Testing und CTO Dr. Frank Breme präsentiert unseren Award am Morgen nach der Preisverleihung.
Impressions | Impressionen