JacketStrip 8310
Stripping Machine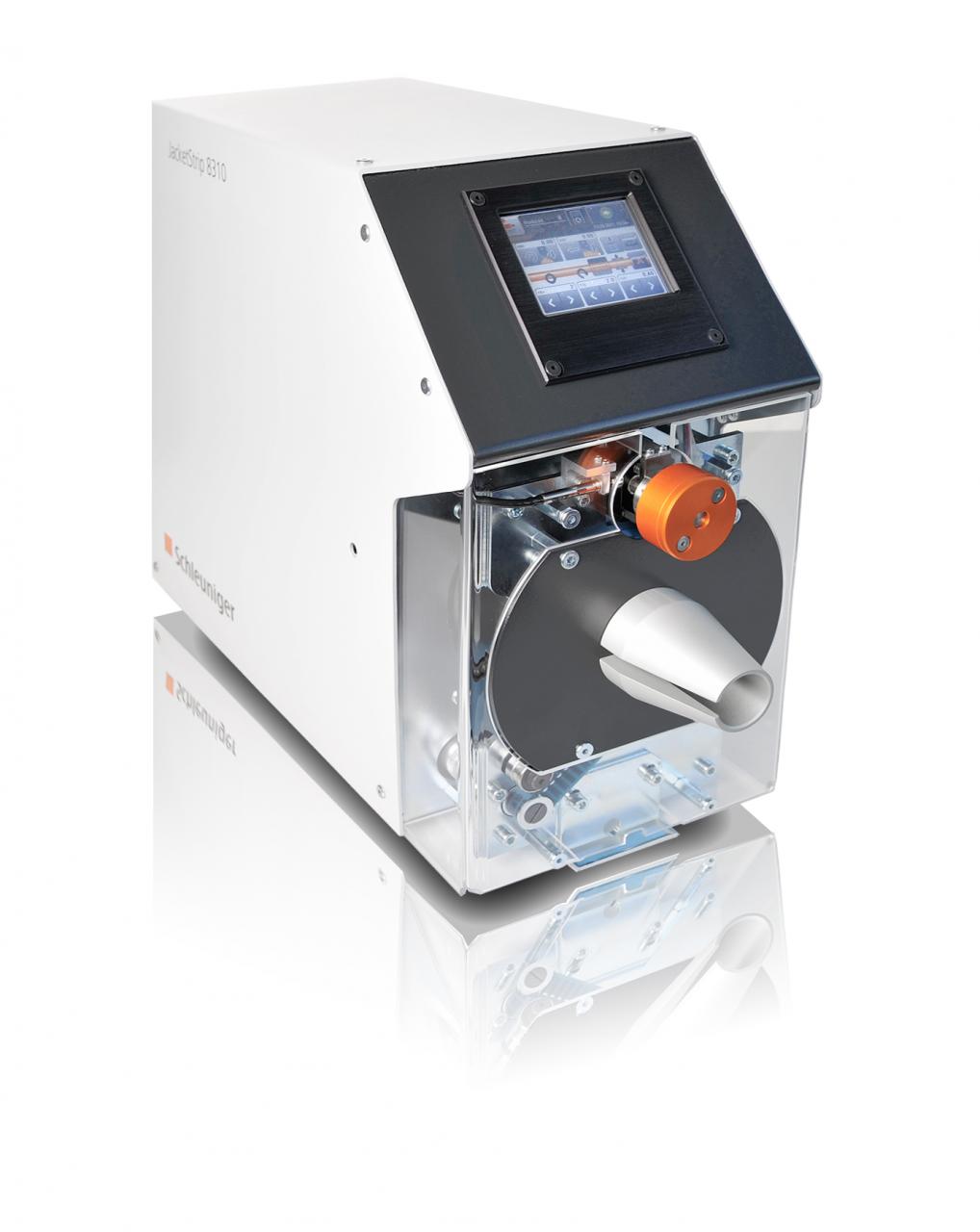 Overview
The JacketStrip 8310 axially and radially slits the insulation of out-of-round and multiconductor cables from 2.5 - 25 mm (0.1" - 1'') O.D. and up to 500 mm (19.7") in stripping length without any damage to the inner conductors or shielding.
Processing of out-of-round and twisted pair cables
No blade changes required
Intuitive programming via color touchscreen
Digital display of axial and radial blade depths
Universal 4-jaw cable centering system with wayback function
Barcode scanning function
Application Range
The JacketStrip 8310 precisely slits the outer jacket of insulated cables. Due to the unique floating blade system, round or out-of-round cable jackets can be processed without damaging the cable layers beneath. Radial and axial slits can be performed as required to facilitate jacket removal in a secondary manual operation. Simple operation, short cycle times and a universal blade design guarantee a good return on investment. A rotating blade, which precisely follows the surface of the jacket, ensures precise radial slitting of the cable jacket. Optionally, the cable jacket can be slit lengthwise while extracting it from the machine. After the slits have been made, the insulation jacket can easily be removed by hand.
Material
Cable
Discrete Wire
Kapton
PUR
Multiconductor Cable
PVC
Rubber
Single-Conductor Cable
Solid Wire
Stranded Wire
Teflon®
Tefzel®
Wire
Processing Capabilities

Jacket slitting

Multiconductor cable processing (jacket only)

Out-of-round cable processing (jacket only)

Power cable processing
Technical Data
Raw Material Diameter

2.5 - 25 mm (0.1 - 1.0")

Diameter Precision
+/- 0.03 mm (0.001")
Strip Length

adjustable from 10 - 500 mm (0.4 - 19.7")
(infinite length without scale)

Cycle Time

At least 2 s (depending on processing mode and stripping specifications)

Blade

1 universal radial blade
1 universal axial blade

Raw Material Type

PVC, PUR, rubber, Teflon, Tefzel, Kapton, etc.

Interfaces

Foot pedal, USB "Host", I/O

Compressed Air Connection

6 bar (90 psi)

Power Supply

100/115 VAC, 230/240 VAC, 300 VA, 50/60 Hz

Noise Level

<70 dB (A)

Dimensions (L x W x H)

470 x 190 x 355 mm (18.5" x 7.5" x 13.9")
Without guide tube for length scale

Weight

26.5 kg (58 lbs)

CE Conformity

The JacketStrip 8310 fully complies with all CE and EMC equipment guidelines relative to mechanical and electrical safety and electromagnetic compatibility.
More Info
Adjustable Processing Parameters
Blade depth: Radial/axial blade
Stripping position
Programmable Processing Parameters
Rotational speed of the stripping head
Features
No blade changes required
Universal 4-jaw cable centering system with wayback function
Intuitive programming via color touchscreen
Digital display of axial and radial blade depths
Barcode scanning function