UniStrip 2545
Stripping Machine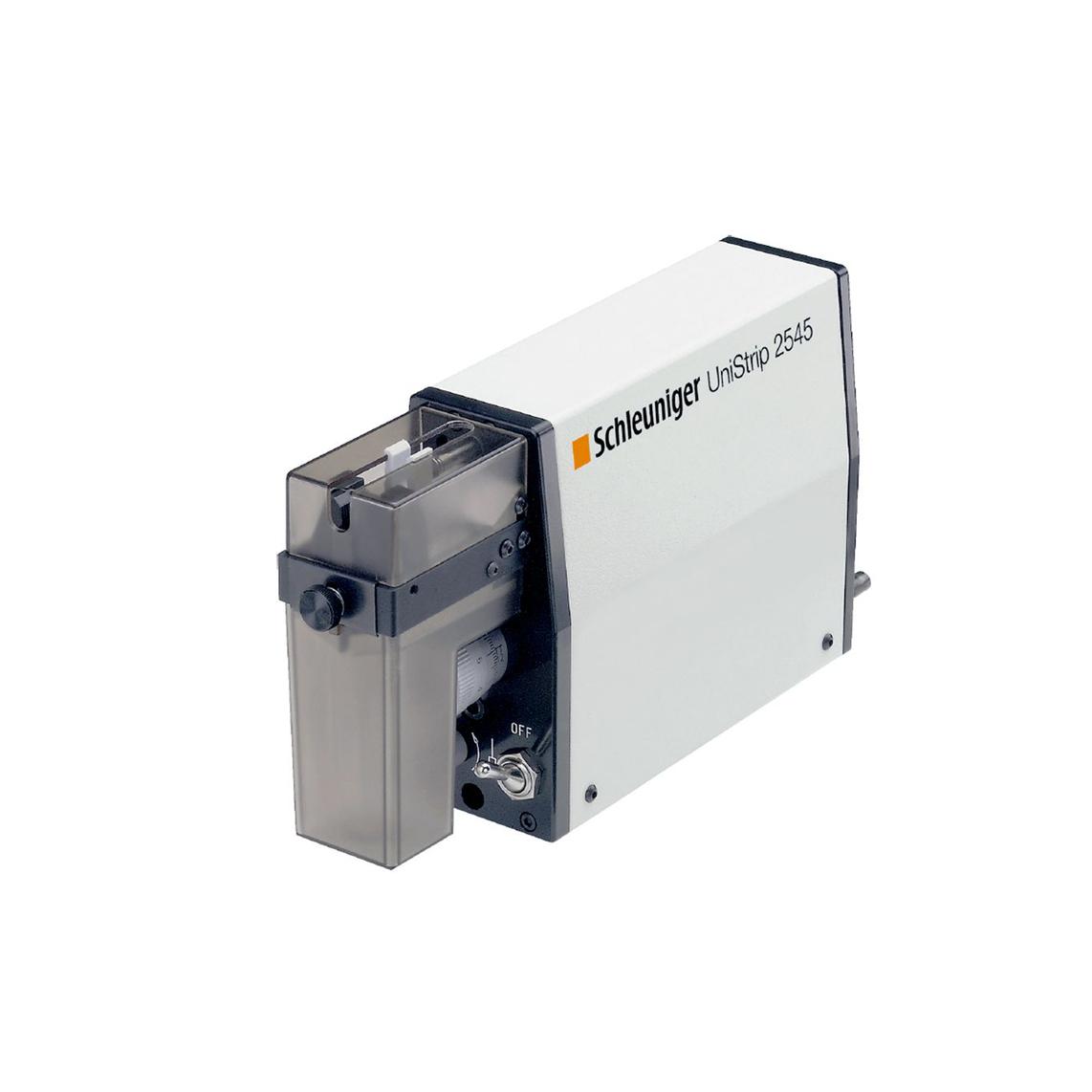 Overview
The UniStrip 2545 is a pneumatic wire and cable stripping machine specifically designed for jacket stripping of glass optical fiber (GOF) cables and discrete wires up to 3.2 mm (0.12'') O.D. At a wire size range of 0.03 - 2.08 mm² (AWG 14 - 32), the compact machine strips lengths from 25 up to 45 mm (1" - 1.8'').
For partial strips with very long stripping length
Extremely short cycle times
No blade changeover necessary
Simple machine operation
Robust & reliable
Application Range
The UniStrip 2545 is mainly used for jacket stripping of fiber optic cables. The machine operates with extremely fast cycle times and features a universal blade system that eliminates time-consuming changeovers. Absolute precision, high cost effectiveness, and a very short return on investment are the main characteristics of this machine.
Material
GOF (Glass Optical Cable)
PVC
Technical Data
Conductor Cross Section

0.03 – 2.08 mm² (32 – 14 AWG)

Raw Material Diameter

Maximum 3.2 mm (0.12")

Diameter Precision

0.01 mm (0.001")

Strip Length

25 - 45 mm (1 - 1.8")

Strip Length Increment

Full strip: 0.5 mm (0.019")
Partial strip: 2.0 mm (0.078")

Cycle Time

approx. 0.3 s

Compressed Air Connection

5 - 7 bar (75 - 105 psi)

Noise Level

<75 dB (A)

Dimensions (L x W x H)

265 x 70 x 135 mm (10.4" x 2.8" x 5.3")

Weight

Net: 2.0 kg (4.4 lbs.)
Gross: 2.4 kg (5.3 lbs.)

CE Conformity

The UniStrip 2545 fully complies with all CE and EMC equipment guidelines relative to mechanical and electrical safety and electromagnetic compatibility.
More Info
Adjustable Processing Parameters
Stripping lengths partial strip
Stripping lengths full strip
Stripping diameter
Stripping position
The Versatile Specialist for Highest Quality Demands
The pneumatically operated UniStrip 2545 stripping machine excels with its compact design, fast cycle times and infinite settings for conductor diameters, stripping and pull-off lengths.