Strip Series B540
Stripping Machine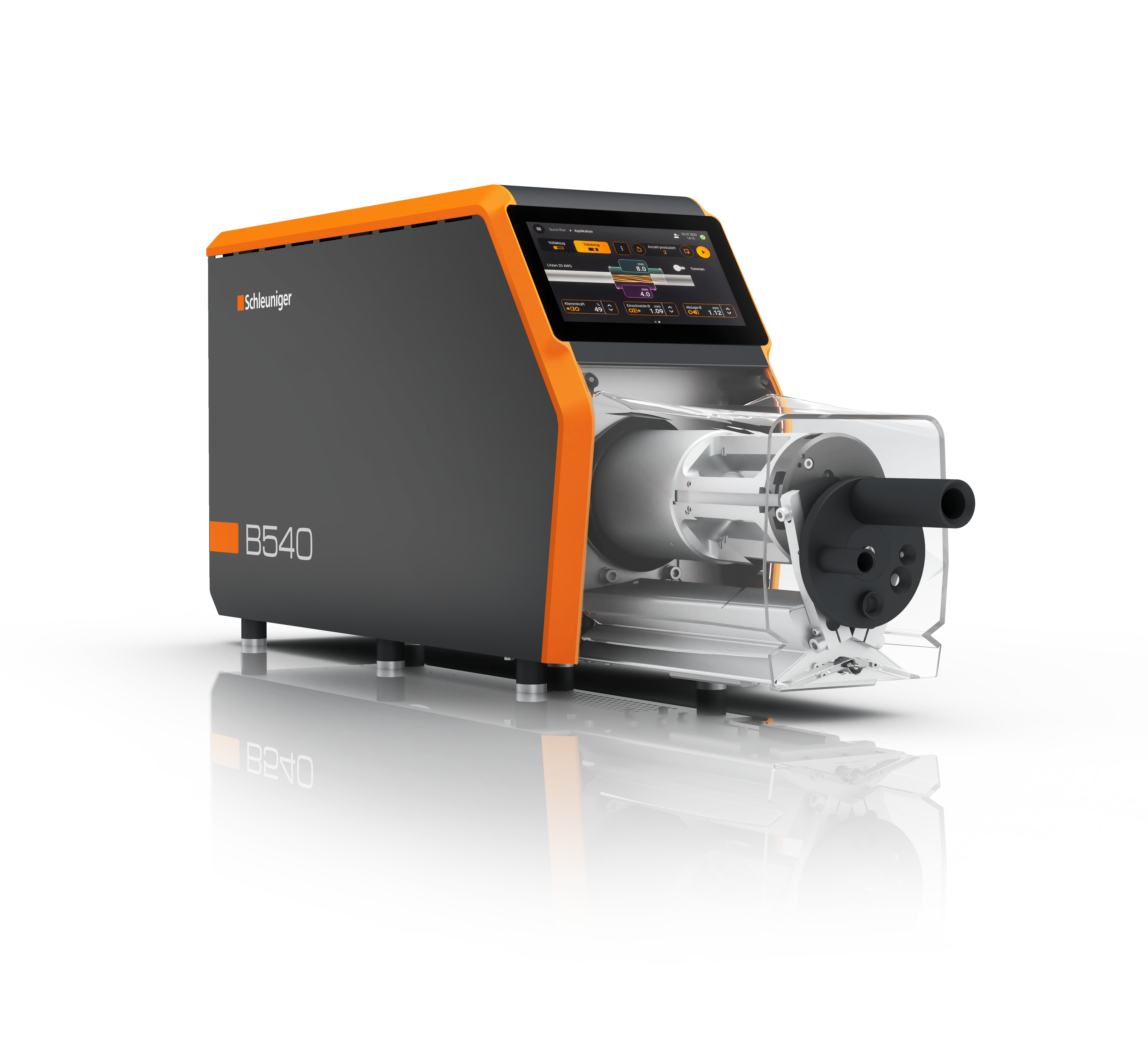 Overview
The programmable Strip Series B540 strip machine is perfectly suited for processing coaxial, multiconductor and single-conductor cables. It processes simple stranded wires and multiconductor cables with a cross section from 0.75 to 100 mm² (18 to 4/0 AWG) and a diameter of up to 17 mm (0.67"), thus achieving a strip length of 100 mm (3.92") and a pull-off length of 103 mm (4.05"). Thanks to the 4-blade concept, very thin, strongly adhesive and even slightly out-of-round insulation can be processed. The B540 can also be used to precisely strip Kapton and silicone jacketing as well as demanding materials such as PUR, PVC, rubber, Teflon®, Tefzel® or textile glass braiding.
Its sophisticated control system, the repeat accuracy and advanced precision mechanics ensure high productivity. The blades and universal clamp jaws on the B540 can be used across the entire range of cable processing applications – machine downtimes due to changeovers are eliminated.
Ergonomic operation and programming via a well-arranged, high-resolution 7" color touch screen also contribute to increased productivity. Thanks to the state-of-the-art software interface with new support functions, the B540 is quick to deploy and extremely easy to operate without programming knowledge.
Application Range
Material
Cable
Wire
Coaxial Cable
Multiconductor Cable
Single-Conductor Cable
Solid Wire
Discrete Wire
Stranded Wire
High-Voltage Cable
Kapton
Teflon®
Textile glass braiding
PUR
PVC
Rubber
Silicon
Tefzel®
Processing Capabilities

Full strip

Multiconductor cable stripping

Multistep stripping

Partial strip

Twisting function
Technical Data
Conductor Cross Section - Strip
0.75 to 100 mm 2 (18 to 4/0 AWG)
Raw Material Diameter
Max. 17 mm (0.67")
Strip Length
Max. 100 mm (3.94")
Pull-off Length
Max. 103 mm (4.05")
Power Supply
100 VAC to 240 V AC, 50/60 Hz
Compressed Air connection
7 bar (with optional air kit)
Dimensions (l x w x h)
872 x 192 x 357 mm (34.33"x 7.55" x 14.05")
Weight
25.7 kg (56 lbs.)
Declaration of Conformity
The B540 fully complies with the CE and EMC machinery directives relating to mechanical and
electrical safety and electromagnetic compatibility, as well as UKCA, UL, and CSA
More Info
Options
Air kit for blowing out cable cut-offs as an option or retrofit
Blades with different cutting angles, e.g. for reduced deformation of the shield
Features
No blade change for all processable cables
No mechanical adjustments for changing the cable
Processing parameters in mm² and AWG
Sequential processing of multi-conductor cables, including jacket and inner conductor stripping in programmable sequence
Barcode scanner function
Programmable processing parameters, including
Strip and pull-off length
Incising diameter
Blade opening before pull-off (pull-off opening)
Clamping force
Twisting parameters