PullTester 325
Pull Testing Machine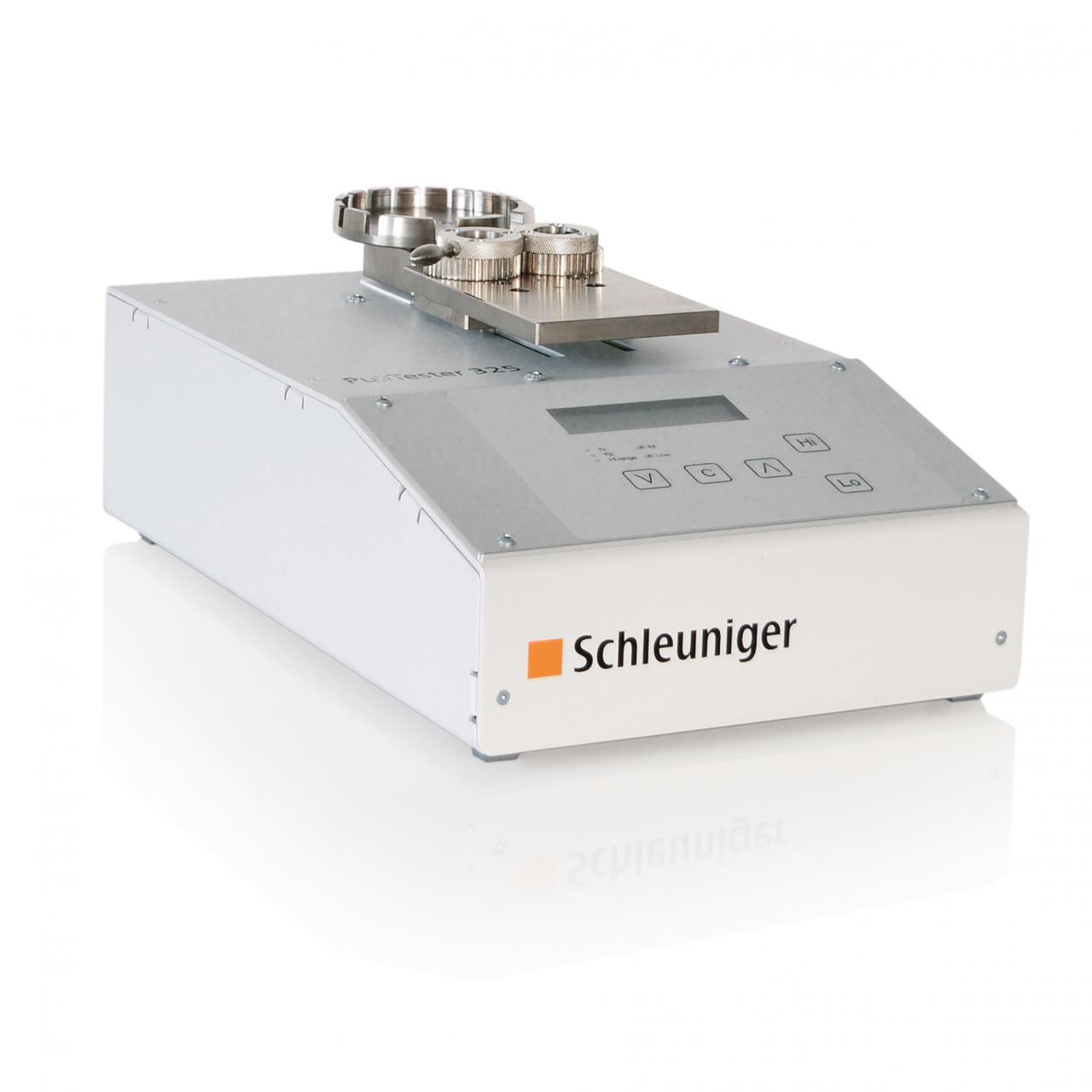 Overview
The PullTester 325 is a triple-range, motorized benchtop device for measuring pull forces of crimp connections, welded connections or many other possibilities. The triple-range capability gives the PullTester 325 incredible application flexibility to handle a wide variety of testing applications. Furthermore, this unique capability provides greater accuracy on a broader range of wires than single-range pull test devices. The PullTester 325 is specially suited for quality assurance in a production environment.
3 selectable force ranges for improved accuracy over a wider range of wires
2 selectable pulling rates
Speed-controlled motor for consistent pull rates
Simple LCD display for easy programming & reading
Repeatable & accurate data
Variety of possible terminal (crimp) and wire holders
Standard RS 232 interface for curve analysis with optional WinCrimp PC software
Application Range
This versatile machine has two versions depending on required pull rates. Both versions include three measuring ranges, which are individually calibrated. The standard measuring ranges are 200 N, 1,000 N and 2,000 N (45 lbf., 225 lbf., 450 lbf.), however, other variations are available by special order.
PullTester 325-25: 200 / 1,000 / 2,000 N (45 / 225 / 450 lbf.) @ 25 / 50 mm/min (0.98 or 1.97"/min)
PullTester 325-50: 200 / 1,000 / 2,000 N (45 / 225 / 450 lbf.) @ 50 / 100 mm/min (1.97 / 3.94"/min)
Hand actuated or pneumatic pull test devices can give inconsistent data depending on the operator or pull rate. Some standards specify that a test device must pull with a consistent rate. The Schleuniger PullTester 325 is equipped with a speed-controlled motor, ensuring consistent pull rates throughout the measuring range resulting in repeatable and accurate data. Pull forces can be measured in poundforce, Newtons or kiloponds. The standard 14-position terminal holder accommodates a wide variety of terminals to suit most applications. A variety of terminal holders, however, are available upon request.
Technical Data
Measuring Range

Standard: 0 – 200 N, 0 – 1,000 N, 0 – 2,000 N
(0 – 45 lbf., 0 – 225 lbf., 0 – 450 lbf.), other variations available by special order

Unit of Measure

Newton (N), Kilopond (Kp), Poundforce (lbf )

Display

LCD 6-digit

Pressure Precision

0.5% of measurement range

Operating Temperature

0 – 50° C (0 - 122° F)

Stroke

43 mm (1.69")

Pulling Speed

2 speeds: 50 or 100 mm/min (1.97 or 3.94"/min.)
Optional: 25 or 50 mm/min (0.98 or 1.97"/min)

Pulling Modes

Pull + Break: normal pull test until wire breaks

Memory Capacity

Not available

Monitoring

Device display output; Optional WinCrimp Basic software for visual force-time-graph on a PC for evaluation with simple transfer capability to Microsoft® Excel.

Write Protection

IP 20

Printing Capability

RS 232 connection directly to printer or via PC using WinCrimp Software

Network

In combination with crimp force monitor and crimp height measurement device via WinCrimp software. Only one device with RS 232 network. Multiple devices with RS 232-TCP/IP adapters.

Interfaces

RS 232

Motor

Motor 24 DC

Weight

Approximately 11 kg. (24 lbs.)

Dimensions (L x W x H)

250 x 130 x 410 mm (10 x 5 x 16")

CE-Conformity

The PullTester 325 fully complies with all CE and EMC equipment guidelines relative to mechanical and electrical safety and electromagnetic compatibility.

Important Note

Schleuniger recommends that wire samples be submitted in cases where there is doubt as to the processing capabilities of a particular machine.
More Info
Features
3 force ranges: 200 N (45 lbf.) / 1,000 N (225 lbf.) / 2,000 N (450 lbf.) for improved accuracy over a wider range of wires
2 selectable pulling rates
Simple LCD display for easy programming and digital pull force read out
Speed-controlled motor for consistent pull rates throughout the measuring range
RS 232 interface for curve analysis with WinCrimp software
Flexible construction to accommodate many different applications
Options
Terminal and wire holders for many applications
Custom terminal and wire holders
WinCrimp basic software
Alternative force ranges
Network cables and accessories
Models
PullTester 325 -25
PullTester 325- 50