PullTester 28
Pull Testing Machine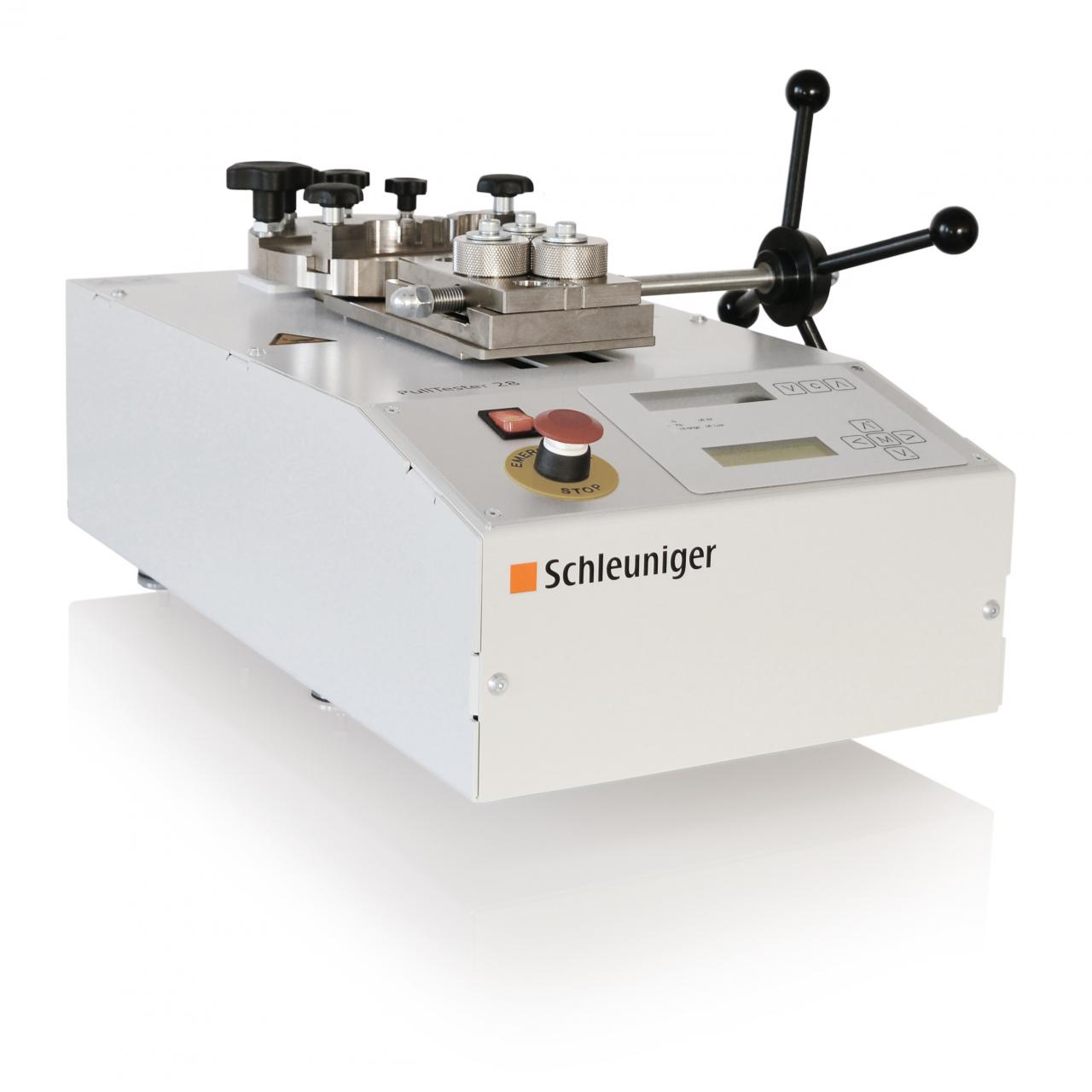 Overview
Schleuniger's PullTester 28 is a dual-range, motorized benchtop device designed to measure pull forces of wire crimp connections as well as ultrasonic metal welding connections on a wider range of wire than single-range pull test devices. The PullTester 28 is specially suited for quality assurance in a production environment.
Speed -controlled motor provides extremely consistent readings
3 pulling modes for destructive & non-destructive tests
Simple LCD display for easy programming and read out
Standard RS 232 interface for curve analysis and downloading test data
Networking capabilities
Application Range
Schleuniger's PullTester 28 is a dual-range, motorized, bench-top unit designed to measure pull test forces of crimp and ultrasonic weld connections on a wider range of wires than single-range pull test devices. Pull test values are critical parameters for quality control and assurance. The PullTester 28 can also perform non-destructive tests (hold to a specified force). This versatile machine has two versions with two measuring ranges each, which are individually calibrated enabling use for small or large cables.
PullTester 28 (standard): 2,000 / 5,000 N (440 / 1,100 lbf.)
PullTester 28-10 (special): 5,000 / 10,000 N (1,100 / 2,200 lbf.)
This dual-range capability ensures the highest accuracy for the widest range of applications. Hand actuated or pneumatic pull test devices can give inconsistent data depending on the operator or pull rate. Some standards specify that a test device must pull with a consistent rate. The Schleuniger PullTester 28 is equipped with a speed-controlled motor, ensuring consistent pull rates throughout the measuring range resulting in repeatable and accurate data. Pull forces can be measured in poundforce, Newtons or kiloponds. The terminal holder can be designed and manufactured based on your application. In addition, a variety of terminal holders are available upon request.
Technical Data
Measuring Range

Standard: 2,000 / 5,000 N (440 / 1,100 lbf.)
Special: 5,000 / 10,000 N (1,100 / 2,200 lbf.)
Other combinations possible

Unit of Measure

Newton (N), Kilopond (Kp), Poundforce (lbf)

Display

Upper: LCD 6-digit for force readings
Lower: LCD 4-line for programming and operation

Pressure Precision

+ 0.5% of full scale

Stroke

80 mm (3.14")

Pulling Speed

4 speeds: 50, 75, 100 mm/min. or high speed
(1.97, 2.95, 3.94"/min. or high speed)

Pulling Modes

Pull + Break: Normal pull test until wire breaks
Pull + Hold: Pull to a specified force and hold for up to 252 min. (nondestructive test)
Pull + Return: Pull to a specified force and reduce (non-destructive test)

Memory Capacity

Up to 48 jobs with 50 measurements (2,400 measurements)

Monitoring

Device display output; Optional WinCrimp statistical software for visual force-time-table on PC and statistical analysis for evaluation with download possibility to Microsoft® Excel software.

Safety

IP 20

Network

Multiple devices in combination with crimp force monitor and crimp height measurement device via WinCrimp software with either RS 232 or TCP/IP.

Interfaces

RS 232

Motor

24 VDC

Weight

Approx. 45 kg (101 lbs.)

Dimensions (L x W x H)

640 x 400 x 300 mm (25 x 16 x 12")

CE-Conformity

The PullTester 28 fully complies with all CE and EMC equipment guidelines relative to mechanical and electrical safety and electromagnetic compatibility.

Important Note

Schleuniger recommends that wire samples be submitted in cases where there is doubt as to the processing capabilities of a particular machine.
More Info
Features
Dual LCD displays for simple programming and operation
Speed-controlled motor for consistent pull rates throughout the
measuring range
Dual range for improved accuracy over a wider range of wires
Two versions available:

Standard: 2,000 / 5,000 N (440 / 1,100 lbf.)
Special: 5,000 / 10,000 N (1,100 / 2,200 lbf.)

Four selectable pulling rates
Three pulling modes for destructive and non-destructive tests
Memory for up to 2,400 values
RS 232 interface for curve analysis with WinCrimp software
Networking capabilities (optional)