MicroGraph System
Modular System for Crimp Cross-Section Analysis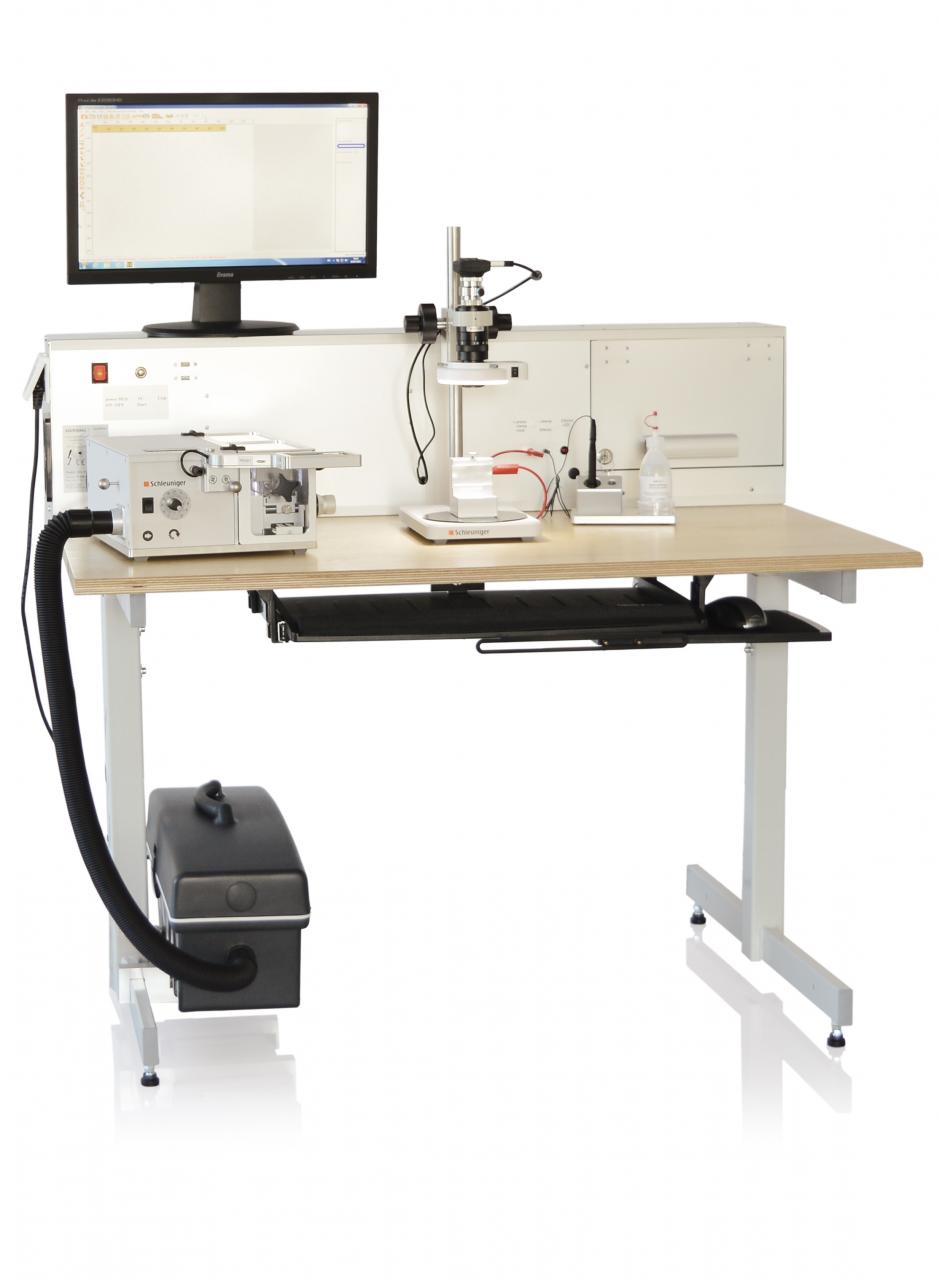 Overview
Schleuniger's MicroGraph System allows the creation of high-quality crimp cross-sectional images in a fraction of the time needed with "conventional" methods. The system is comprised of modular components that can be combined according to your individual needs.
Application Range
Crimp cross-sectional analysis has quickly become an integral part of the crimp quality process. With the MicroGraph System (MGS), crimp cross-sectional images can be created in a fraction of the time compared to conventional methods.
The combined sawing-polishing process, innovative electrolyte staining process, and high precision optics result in high quality images for thorough analysis of the connection. Electrical connections (e.g. crimped, welded, soldered or spliced) can be cut (sawed), polished, stained (cleaned), and visually analyzed.
The system includes modular components that can be combined according to individual needs. Ergonomically designed work tables are also available to optimize workflow when combining the components in one area. The complete system can also be integrated into mobile carts to create a mobile quality station.
Technical Data
Dimensions (L x W x H)

Optional Work Table (without components)
1107 x 768 x 951 mm (43.6 x 30.2 x 37.4")
Optional Mobile Cart (without components)
600 x 600 x 1200 mm (23.6 x 23.6 x 47.2")

CE Conformity

The MicroGraph System fully complies with all CE and EMC equipment guidelines relative to mechanical and electrical safety and electromagnetic compatibility.
More Info
Features
MicroGraph System (MGS)
Modular system for a variety of applications
Software interface to Schleuniger CrimpCenter family
Numerous configuration possibilities, such as table, cart or stand alone devices to suit various production requirements.
SawPolish Unit (SPU)
SPU 6 and SPU 60 units available for processing wires up to 6mm2 and 60mm2 (10 and 1/0 AWG) respectively.
In-line saw and polish discs for optimum process speed
Carbide cutting blade for long life and precise cutting
Various blade widths available for processing a wide range of wires
MacroZoom Unit 1.3 (MZU)
2.0 USB camera with 1.3 Megapixel resolution for clear picture quality
9 incremental zoom positions for calibration for measurement repeatability and accuracy
Optional auxiliary lens for expanded field of vision for larger samples
CrimpLab software for capturing all key measurements and reporting
ElectrolyteStaining Unit (ESU)
Safe and effective staining solution (Ph = 7)
Staining indicator for instant process feedback
Multiple staining pen sizes depending on the sample size