PreFeeder 1000 MX
Prefeeding Machine Dereeler Type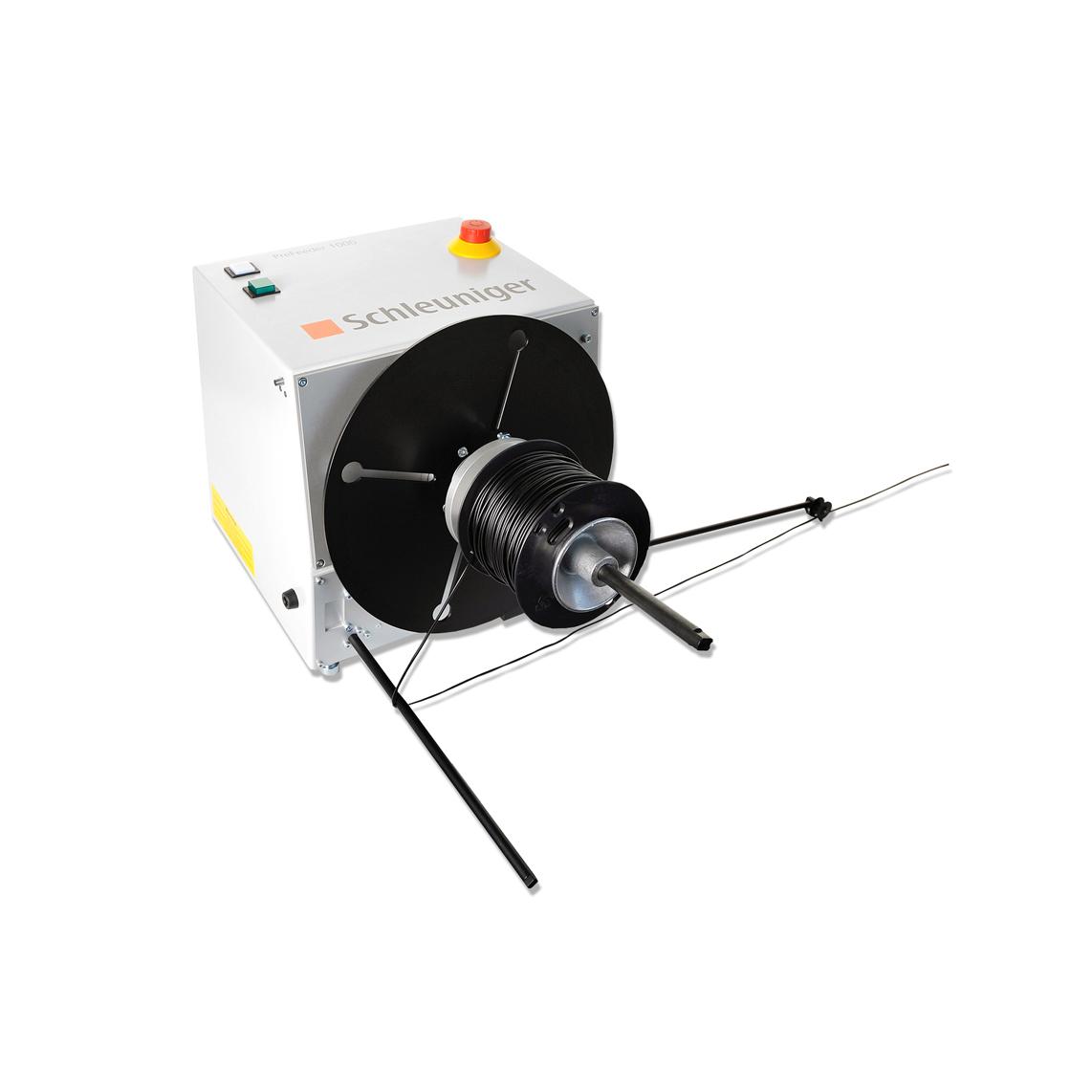 Overview
The PreFeeder 1000 MX handles 300 mm (11.81'') reels weighing up to 20 kg (44.4 lbs.) and has been specifically adapted for very thin wires ranging from 0.4 to 3.5 mm (0.016" - 0.137") outer diameter.
Application Range
The universal bench top dereeler, PreFeeder 1000 MX, is designed for constant and tension-free dereeling of thin cables. Due to an electronic control system, which is activated with a pendulum arm, the feed rate automatically adjusts to the actual requirement of any downline machine (e.g. cutting and stripping machines). The PreFeeder 1000 MX works as an active cable dereeler. The integrated dancer arm allows stress- and tension-free feeding of cable. Thanks to the closed loop concept, the PreFeeder 1000 MX can be integrated as easily into a processing line as a stand-alone system.
Technical Data
Raw Material Diameter

0.4 mm – 3.5 mm (40 - 16 AWG)

Reel Diameter

300 mm (11.81") for Applications in EU-countries (CE safety cover)
500 mm (19.69") without safety cover

Reel Width

Maximum 240 mm (9.52")

Reel Weight

Maximum 20 kg (44.4 Ibs.)

Pulling Speed

0-650 U/min.

Reel Arbor Diameter

14.5 – 70 mm (0.57 – 2.75")

Power Supply

100, 115, 230, 240 VAC, 50/60 Hz, 80 VA

Dimensions (L x W x H)

Depth: 350 mm (13.89"), 700 mm (27.55") (with CE safety cover)
Width: 350 mm
Height: 350 mm (13.8"), 700 mm (27.6") (with dancer arm)

Weight

25 kg (55.55 Ibs.)

CE-Conformity

The PreFeeder 1000 MX fully complies with all CE and EMC equipment guidelines relative to mechanical and electrical safety and electromagnetic compatibility.

Important Note

Schleuniger recommends that wire samples be submitted in cases where there is doubt as to the processing capabilities of a particular machine.
More Info
Features
Specifically designed for actively dereeling micro-coaxial cables
Extremely suitable for dereeling thin cables
Optimal cable transport due to adjustable dereeling motor
Standard serial interface for connection to cutting and stripping machines, forcing the entire installation to an immediate stop in case of any malfunction within the cable feed