Markem-Imaje 9450 E
Inkjet Printer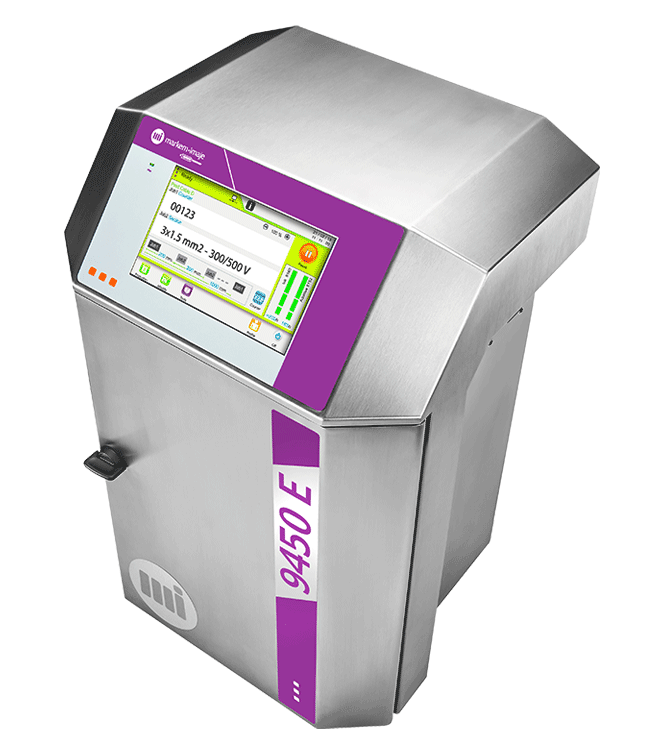 Overview
The new 9450 E inkjet printer from Markem-Imaje stands for extremely precise printing even on the smallest wires, high-quality markings in various colors and a user interface with no risk of error. It combines a powerful ink circuit with the latest-generation push-button design, consumes about 20 percent less ink while maintaining high contrast, and has a print speed of up to 1000 m/min for wire and fiber applications. The 9450 E small-character inkjet printer was specially designed for the wire processing industry and is now compatible with all current Schleuniger cut-and-strip machines.
Markem-Imaje and Schleuniger have approved the following inkjet printer models:
Markem-Imaje 9450 E
Markem-Imaje 9450 Ec (for pigmented ink use)
All information about the 9450 E printer can be requested from the manufacturer Markem-Imaje.
Technical Data
| | |
| --- | --- |
| Weight | 25 kg |
| CE Conformity | Information regarding CE conformity can be requested directly from the manufacturer. |
More Info
The Markem-Imaje inkjet printer 9450 E and 9450 Ec are compatible with the following cut-and-strip machines:
EcoStrip 9380
MultiStrip 9480
PowerStrip 9550
MegaStrip 9650
According to the manufacturer Markem-Imaje, the protocol was implemented from the previous Markem-Imaje 9040 model into the 9450 E series so that older cut-and-strip machines such as the OmniStrip 9450, PowerStrip 9500 and MegaStrip 9600 should all be compatible with the inkjet printer. However, the machines have not been tested by Markem-Imaje or Schleuniger; compatibility is not yet verified.