CableCoiler 500
Coiling Machine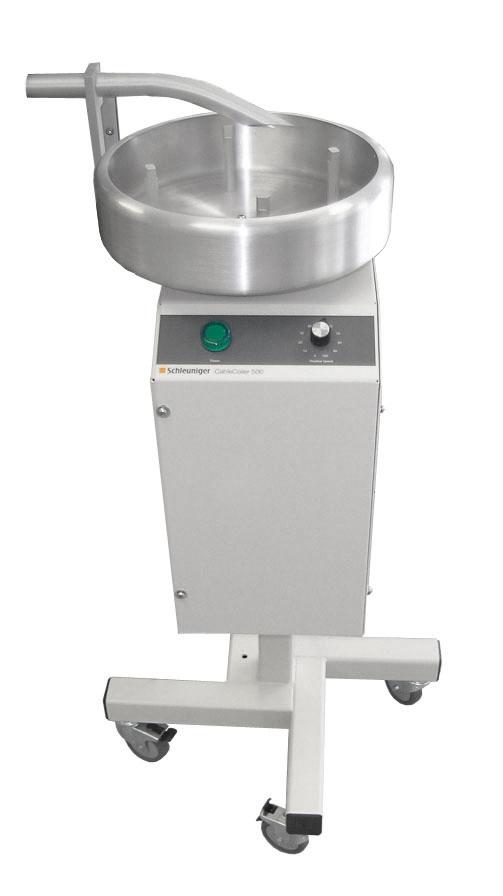 Overview
The CableCoiler 500 is a light-weight, economical single pan coiling machine used to coil wire or cable weighing up to 4 kg (8.8 lbs.).
Application Range
The CableCoiler 500 is a light-duty, economical single pan coiling machine used to coil wire or cable. It is designed to interface with Schleuniger automatic cut and strip machines. Thanks to its flexibility, ease of use and ergonomic design, the CableCoiler 500 is the perfect solution to improve the production rate and efficiency of your wire or cable processing line.
As the wire or cable exits the cut and strip machine, it passes through a guide tube and into the CableCoiler 500 coiling pan. The coiling pan speed is synchronized with the speed of the exiting wire or cable, making a uniform sized coil. The operator can change the diameter of the coil by adjusting the "Relative Speed" setting on the CableCoiler 500.
Technical Data
Raw Material Diameter

Up to 12 mm (0.47")

Workpiece Length

Minimum 1,800 mm (71.0") depending on the coiling diameter

Coil Diameter

Inner: Maximum 150 mm (6.0")
Outer: Maximum 300 mm (12.0")

Coil Weight

Maximum 4 kg (9 lbs.)

Coiling Speed

Maximum 250 RPM

Feeding Speed

Maximum 2.0 m/sec (6.6 ft/sec)

Wire Axis Height

Adjustable from 864 – 1,067 mm (34.0 to 42.0")

Interfaces

WS/Postfeed interface (for use with Schleuniger machines with WS/Postfeed standard)
Optical interface (for use with other Schleuniger machines or 3rd party machines)
Footpedal to initiate machine cycle (active only when using the WS/Postfeed interface)

Power Supply

110, 115, 230 or 240 VAC

Power Consumption

Maximum 100 VA

Dimensions (L x W x H)

610 x 560 x 1,000 mm (24.0 x 22.0 x 39.3")

Weight

20 kg (44 lbs.)

CE-Conformity

The CableCoiler 500 fully complies with all CE and EMC equipment guidelines relative to mechanical and electrical safety and electromagnetic compatibility.

Important Note

Schleuniger recommends that wire samples be submitted in cases where there is doubt as to the processing capabilities of a particular machine.
More Info
Features
"Relative Speed" control for fully adjustable coiling speed
"Eject Time" control for adjusting coiling time after wire or cable is cut (only active with WS/Postfeed interface)
Supports new Schleuniger WS/Postfeed interface standard
Optical sensor for easy interfacing with machines which have no WS/Postfeed interface integrated or 3rd party cutting and stripping machines
Welded steel base with wide range of height adjustment
Locking casters for easy maneuverability