CableCoiler 1300
Dual Pan Coiling Machine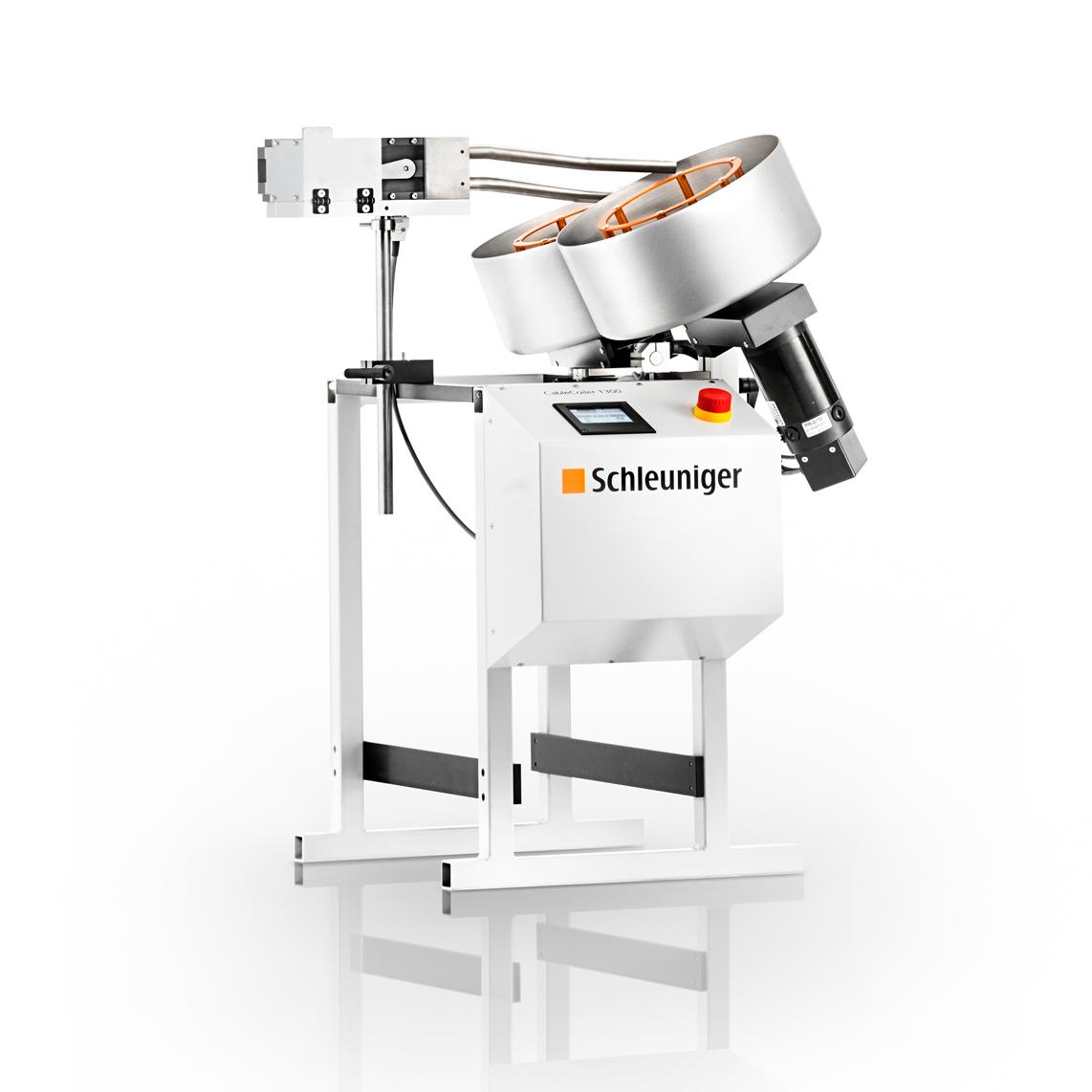 Overview
The CableCoiler 1300 is a stand-alone, fully synchronized, high performance cable coiler for cut and strip machines. It coils all types of round cable with a maximum outer diameter of 12 mm (0.47"). Coiling diameters from 110 – 230 mm (4.33 - 9.06") and coil weights up to 10 kg (22.05 lbs.) allow for flexible production.
High performance due to full synchronization
Very short changeover time between different jobs
Favorable price/performance ratio
Simple operation with touchscreen
Easy handling of coils
Application Range
The CableCoiler 1300 is a stand-alone, fully synchronized, high performance cable coiler for Schleuniger cut and strip machines. The device is best suited for all types of round cables to be coiled in high quality. Thanks to only a few configuration settings, changeover time between different jobs is minimized. This way, handling even very small batch sizes can be productive. The coiling process is performed using two separate coiling stations. While the operator is unloading a completed coil from the first coiling station, the CableCoiler 1300 proceeds to coil a cable on the second station. The cable is fed via a wire diverter and guide tube to the rotating coiling pan. After the coiling process is completed, the diverter once again switches the cable feed to the alternate coiling station. The anti-slip surface on the inside of the coiling pans, in conjunction with the coiling pins, assure a controlled coiling process. After the processing machine cuts the cable, the trailing end is coiled according to the programmed parameters.
Technical Data
Coiling Unit

2

Workpiece Length

From 1,800 mm (70.86") Depending on the cable diameter

Coil Diameter

Standard: 110 - 310 mm (4.33 - 12.2")
Optional: 81 - 152 mm (3.18 - 5.98")

Coil Height

Maximum 100 mm (3.93")

Coil Weight

Maximum 10 kg (22 lbs.)

Coiling Speed

Standard: 8.0 u/sec (2.8 – 5.8 m/s)
Optional: 14.4 u/sec (3.6 – 6.9 m/s)

Interfaces

PPI (fully synchronized), foot switch, emergency stop link

Options

Lockable machine rollers, coiling pans 152/81 mm (6.0" / 3.2"), coiling disc for fiber optic cables

Power Supply

230/240 VAC/50 Hz, 100/115 VAC 50/60Hz switchable

Dimensions (L x W x H)

700 x 750 x 1,100 mm (27.5 x 29.5 x 43.3")

Weight

47 kg (103 lbs.)

CE-Conformity

The CableCoiler 1300 fully complies with all CE and EMC equipment guidelines relative to mechanical and electrical safety and electromagnetic compatibility.

Important Note

Schleuniger recommends that wire samples be submitted in cases where there is doubt as to the processing capabilities of a particular machine.
More Info
Features
High speed coiler for stranded wires and multi-conductor cables as well as for fiber optic cables
Non-productive time is minimized thanks to two stations and short changeover times between the coiling stations
High dynamic performance and full synchronization with the processing machine
Simple operation with well arranged intuitive touchscreen
Maintenance-free machine design, fully electrically driven