EcoCut 3300
Cutting Machine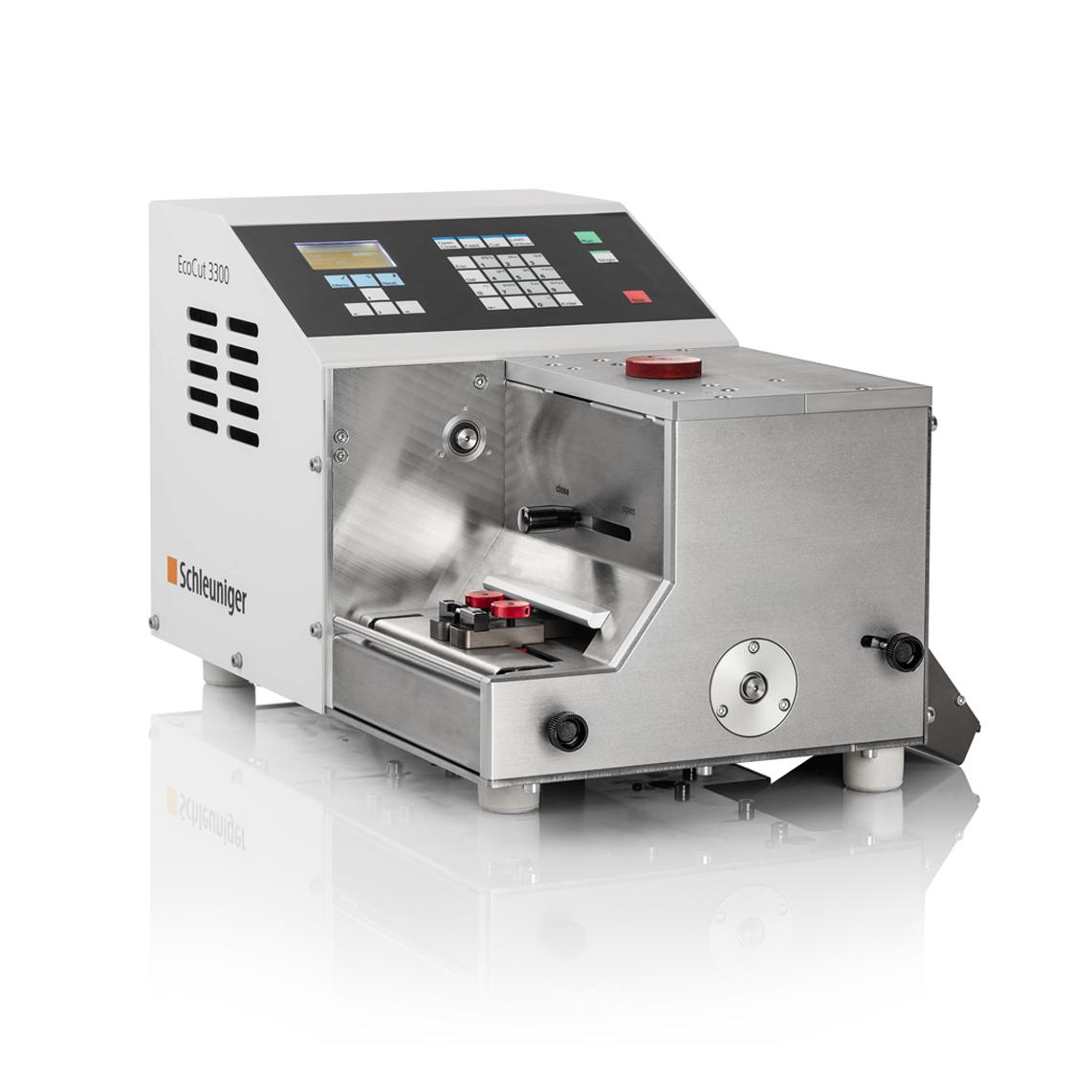 Overview
The EcoCut 3300 is designed to automatically cut all kinds of material including wire, cable, round material such as tubing, flat ribbon and Glass Fiber Optic (GOF) cable. This flexible machine processes wire up to 16 mm² (6 AWG), cuts round material up to 12 mm (0.47'') O.D. and cuts flat material up to 100 mm (3.94'') wide.
Excellent price/performance ratio
Precise & repeatable results
Easy to program and operate (menu guided)
Versatile
Fast and quiet transport system
Application Range
The EcoCut 3300 can cut a wide range of materials including round and flat cable, wire and tubing with precise and repeatable results. The EcoCut 3300 can be used as a stand-alone machine or can be integrated into a processing line. The EcoCut 3300 is electronically controlled and features several interfaces for peripheral components. The electrically driven rollers feed the material in increments of 0.1 mm (0.004") to the universal cutting unit. The cutting unit is electrically driven and position controlled.
Processing Capabilities

Flat cables

Round cables, profiles

Shrink tubing

Thin metallic, nonmetallic sheets

Tubing

Wire marking

Woven fabric
Technical Data
Raw Material Diameter

Maximum 12 mm (0.47")

Conductor Cross Section

Stranded Wire Max. 16 mm² (6 AWG)
Solid Wire Max. 6 mm² (10 AWG)

Raw Material Width

Maximum 100 mm (3.94")

Feed Rate

Maximum 1.60 m/s (5.25 ft/s)

Length Increment

0.1 mm (0.004")

Interfaces

Standard: Prefeeder, Hotstamp, RS232, Foot pedal
Optional: Post-feed interface (CableCoiler 500, CableCoiler 1450 and inkjet)

Options

Air Jet Kit, Carbide Blades, Quadruple Cable Guides, Special Cable Guides

Noise Level

<70 dB (A)

Power Supply

100 V, 115 V, 230 V or 240 V (50 - 60 Hz)

Dimensions (L x W x H)

460 × 270 × 270 mm (18.1" × 10.6" × 10.6")

Weight
22 kg (49 lbs.)
CE Conformity
The EcoCut 3300 fully complies with all CE and EMC equipment guidelines relative to mechanical and electrical safety and electromagnetic compatibility.
Important Note

Schleuniger recommends that wire / tube samples be submitted in cases where there is doubt as to the processing capabilities of a particular machine.
More Info
Features
Due to the heavy duty, precision cutting unit, even very thin materials (Kevlar strand, foil, etc.) can be cut cleanly and square.
Feeding unit is fast, accurate and quiet.
Easy, menu-guided operation and programming.
All-electric operation.