EcoCut 3200
Cutting Machine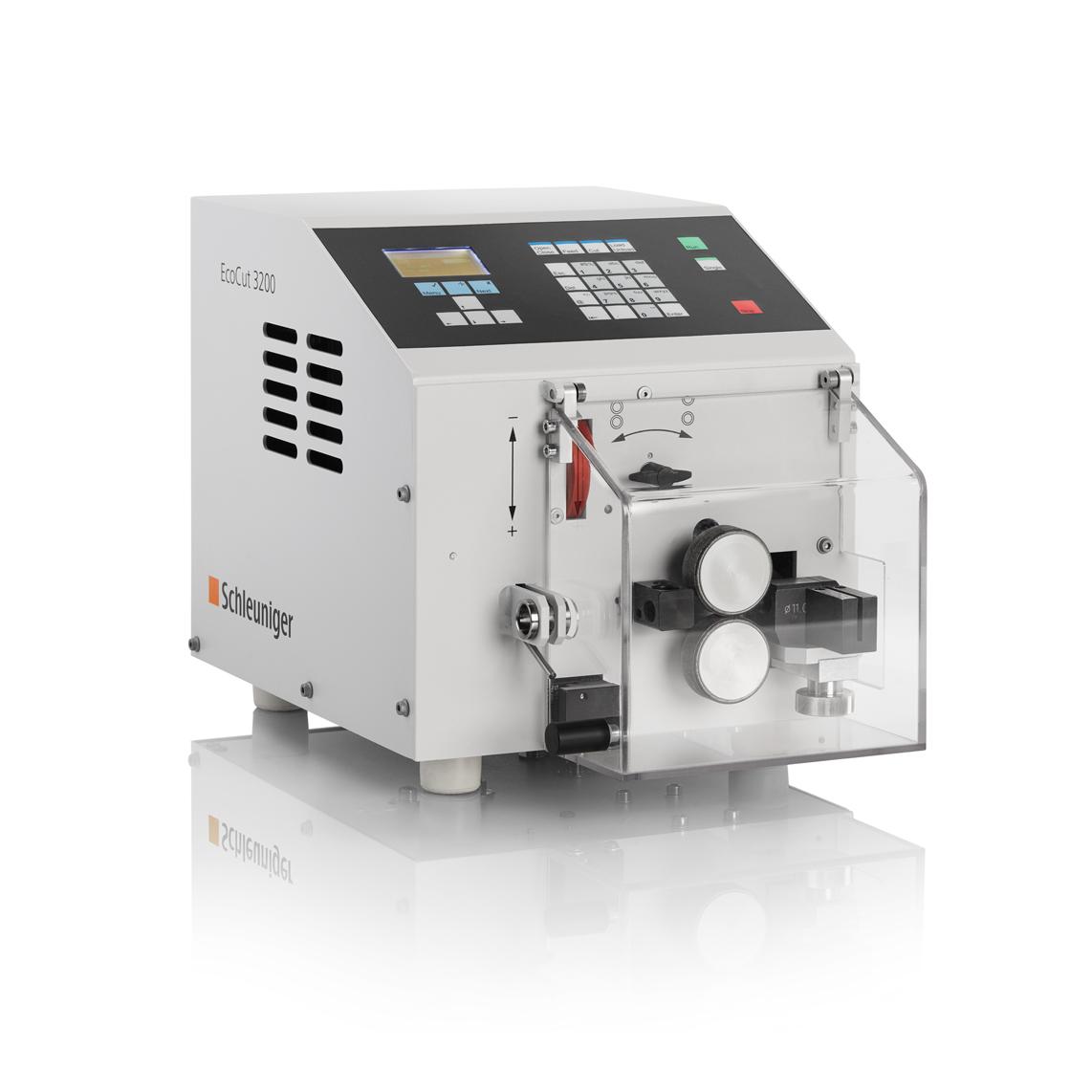 Overview
The newest automatic cutting machine from the Schleuniger product family is the EcoCut 3200, which can be configured according to individual needs and allows users to measure and cut cables, wires and tubes.
Unique tube cutter principle (double-cutting mode)
Precise & repeatable results
Easy to program and operate (menu guided)
Excellent price/performance ratio
Fast and quiet transport system
Application Range
The EcoCut 3200 is an automatic cutting machine for measuring and cutting round material. It can be equipped with either a tube cutting head or a universal cable cutting head. The tube cutting head can process tubing up to 12.7 mm (0.5") O.D. with outstanding quality. The universal cable cutting head can process wire, cable and tubing up to 10 mm (0.39") O.D. The EcoCut 3200 can be used as a stand-alone machine or it can be integrated into a processing line. The EcoCut 3200 is electronically controlled and features several interfaces for peripheral components. The electrically driven rollers feed the material to the cutting unit. The cutting unit is electrically driven and position controlled.
Processing Capabilities

Round cables, profiles

Tubing

Wire marking
Technical Data
Raw Material Diameter

Tube Cutting Head Max. 12.7 mm (0.5")
Cable Cutting Head Max. 10 mm (0.39")

Conductor Cross Section

Stranded Wire Max. 6 mm² (8 AWG)
Solid Wire Max. 4 mm² (12 AWG)

Length Increment

0.1 mm (0.004")

Feed Rate

Maximum 3.20 m/s (10.6 ft/s)

Interfaces

Standard: Prefeeder, Hotstamp, RS232, Foot pedal
Optional: Postfeed interface (CableCoiler 500)

Options

Tube guides in 0.5 mm increments from 2.0 - 13 mm. Custom tube guides, custom blades

Noise Level

<70 dB (A)

Power Supply

100 V, 115 V, 230 V or 240 V (50 - 60 Hz)

Dimensions (L x W x H)
400 × 250 × 260 mm (15.7" x 9.8" x 10.2")
Weight
17 kg (38 lbs.)
CE Conformity

The EcoCut 3200 fully complies with all CE and EMC equipment guidelines relative to mechanical and electrical safety and electromagnetic compatibility.

Important Note

Schleuniger recommends that wire / tube samples be submitted in cases where there is doubt as to the processing capabilities of a particular machine.
More Info
Features
Cutter heads can be changed in less than one minute
High output rate due to double cut system
Fast and very quiet transport unit
Easy, menu guided operation and programming
All-electric operation