PowerStrip 9580
Cut & Strip Machine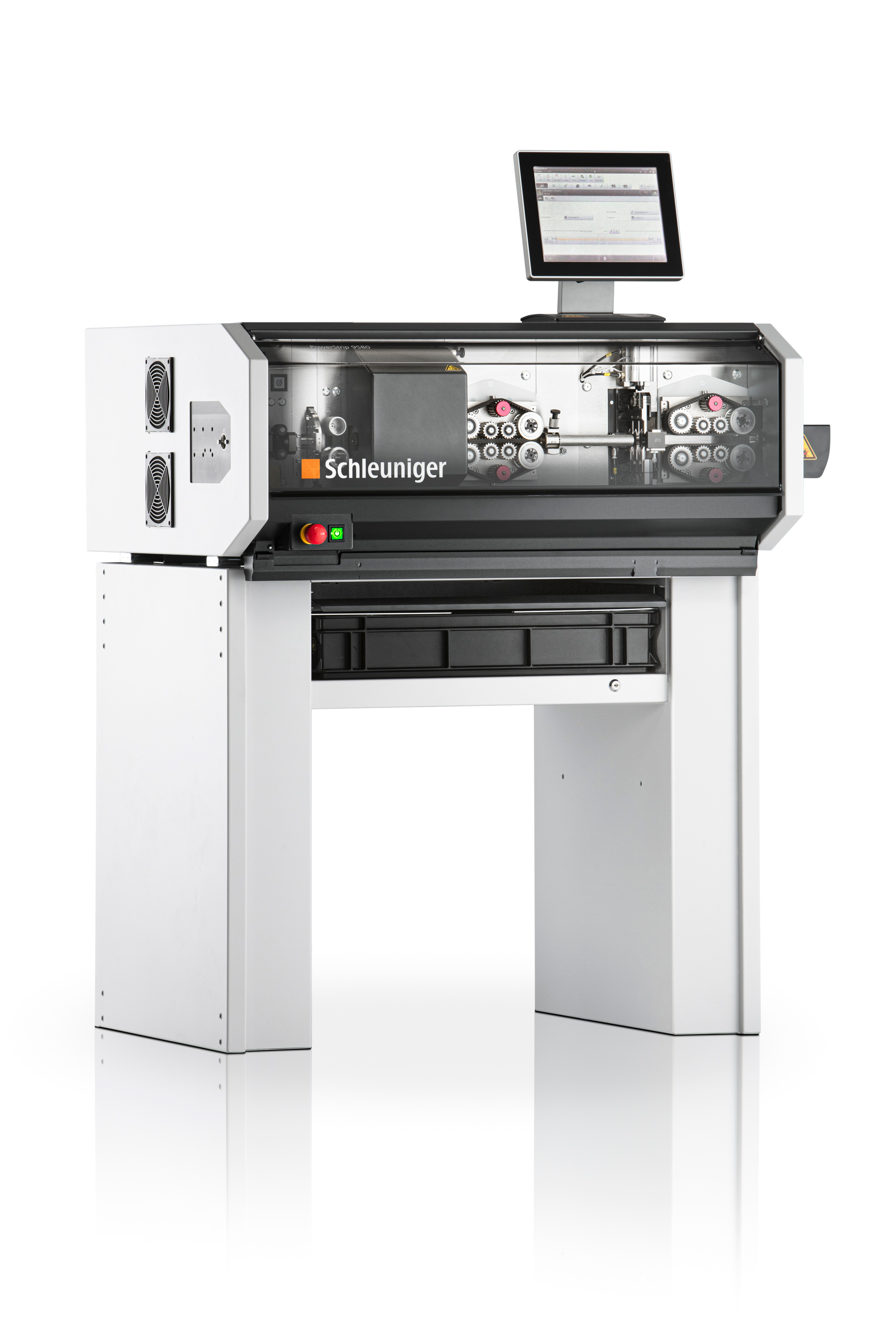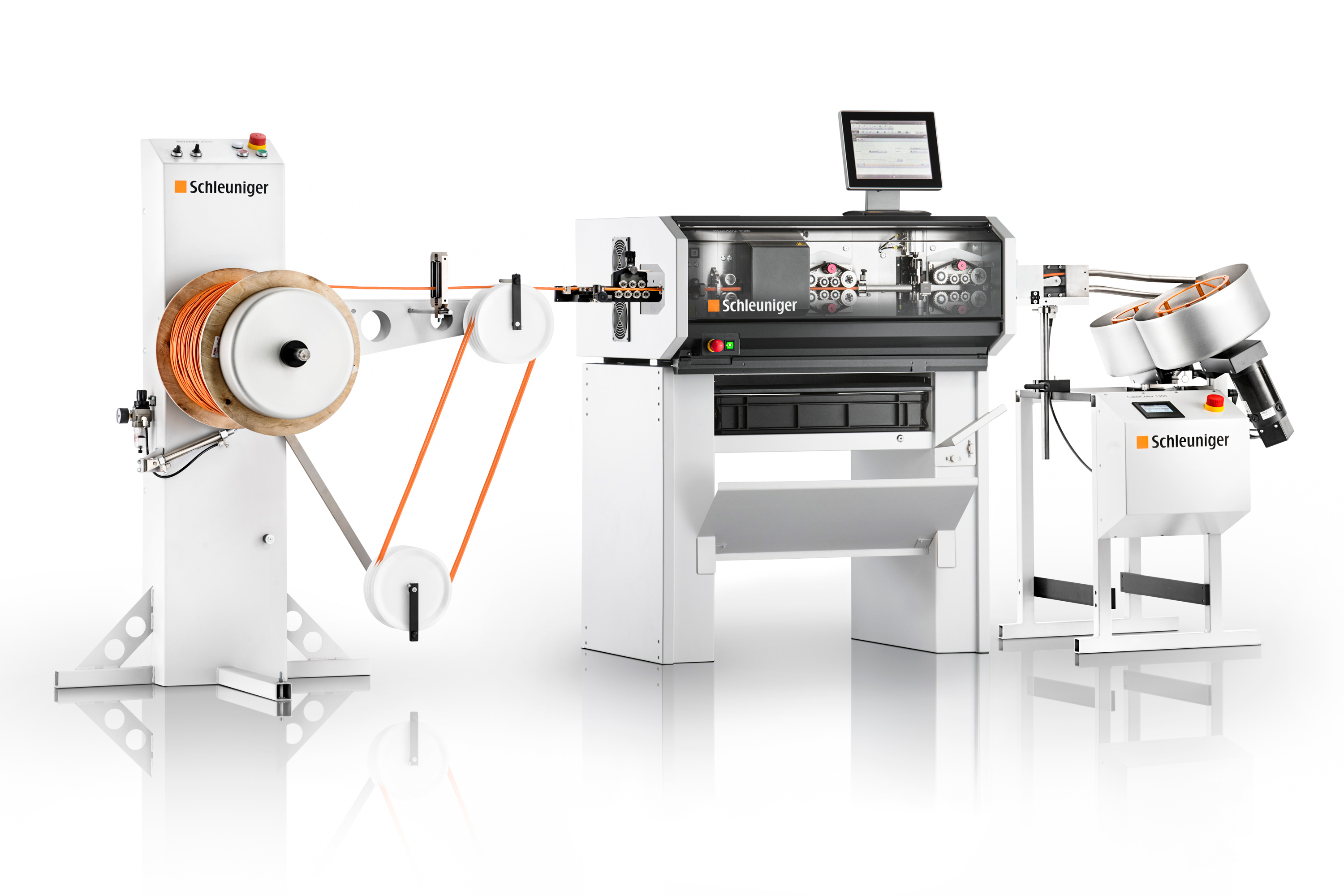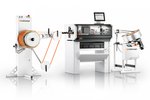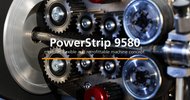 Overview
The PowerStrip 9580 processes a wide range of applications and impresses with its modular, flexible and retrofittable machine concept. Excellent production output with high-precision processing characterizes this automatic cut & strip machine.
Innovative machine control for high productivity and process reliability
SmartBlade system for quick changeovers of entire blade cartridge sets within seconds
Simultaneous activation of multiple axes
Powerful servomotors for high feed rates and pull-off forces
Toolless guide changeovers

Compatible with MES CAO via SMG Server and CAYMAN software
Application Range
The PowerStrip 9580 automatic cut & strip machine was designed with a focus on high-precision processing, excellent production output and a high degree of production flexibility. Powerful servo drives ensure fast feeding speeds and high stripping forces. An intelligent control unit guarantees short cycle times and repeatable high-quality performance. A sophisticated safety concept, short changeover times and modern, intuitive machine operation round off the exclusive machine profile.
Discrete wires with cross sections up to 70 mm² (2/0 AWG), shielded cable and complex multiconductor applications can be processed in one automated operation. Processing modules, such as the programmable cutter head system, rotary incision unit and moveable right exit guide allow you to configure your PowerStrip 9580 according to your application requirements now or in the future.
The optional cutting unit, including the SmartDetect quality monitoring system, prevents defective cables from being incorporated into an end product. The sensor-controlled system monitors the complete stripping process in real time, detects any contact between stripping blade and the inner conductor and contributes to improved production quality with no loss of performance.
Processing Modules
The PowerStrip 9580 is available in 4 basic configurations, combining processing with functional modules to cover a wide range of wire processing applications. All basic models can be retrofitted with other PowerSystem functional modules and options. The modules integrated in the basic models can also be retrofitted or replaced in the future if your application requirements change.
Material
Multiconductor Cable
Mini Seal
Buffered Fiber
Coated Fiber
Wire
Solid Wire
Duplex Glass Optical Fiber
Single-Conductor Cable
Single Wire
Fiber Ribbon
Fiber Optic Cable, Foils, and More
Flat Ribbon Cable
Flat Cable
Flat Material
Shielded Cables
GOF (Glass Optical Cable)
Rubber
Rubber Cords / Profiles
Kevlar
Kevlar Strands
Coaxial Cable
Discrete Wire
Stranded Wire
Wire with Special Isolation
POF (polymer optical cable)
PUR
PVC
Tubes + Pipes
Tubing
Cord
Teflon®
Fiberglass
Triaxial Cable
Jacketed Flat Cable
Processing Capabilities

Cut to length

Full or partial strip left and right

Jacket and inner conductor stripping

Jacket stripping of extremely thin insulations

Jacket stripping of multiconductor cables

Multilayer stripping

Multilayer with shield processing (coax, hybrid, etc.)

Multistep jacket stripping with inner conductor stripping and window slitting

Multistep stripping

Trimming, separating and stripping of individual zipcord conductors

Wire marking
Technical Data
Raw Material Diameter

0.5 mm - 16 mm (0.0196 - 0.63")

Conductor Cross Section

0.5 mm² - 70 mm² (26 - 2/0 AWG) - with optional cutter booster: up to 20% more cutting force (depending on cable)

Workpiece Length
Standard: 74 mm – 1,000,000 mm (2.91" – 39,370")
With short-mode kit: 38 mm – 1,000,000 mm (1.49" – 39,370")
With short-mode process: 0.1 mm – 74 mm (0.004" – 2.91")
Strip Length
0.1 – 1,000,000 mm (0.004 – 39,370")
Pull-Off Length

Left side: Max. 125 mm (4.92")
Right side: Max. 240 mm (9.44")

SmartBlade Blade Cartridges

Number of blade sets: S/SR NA - M/MR 3 x 20 mm (0.79") at blade width: S/SR 1 x 20 mm (0.79") - M/MR 3 x 16 mm (0.63")

Blade Type
20 mm grid: V-blades, radius and die blades, multiradius blades, universal slitting unit and special blades
16 mm grid (only for M and MR versions): V-blades, radius and die blades, multiradius and special blades
Interfaces
Standard: 3 x USB, 2 x Ethernet as well as prefeed, hotstamp and postfeed interfaces
Optional: 5 additional SMIs (Schleuniger Machine Interface) for up to 2 marking systems, different peripheral devices and emergency stop circuits
Power Supply
200–240 VAC 50/60 Hz
Compressed Air Connection
6–10 bar (87-145 psi)
Dimensions (L x W x H)

1030 x 785 x 407 mm (40.55 x 30.90 x 16.02") without freestanding panel

Weight

S: 129 kg (284.4 Ibs)
SR: 145 kg (319.7 Ibs)

M: 136 kg (299.8 Ibs)
MR: 152 kg (335.1 Ibs)

Conformity

The PowerStrip 9580 complies with all relevant European directives and international standards (IEC and ISO).
More Info
Options
Different options add processing capabilities to your PowerStrip 9580 or make working with the machine even easier. Examples are the universal slitting unit, different blade types, or the modular rack system for comfortable operation. The intelligent design with PowerSystem and SmartBlade guarantees maximum flexibility today and in the future.
Programmable Processing Parameters
Cutting and stripping with full and partial pull-offs, left and right
Multistep jacket pull-offs
Multistep stripping
Jacket stripping of multiconductor cables
Jacket stripping of extremely thin insulations
Jacket and inner conductor stripping
Trimming, separating and stripping
Multistep jacket stripping with longitudinal slits and windows
Multistep stripping of shielded cables (with or without shield
processing)
Models
PowerStrip 9580 S with single-blade cutting unit
PowerStrip 9580 M with flexible SmartBlade multiblade cutting unit
PowerStrip 9580 SR with single-blade cutting unit and additional rotary cutting unit
PowerStrip 9580 MR with flexible SmartBlade multiblade cutting unit and additional rotary cutting unit