MegaStrip 9680
Automatic Cut & Strip Machine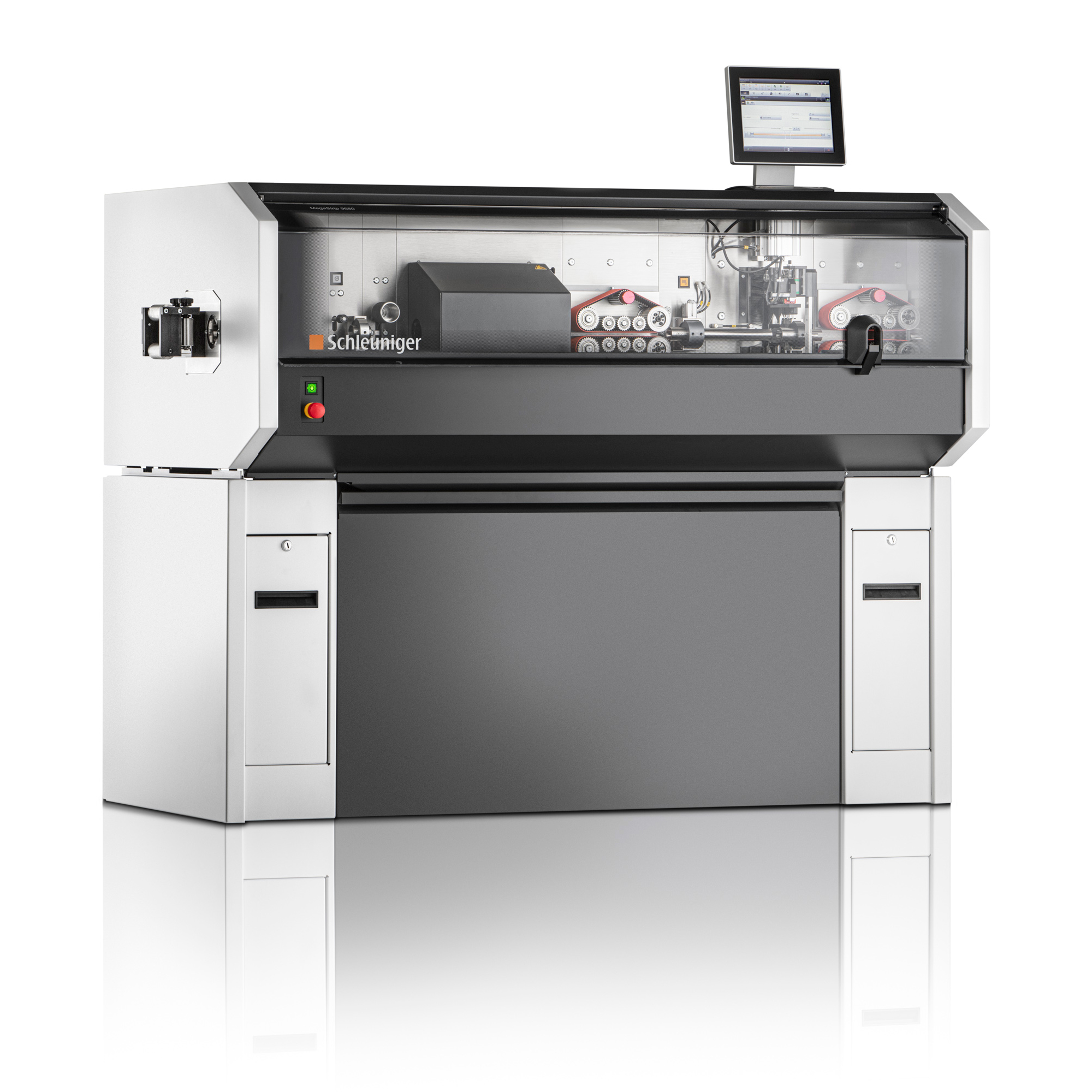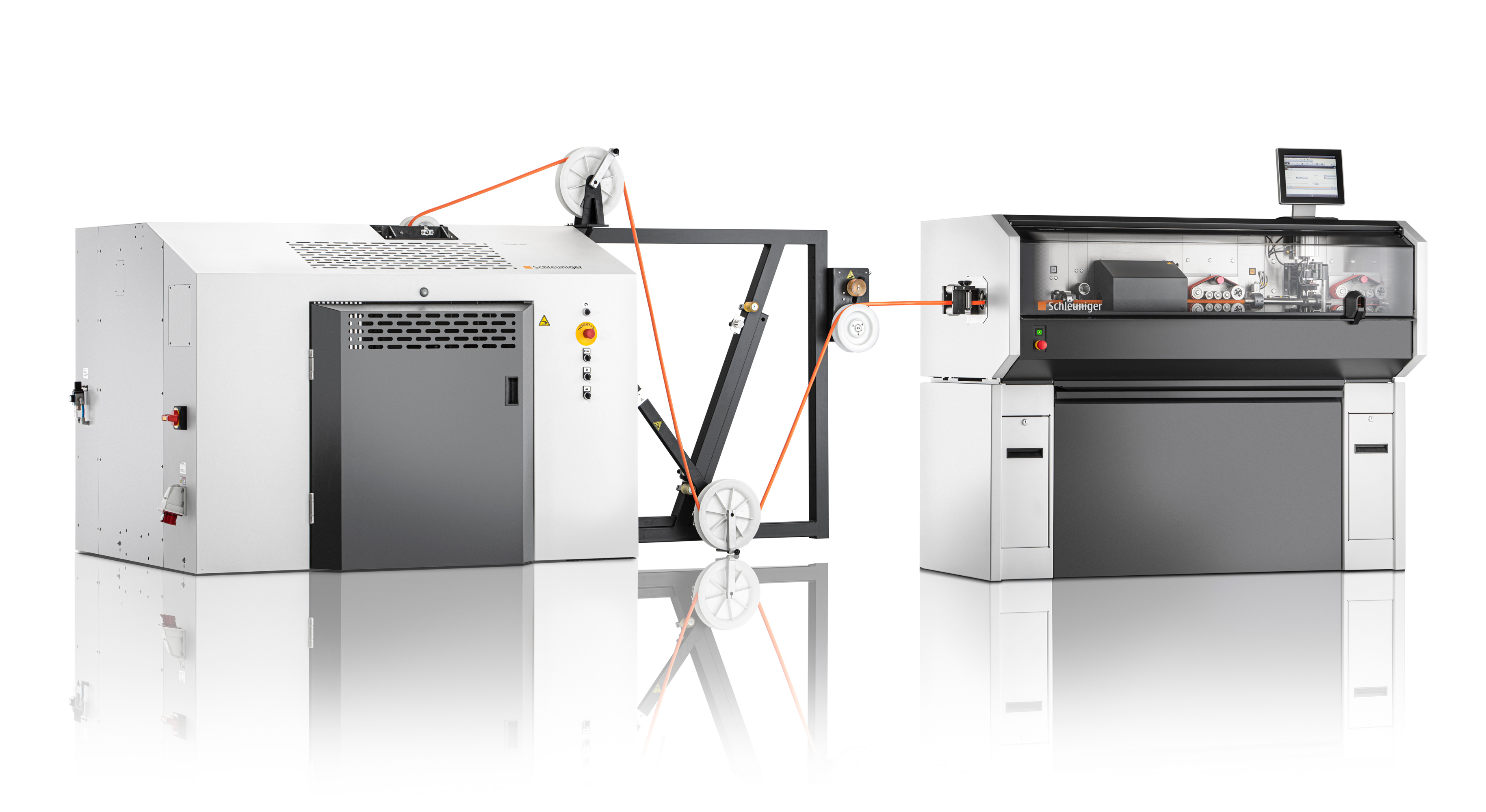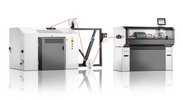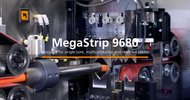 Overview
The MegaStrip 9680 is an automatic cut and strip machine for processing single core wires, multiconductor cables and shielded cables up to 35 mm (1.38") in outer diameter. The modular design and the possibility to connect various peripherals – either from the Schleuniger product range or from third-party suppliers – make this machine a true all-rounder.
Two modular machine designs with additional options offer an extensive processing range for larger diameter cables.
Precise, multistep stripping thanks to the Schleuniger multiblade cutting unit and SmartDetect quality monitoring system
High flexibility thanks to the SmartBlade system with exchangeable cartridges for the quick changeover of complete blade sets
Extensive libraries for recurring cable end types and processing methods simplify programming
Economical production and waste avoidance using up to two independent inkjet printers positioned downstream of the cutter head

Compatible with MES CAO via SMG Server and CAYMAN software
Application Range
Discrete wires with cross sections up to 120 mm² (4/0 AWG) or optional 300 mm² (MCM 600), shielded cable and complex multi-conductor applications can be processed in one automated operation. The MegaStip 9680 is available in 2 basic configured models:
M version with the freely programmable indexing multiblade cutter head
MR version with additional rotary incision unit for precise shield cutting
Both model versions are compatible with the CAYMAN cable processing software and the CAO planning software (Manufacturing Execution System), enabling integration into different networks. The MegaStrip 9680 is optimized for maximum production output. Powerful servomotors ensure high feed rates and pull-off forces. Color-coded guides and toolless guide changeovers allow for record-breaking changeover times. Sensor monitoring and the optional SmartDetect system ensure smooth production processes, quick fault rectification, and minimal material waste.
Material
Buffered Fiber
Coated Fiber
Wire
Solid Wire
Duplex Glass Optical Fiber
Single-Conductor Cable
Single Wire
Fiber Ribbon
Fiber Optic Cable, Foils, and More
Flat Ribbon Cable
Flat Cable
Flat Material
Jacketed Flat Cable
Shielded Cables
GOF (Glass Optical Cable)
Rubber
Rubber Cords / Profiles
Kevlar
Kevlar Strands
Coaxial Cable
Discrete Wire
Stranded Wire
Wire with Special Isolation
Multiconductor Cable
POF (polymer optical cable)
PUR
PVC
Tubes + Pipes
Tubing
Cord
Teflon®
Fiberglass
Triaxial Cable
Processing Capabilities

Cut to length

Discrete wire stripping

Full or partial strip left and right

Jacket and inner conductor stripping

Jacket stripping of extremely thin insulations

Jacket stripping of multiconductor cables

Multilayer stripping

Multilayer with shield processing (coax, hybrid, etc.)

Multistep jacket stripping with inner conductor stripping and window slitting

Multistep stripping

Trimming, separating and stripping of individual zipcord conductors

Window stripping

Wire marking
Technical Data
Raw Material Diameter

2.5 mm - 35 mm (0.0984 - 1.38")

Conductor Cross Section

Standard: 1.5 mm² - 120 mm² (16 - 4/0 AWG)
Optional: 240 – 300 mm² (500 MCM - 600 MCM)
both depending on cable type

Workpiece Length

Without short mode:
150 - 1,000,000 mm (5.90"- 39,370") (standard)
225 - 1,000,000 mm (8.85"- 39,370") (2-printer configuration)

With short mode:
0.1 - 150 mm (0.003937 - 5.90") (standard)
0.1 - 225 mm (0.003937 - 8.85") (2-printer configuration)

Strip Length
0.1 - 1,000,000 mm (0.003937 - 39,370")
Pull-Off Length

Left side:
225 mm (8.85") (standard)
300 mm (11.8") (2-printer configuration)

Right side:
360 mm (14.2")

SmartBlade Blade Cartridge
2 x 56 mm (2 x 2.20")
4 x 28 mm (4 x 1.10")
56 + 2 x 28 mm (2.20" + 2 x 1.10")
Interfaces

Standard: 3 USB, 2 Ethernet interfaces for PreFeeder, hot stamping and post-processing units

Optional: 5 additional SMIs (Schleuniger Machine Interface) for up to two labeling systems, different
peripherals and emergency-stop circuits

Power Supply
3L+N 380/220–415/240 VAC 3L 200–240 VAC 50/60 Hz
Compressed Air Connection
6–10 bar (87-145 psi)
Dimensions (L x W x H)
1,730 x 1,055 x 1,365 mm (68" x 41.5" x 54")
Weight
M Version Max. 500 kg (1102.3 lbs.)
MR Version Max. 528 kg (1164.02 lbs.)
Conformity
The MegaStrip 9680 complies with all relevant European directives and international standards (IEC and ISO).
More Info
Concept
The MegaStrip 9680 M model features Schleuniger's patented multiple blade position cutter head for multistep operations. The MR model adds a rotary incision unit for high-precision shield cutting. Both models come standard with the SmartBlade system, allowing quick blade changeovers in seconds. The machine can operate with up to 2 different inkjet marking systems. The print head positions are after the cutter head to prevent any waste pieces.
Special Features
High-precision cutting unit with SmartDetect quality-monitoring system
The rotary cutting unit is based on cutting-edge Schleuniger RX technology and enables maximum precision.
Color-coded guides simplify operation and reduce setup times.
User-friendly software and intuitive operation via the 10" color touch screen
Modular interfaces for an extensive range of accessories and the connection of peripherals.
Modular design allows future upgrades and thus enables a sustainable investment.
Wide range of accessories available for a customized system
Options
High cut force device for cutter head
Universal slitting unit for precise longitudinal slitting
Jacket and inner conductor stripping
Standard cartridge for 56 mm / 28 mm (2.20 / 1.10") blades or custom specific blades
Up to 2 inkjet printers positioned after the cutter head axis
CAYMAN cable processing software for PC