Cut and Strip Family E300
Cut and strip machine for simple applications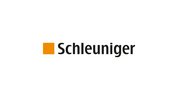 Overview
The Cut & Strip Family E300 cut and strip machine impresses with high performance, optimized operability and outstanding process reliability. It processes wires, tubing, ribbon and multiconductor cables as well as insulation such as PVC, PUR or Teflon in high-precision quality. Standard applications include the stripping of the outer jacket in several steps, as well as full and partial strips – also on both sides – with conductor cross sections from 0.05 to 10 mm² (36 to 8 AWG) and cable diameters from 0.3 mm to 8.0 mm (0.012" to 0.31"). Different belt materials and the included short piece kit allow a wide range of applications.
Blades and guides of the predecessor model EcoStrip 9380 are compatible.
The contact pressure on the feeding unit is programmable. This allows for very fine and targeted adjustments. The E300 is equipped with a two-in-one quick-change feeding unit suitable for roller drives, including a short piece kit for the processing of short cables. On the E300, changing the feeding unit to the short piece kit is software assisted. The gripping axis is programmable and ensures accurate transport of the cable.
The intuitive interface of the S.Drive software facilitates the creation of jobs and article programs, and increases overall performance. Predefined and verified default parameters support quick creation of processing jobs.
Application Range
Material
Flat Ribbon Cable
Wire
Solid Wire
Single Wire
Flat Cable
Rubber
Cable
Discrete Wire
Stranded Wire
Wire with Special Isolation
PUR
PVC
Tubes + Pipes
Teflon®
Jacketed Flat Cable
Processing Capabilities

Cut to length

Full or partial strip left and right

Jacket stripping of multiconductor cables

Multistep stripping

Wire marking
Technical Data
Raw Material Diameter
0.3 mm to 8.0 mm (0.012" to 0.31")
Conductor Cross Section – Stranded Wire
0.05 mm2 to 10 mm2 (36 to 8 AWG)
Conductor Cross Section – Single Wire
0.05 mm2 to 1.5 mm2 (36 to 16 AWG)
Raw Material Length

Min. 48 mm (1.89"), max. 1,000,000 mm (39,370")
Raw material length with short piece kit
Min. 18 mm (0.70"), max. 1,000,000 mm (39,370")
Pull-off Length
Left side: min. 0.1 mm (0.004") – max. 46 mm (1.18")
Right side: min. 0.1 mm (0.004") – max. 152 mm (5.98")
Number of Blade Sets with Blade Width
1 x 12 mm (1 x 0.47")
Interfaces
USB-A, USB-C, SMI (D-Sub 15-pin), Ethernet, ESC (Emergency Stop Circuit)
Supply
100 – 240 VAC, 50/60 Hz
Compressed Air Connection
6 bar
Dimensions (l x w x h)
436 x 510 x 298 mm (17.16 x 20.07 x 11.73") without stand-alone monitor
Weight
34 kg (75 Ibs)
Declaration of Conformity
The E300 fully complies with the CE and EMC machinery directives relating to mechanical and
electrical safety and electromagnetic compatibility, as well as UKCA, UL, and CSA
Important Note
We recommend to have your cable sampled by us in case of doubt.
More Info
Basic equipment
10" color touchscreen
LED light
Air Jet unit
Set of V-shaped blades
Swivel guides: inner diameter 2, 4, 6, 8, 10 mm
2 steel rollers and baffle for short piece kit
Options
Cable jam detector
Various radius blade sets
Toolbar with magnetic holder for accessories
Software Feature Marking (available from Q3/2024)
Marking / Printing / Labeling