SLU 3000
Sealing Station for CrimpCenter Series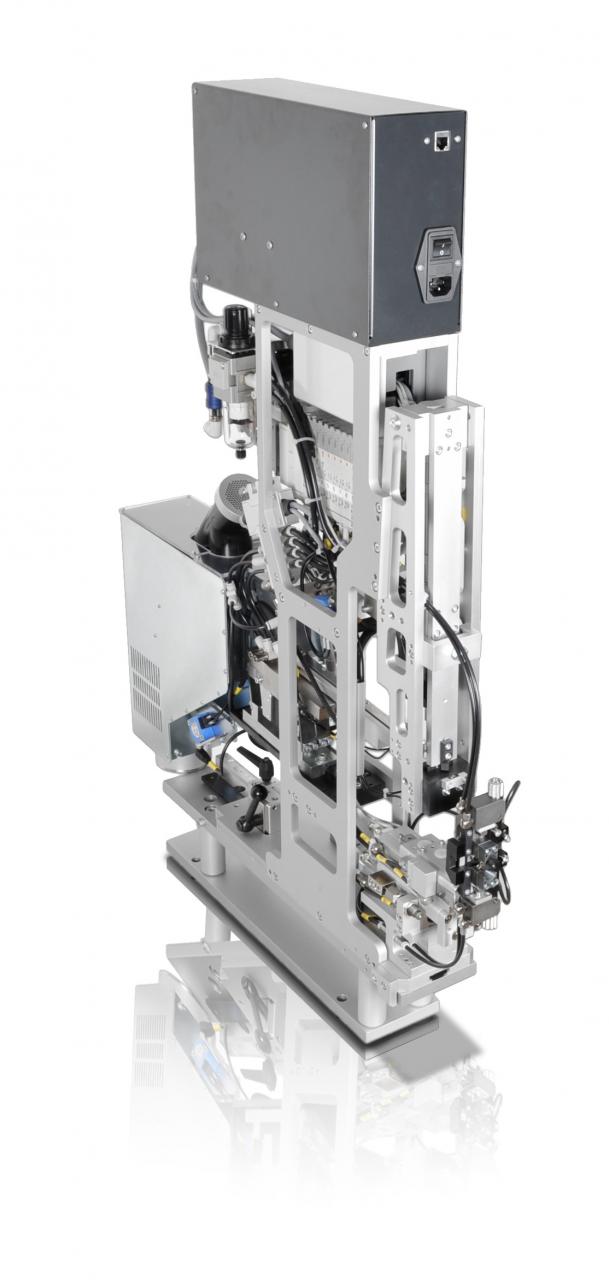 Overview
The SLU 3000 sealing station is perfectly suited for applying weather seals on wire ends with the fully automatic cut, strip, terminate machines of the CrimpCenter series. The compact unit with its proven technology is specifically designed for high-speed processing of almost all seal types.
Compact design
Processing of almost all seal types
Fast changeovers without any tools
Short cycle times
Optional seal-check available
Application Range
The SLU 3000 sealing station applies weather seals to stripped and unstripped wires before crimping and can be used on all fully automatic crimping machines of the CrimpCenter series. It is specifically designed for the demanding requirements of the automotive wire processing industry. Special attention has been paid to precision, processing speed, short set-up time, minimal space requirements and ease of operation. Application sets for quick changeover are available for almost any type of seal, including irregularly shaped seals and hard-shell seals.
Material
Hard-Shell Seal
Mini Seal
Oval Seal
Seal with Special Properties
Silicon Seal
Technical Data
Cycle Time
Approx. 200 m/s (656 ft/s)
Seal Dimensions
Max. 10.5 mm (0.41") (optional 17 mm) (0.67") outer diameter
Max. 10.5 mm (0.41") (optional 16 mm) (0.63") length
Other dimensions on request
Power Supply
1L / N / PE AC 100 – 240 , 50 - 60 Hz, 35 W
Compressed Air Connection
6 bar (90 psi) compressed air, not oiled, filtered and dry
Dimensions (L x W x H)
100 x 840 x 650 mm (3.3 x 33.1 x 21.3")
Weight
25 kg (55 lbs.) incl. SealKit
CE-Conformity
The SLU 3000 fully complies with all CE and EMC equipment guidelines relative to mechanical and electrical safety and electromagnetic compatibility.
Important Note
Schleuniger recommends that wire and seal samples be submitted in cases where there is doubt as to the processing capabilities of a particular machine.
More Info
Options
Optical SealCheck function
Pilot user interface for seal station adjustments
Refill seals during production without opening the CrimpCenter safety cover
SealKit sets for almost any type of seal
SealCleaner 20 (benchtop device to dry oily seals)
Kit for big seals
Features
Easy installation
Exchange Kits for all common seal types, hard-shell, oval and mini-seal
Integrated in CrimpCenter EASY HMI Software
Fast changeover of Exchange Kits, without tooling
Integrated axial movement reduces process time to under 200 ms