PEC 40
Processing Station for Ferrules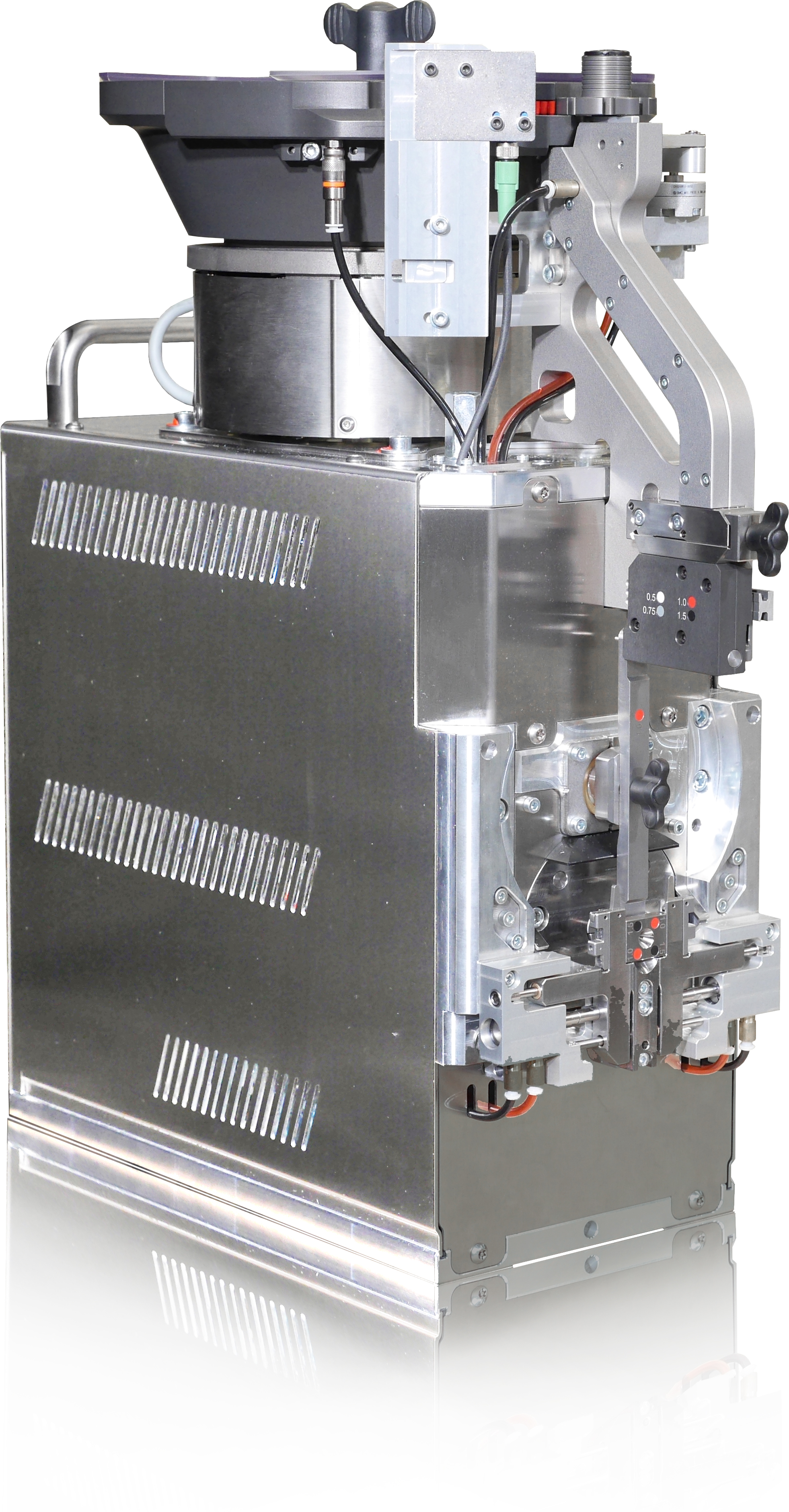 Overview
Control cabinet construction is the perfect field of application for the PEC 40 crimping station. The PEC 40 is designed for conductor cross sections from 0.5 up to 4.0 mm² and for lengths of 6, 8, 10 and 12 mm. Optimum crimping results are achieved by adjusting the crimp force to the specific cross section. With a cycle time of less than 1 second the PEC 40 provides unparalleled performance. All interchange parts can be exchanged without the use of tools, providing for extremely short changeover times of less than 2 minutes. Color coding on the change parts correspond with the ferrule's standard colors, simplifying the setup.
Square crimping provides for optimum contact surfaces in the clamp connection.
Ferrule detection (no ferrule, no crimp)
Automatic crimp-force adjustment to the specific cross section for consistently high-quality crimping results
Maximum precision through electric drives
Crimp monitoring through software-based pressure and crimp-lever stroke monitoring
Pull-off forces exceeding standard (4 to 5 times higher than DIN EN60999-1)
The PEC 40 crimping station can be seamlessly integrated into the Schleuniger CrimpCenter 6 Series. This enables easy operation via the HMI and conveniently provides all relevant manufacturing parameters. The ferrules are displayed in the HMI according to their respective standard color. The color of the protective collar indicates the maximum conductor cross section in each case, making it easier for the operator to visually check the production orders.
The PEC 40 is also compatible with other processing stations such as a tinning or twisting unit, complementing the performance of the fully automatic crimping station.
Technical Data
Raw Material Diameter
max. 4.7 mm (with insulation) / 2.8 mm (without insulation)
Conductor Cross Section
0.5 to 4.0 mm²
Optional Tool Sets
0.5 to 0.75 mm²
1.0 to 1.5 mm²
2.5 to 4.0 mm²
Crimp Shape
Square according to DIN 46228-4
Cycle Time
< 1 second
Interfaces
2 x RJ45, D-SUB, pneumatic, 24 V DC
Compressed Air Connection
6.5 bar compressed air (filtered, dried, nonlubricated)
Einspeisung
24 V DC
CE Conformity
The PEC 40, adapted to the CrimpCenter, complies with the CE and EMC machinery directives
relating to mechanical and electrical safety and electromagnetic compatibility.
Important Note
Schleuniger recommends submitting cable samples in cases where there are doubts about the
processing capabilities of a particular machine.
More Info
Special Features
Large bowl feeder with loading hatch
Quick-feed function
Durable thanks to its sturdy design and high-quality components
Toolboxes with change parts are available for the cross sections 0.5-0.75 mm², 1.0-1.5 mm² or 2.5-4.0 mm²
Optional printing