CT 65
Hydraulic Crimping Machine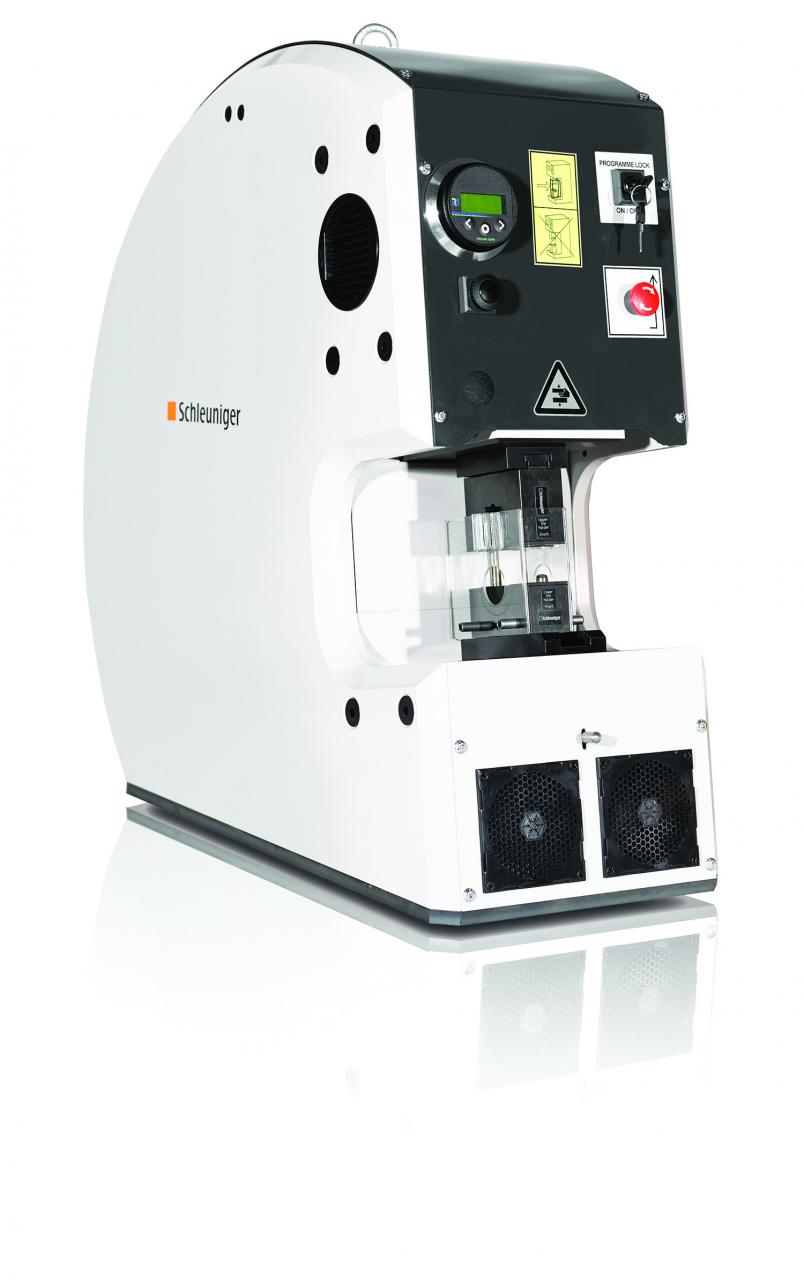 Overview
The powerful CT 65 hydraulic crimping machine is designed for loose-piece, heavy gauge crimping applications. Its parallel crimping action delivers up to 150 kN (16.9 tons) of force for open barrel, closed barrel and heavy duty, 4-indent crimping applications.
The quality of the crimp is guaranteed by a full-cycle mechanism that assures that the dies have closed completely before they are reopened. The ergonomic 15 degree tilt of the machine provides an optimal viewing angle and the LED light enhances visibility of the crimping area.
The CT 65 features 3 programmable crimping profiles and job memory for up to 30 different jobs. Open and close positions can be programmed to minimize processing time and maximize quality. The interface can be locked with a key switch for quality assurance.
The quick-change system allows for fast changeover times between a variety of optional die adapters. The CT 65 is very simple to set up, program and operate. A wide range of crimping dies can be used by choosing the corresponding die adapter.
Due to its open construction, a variety of crimping or pressing applications can be handled on this powerful, yet relatively compact press.
Parallel crimping action
3 programmable crimping profiles
Crimp profile memory for up to 30 jobs
Full-cycle mechanism ensures dies close completely before opening.
Ergonomic 15-degree tilt provides clear view of work area.
Integrated LED work light for added visibility
Integrated safety shield surrounds the crimping dies.
Electronic piece counter
Easy foot pedal operation
Quick-change die adapter system
Application Range
A variety of crimp dies are available for the CT 65 for a wide range of applications. U-die adapters will accept some industry standard U-shaped crimping dies. Custom crimp applications might also be possible.
Heavy duty
Closed barrel
Preinsulated
Technical Data
Conductor Cross Section

Open Barrel
Insulated Closed Barrel
Noninsulated Closed Barrel
4-Indent Closed Barrel

Up to 120 mm2 (4/0 AWG)
Up to 300 mm2 (600 MCM)
Up to 300 mm2 (600 MCM)
Up to 120 mm2 (4/0 AWG)

Crimping Force
150 kN (16.9 tons)
Stroke
40 mm (1.58")
Programmable Profiles

Open position
Closed position / Crimp height
Intermediate stop position

Job Memory
Up to 30 jobs
Cycle Speed
Approx. 7 seconds at full stroke (without back stroke limitation)
Programming Increments
1 – 1.5 mm (0.04 – 0.06")
Safety Shield
Fixed around crimping dies
Activation
Foot pedal
Power Supply
230 VAC, 60 Hz
Noise Level
69 dB (A)
Weight
130 kg (286 lbs) / 150 kg (330 lbs) crated
Dimensions (L x W x H)
581 x 238 x 588 mm / 22.9" x 9.4" x 23.2"
CE Conformity
The CT 65 fully complies with all CE and EMC equipment guidelines relative to mechanical and electrical safety and electromagnetic compatibility.
Important Note
Schleuniger recommends that wire samples be submitted in cases where there is doubt as to the processing capabilities of a particular machine.
More Info
Options
EHC 10 or U-shaped die sets
Crimp die adapters for EHC 10 or U-shaped die sets
Custom adapters and die sets are available on request