CT 36
Pneumatic Crimping Machine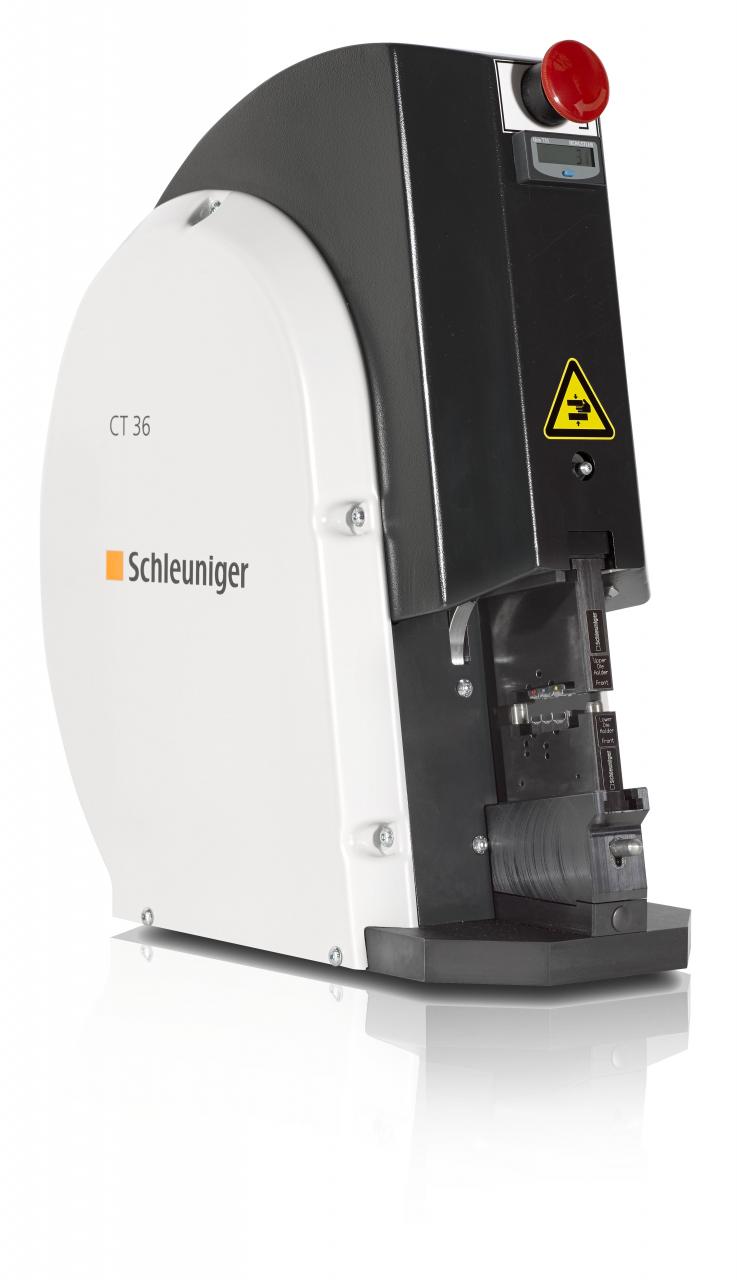 Overview
The CT 36 pneumatic crimping machine was developed with safety and productivity in mind for loose-piece crimping applications. Its parallel crimping action delivers a force of up to 20 kN (2.5 tons) for open and closed barrel applications including wire end ferrules. The full-cycle mechanism ensures crimp quality by fully closing the dies before the end of the crimping operation. The machine's ergonomic 15-degree tilt provides an optimal viewing angle, and LED lighting improves visibility of the crimping area.
The CT 36 offers the operator several safety features:
The crimp head is closed until the operator is ready.
The crimp head is controlled by the two-sided foot pedal. The left side opens the head and the right side releases full force for crimping. A mechanical safety lever in between prevents simultaneous operation of the two sides.
The contacts and the cable are held in position in the crimp nest with low pressure. The operator can ensure the correct position of the terminals and remove his hands from the crimping area.
If the dies are displaced by an obstruction or incorrectly placed contacts more than 5.9 mm (0.23"), the air pressure is deactivated and full pressure can no longer be applied.

The quick-change system of the die adapters ensures short changeover times. The user can prepare for upcoming jobs by using optional die adapters. The CT 36 is very easy to set up and operate. Various die adapters allow the use of a wide range of crimping tools.
Parallel crimping action
Preclose function to increase productivity, quality and safety
Safety feature to prevent accidental machine start
Full-cycle mechanism ensures dies close completely before they are reopened
Ergonomic 15-degree tilt provides clear view of work area
LED illuminated crimping area for accurate, fast and safe positioning of the terminal
Electronic piece counter
Easy foot pedal operation
New quick-change die adapter system
Application Range
Crimping force up to 20 kN (2.5 tons)
Crimp terminals onto wires up to 10 mm² (8 AWG)
Includes one die adapter to choose from for all new Schleuniger male-fitting
die sets
Technical Data
Conductor Cross Section

Open Barrel
Insulated Closed Barrel
Noninsulated Closed Barrel
Wire End Ferrules

Up to 6 mm2 (10 AWG)
Up to 6 mm2 (10 AWG)
Up to 10 mm2 (8 AWG)
Up to 10 mm2 (8 AWG)

Crimping Force

20 kN (2.5 tons)

Crimping
Parallel
Stroke
6 mm ( 0.24")
Ram Speed (no load)

Approximately 1 cm/s (0.39 inch/s)

Safety Shield
Not required due to the additional safety feature that prevents the machine from cycling if the dies are opened more than 5.9 mm (0.23 in).
Compressed Air Supply

6 bar / 90 psi, 2.3 l (140.4 in3) per stroke

Power Supply

110 - 240VAC (Only for low consumption LED Light)

Noise Level

<62 dB(A)

Weight
25 kg (55 lbs)
Dimensions (L x W x H)

390 x 175 x 440 mm (15.4" x 6.9" x 17.3")

CE Conformity

The CT 36 complies fully with all CE and EMC equipment guidelines relative to mechanical and electrical safety and electromagnetic compatibility.

RoHS Conformity
The CT 36 complies with the EU guideline 2002/95/EG (RoHS).
Important Note
Schleuniger recommends that wire samples be submitted in cases where there is doubt as to the processing capabilities of a particular machine.
More Info
Options
Custom die holders to accept other manufacturers' die sets are available upon request.
Custom crimping die sets available upon request.