CT 30 S
Pneumatic Crimping Machine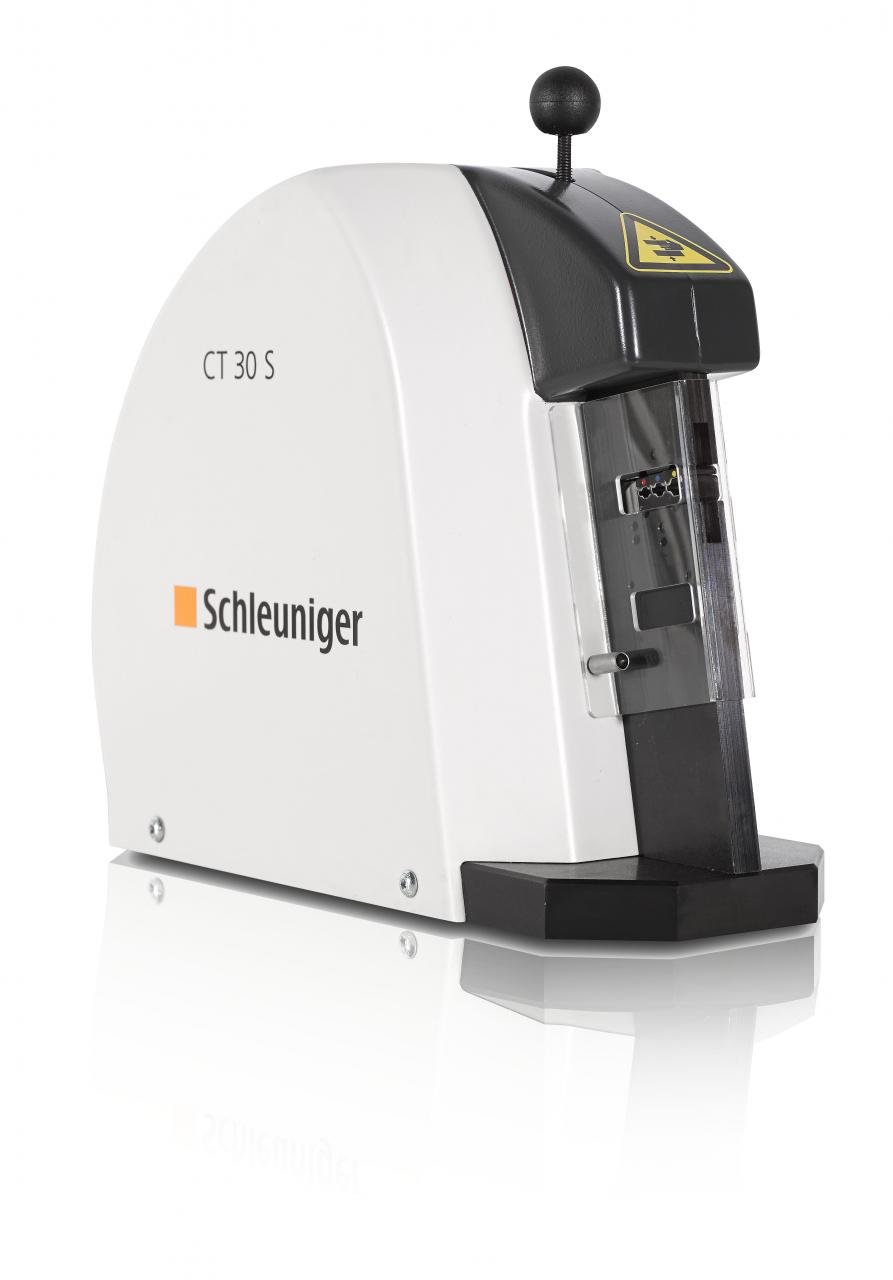 Overview
The CT 30 S Pneumatic Crimping Machine is designed for loose-piece crimping applications. Its scissor-action crimping head delivers up to 14 kN (1.6 tons) of force. The crimping head is spring-loaded which helps to properly and safely position the terminal before crimping. The ergonomic 15 degree tilt of the machine provides an optimal viewing angle of the crimping area for safe operation. The CT 30 S is very simple to set up and operate. A wide range of crimping dies are available to meet your application needs.
Scissor-action crimping head
Spring-loaded crimp head holds terminal before crimping
Ergonomic 15 degree tilt provides clear view of work area
Integrated safety shield surrounds the crimping dies
Easy foot-pedal operation
Application Range
Crimping applications requiring up to 14 kN (1.6 tons) of force
Crimp terminals onto wires up to 10 mm² (8 AWG)
Accommodates all new Schleuniger male-fitting die sets for insulated & non-insulated closed and open barrel terminals, ferrules and butt splices (It is not compatible with discontinued CT series female-fitting Schleuniger die sets)
Technical Data
Conductor Cross Section

Insulated Closed Barrel
Noninsulated Closed Barrel
Wire End Ferrules

Up to 6 mm2 (10 AWG)
Up to 10 mm2 (8 AWG)
Up to 50 mm2 (1/0 AWG)

Crimping Force

14 kN (1.6 tons)

Internal Working Air Pressure
6 bar / 90 psi
Crimp Action
Partial scissor
Ram Speed (no load)

Approximately 1cm/s (0.39 in/s)

Safety Cover

Fixed around the crimping dies

Compressed Air Supply

6 bar / 90 psi, 0.45l (27.5 in3) per stroke

Noise Level

<73 dB(A)

Weight

14 kg (31 lbs)

Dimensions (L x W x H)

300 x 125 x 260 mm (11.8" x 4.9" x 10.2")

CE Conformity

The CT 30 S fully complies with all CE and EMC equipment guidelines relative to mechanical and electrical safety and electromagnetic compatibility.

RoHS Conformity
The CT 30 S complies with the EU guideline 2002/95/EG (RoHS).
Important Note
Schleuniger recommends that wire samples be submitted in cases where there is doubt as to the processing capabilities of a particular machine.
More Info
Options
Custom crimping die sets available upon request