Uni-S Applicators
Universal Crimp Applicators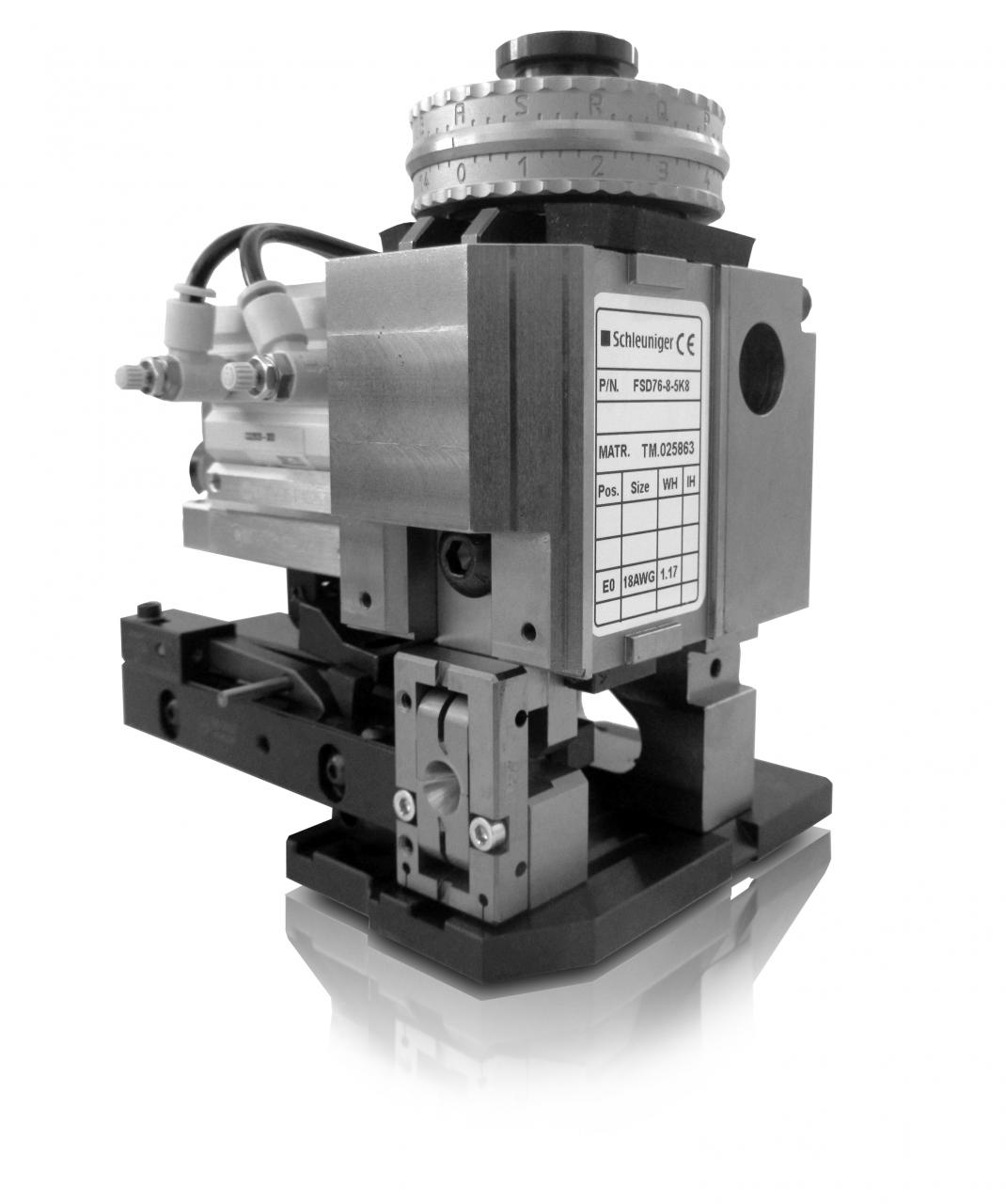 Overview
The Uni-S is the latest generation of crimp applicators for use in both automatic and semiautomatic benchtop crimping machines. Banded terminals of open or closed-barrel construction with either metal or plastic carriers can easily be processed.
Economically priced applicators to handle practically all terminal and feed types.
Rugged construction and simple setup to ensure long life and high-quality results.
Includes convenient micro-adjust dials, a 6-digit counter and one additional set of tooling.
For use on automatic terminating machines as well as benchtop crimping presses.
Application Range
The Uni-S family of applicators are designed for use with side- and end-feed, banded terminals of open or closed-barrel construction. Handling and setup are as easy as ever. The Uni-S is suitable for use on automatic wire processing systems as well as on benchtop presses for terminals with either metal, plastic or Mylar tape carrier strips.
Open-barrel terminals on metal carrier strips, with or without weather seals
Preinsulated terminals on plastic or Mylar tape carrier strips
Front, middle or center-carrier strips
Insulated end ferrules in strip form
Open-barrel end ferrules (clips) in strip form
Wire splice terminals
Technical Data
Feed Type

Mechanical or pneumatic

Stroke

40 and 30 mm (1.57 or 1.18") (Other strokes available on request)

Conductor Cross Section

0.08 – 6 mm2 (28 – 10 AWG)

Terminal Pitch

Minimum: 1 00 (0.04")
Maximum: 30 mm (1.18") (pneumatic feed recommended for 25 mm (1") or more)

Crimp-Height Adjustment

Increment: 0.025 mm (0.001")
Maximum: 1.5 mm (0.06")

Compressed Air Connection

6 – 8 bar (90 – 110 psi) (pneumatic applicators only)

Weight

5 kg (11 lbs.)

Important Note

Schleuniger recommends that wire samples be submitted in cases where there is doubt as to the processing capabilities of a particular machine.
More Info
Features
Economically priced applicators to handle practically all terminal and feed types
Rugged construction and simple set up to ensure long life and high quality results
Includes convenient micro-adjust dials, a 6-digit counter and one additional set of tooling
For use on automatic terminating machines as well as benchtop crimping presses
Models
Mechanical side- and end-feed
Pneumatic side- and end-feed
Pneumatic side-feed for insulated end ferrules
Pneumatic side-feed for Mylar tape
Mechanical end-feed for splice terminal
Options
Additional tooling sets
Cross sectional images
Capability studies on crimp height and pull test
Integrated wire funnels (for closed barrel terminals)