Schleuniger Solidifies Innovation Lead At Productronica 2021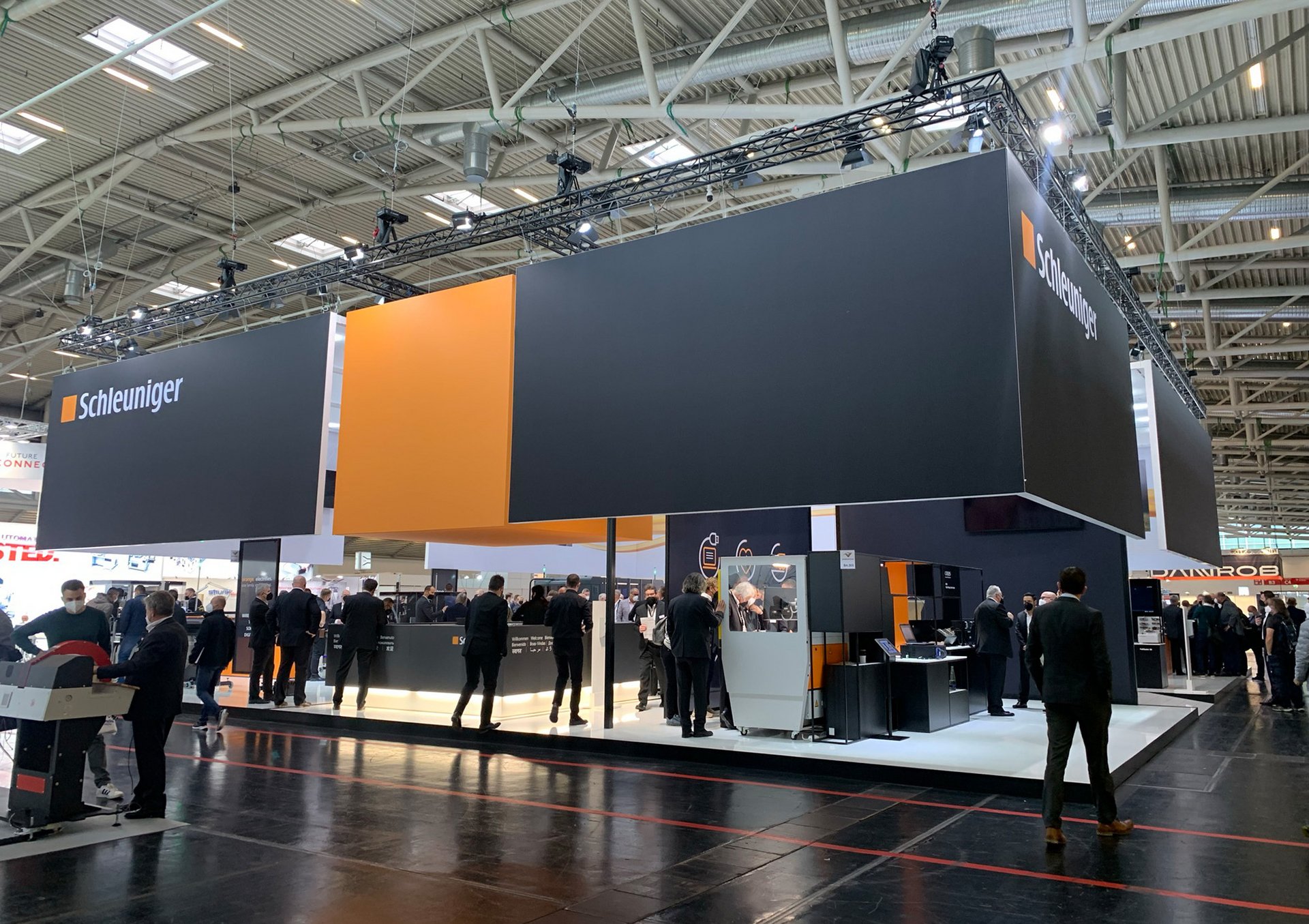 Schleuniger Global
11/17/2021
Future-Proofing the Automotive Sector
Electric vehicles (EVs) are rapidly gaining popularity and the market is expected to grow exponentially in the next decade. To prepare the automotive industry for this e-mobility boom, Schleuniger has developed the fully automatic Transfer Line Family S70.
The Transfer Line Family S70 is the winner of the 2021 productronica Innovation Award in the Cables, Coils, and Hybrids Cluster—and deservedly so: This modular platform with indefinitely extendable processing stations offers fully automated, fully customizable solutions to meet ever-changing highvoltage demands in the high quality customers are used to from Schleuniger.
For flexible, fully automated processing of data cables, Schleuniger has additionally developed the Transfer Line Family S50. This platform, too, is indefinitely extendable, very flexible, and thus suited for a variety of applications such as FAKRA SF, Mini-FAKRA, or Ethernet connector systems.
Schleuniger Head of Business Segment Solution, Software, and Testing and CTO Dr. Frank Breme explains: "We value strategic, long-term investments over one-offs. Hence our focus on platforms that grow with the customer's needs, e.g., during a ramp-up phase."
Automating and Pooling Testing Capabilities
The newly formed Schleuniger Testing Alliance—comprising Cirris, adaptronic, and Schleuniger Test Automation—offers safe, reliable, and user-friendly solutions to test cables, wire harnesses, connectors, and assemblies. This provides customers with a single point of contact in their region for virtually any testing need.
An early result of our joint efforts and expertise, the modular Schleuniger Test Automation T70 adapts to customers' specific needs and enables them to test many different connectors and applications at the same time. Because just as with cable processing, modularity and automation are the way forward in cable testing, too, and ultimately lead to fully integrated manufacturing solutions from wire processing to testing including software.
Schleuniger CEO Dr. Dieter Woschitz adds: "Intelligent and intuitive testing systems are critical to support employees in achieving errorfree production of wire harnesses with zero tolerance for mistakes."
Retrofitting Automation
Schleuniger is aware that not all customers will be able or willing to upgrade to automated processing and testing straight away. This is where the collaborative robot or CoBot comes in: A robotic arm complete with a robust stand that enables customers to integrate formerly separate, bench-top machines into semiautomatic platforms. Furthermore, its affordable price tag and easy-to-program system make the CoBot the ideal device with which to start automating.