CrimpCenter 36 SP – The New Efficiency Champion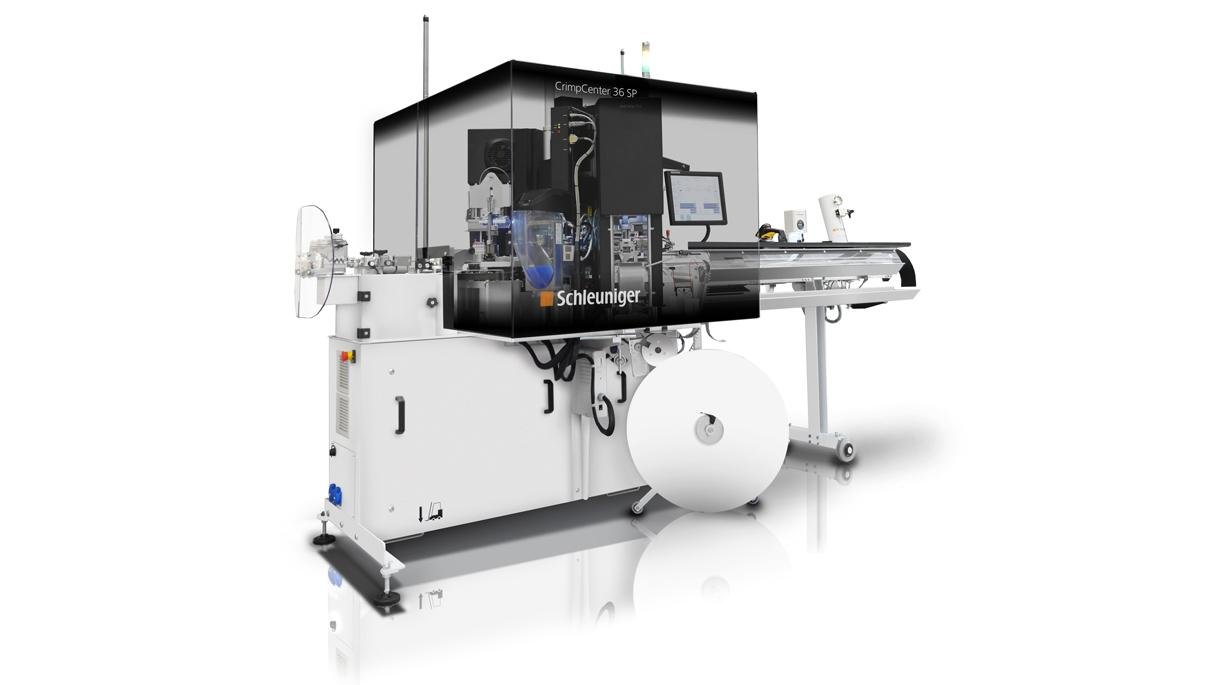 Schleuniger Global
07/05/2018
With 13 percent more performance on average and a reduction in cost per lead of up to 11 percent, the new CrimpCenter 36 SP represents better production quality combined with a significant increase in output. Previously manual setup steps are automated, enabling the machine to adjust itself optimally to the material. In addition to optimized process parameters that improve user-friendliness, Schleuniger's CrimpCenter 36 S Performance Package also features significantly more precise cable routing and a quick-change mechanism to minimize setup times. And thus, legitimately positions itself as the new and true efficiency champion.

Even More Performance
The CrimpCenter 36 SP owes its significantly increased effective performance to its new, highly dynamic drive and control concept, its newly developed deposit gripper system, the improved cable routing throughout the entire process, the 25 percent higher feeding speed and the improved synchronization of the feeding unit and conveyor belt speed. The intuitive and icon-based user interface with touch screen, EASY software and integrated technical documents allows even inexperienced operators quick and easy access. All important functions can be learned within one day.

Huge Upgrades of the CrimpCenter 3 Series
The quick-change mechanism with new guides for an easier and faster insertion of the crimp applicators, additional switches for the opening and closing of the safety cover, as well as automatic pressure adjustment, minimize setup times and lead to improved setup quality. The possibility to combine the CrimpCenter 36 SP with a maximum of six processing stations and a great variety of accessories guarantees maximum flexibility in the application range.

Increased Quality in Cable Production
Based on stored parameters, the contact pressures of the belt feed and the gripper, for example, automatically adapt to the cable cross section to be processed. This ensures correct, operator-independent parameterization and eliminates a complete step in the setup process. The latest quality assurance options, such as SmartDetect, WireCam and "GuidedFeasibilityStudy", enable both system-supported analyses of the monitoring capability of crimp board applications and real-time monitoring during the process. And all of this without any loss of performance.
The new CrimpCenter 36 SP harmonizes perfectly with Schleuniger's slogan "To Be Precise". It has been specially designed to meet the high demands for precision, productivity and reliability in the automotive industry as well as for harness makers who are dependent on maximum efficiency. Combined with its attractive price level and user-friendliness, the new Schleuniger fully automatic crimping machine also represents a convincing solution in the field of consumer electronics and data communication, as well as maximizing return on investment and efficiency. Companies can now look forward to working even more efficiently and successfully with Schleuniger's innovation.