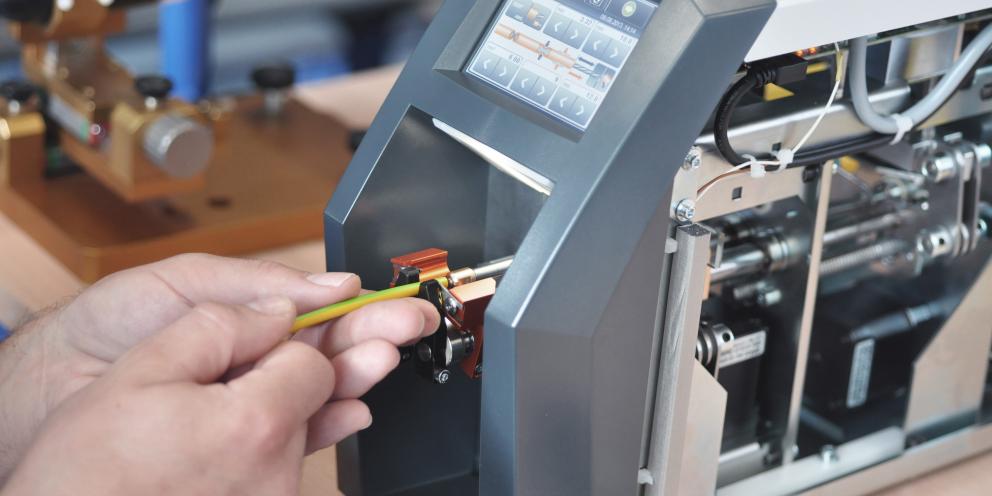 Minimizing unscheduled machine downtime is the most important goal for our service organization. Whether you are five miles or five thousand miles away, Schleuniger has the resources and capability to help you with machine problems and questions.
Hotline and Email Support
Our technical support specialists can often troubleshoot a service problem right over the phone or via e-mail. You can contact technical support online or call our technical support hotline at +1 (877) 902-1470.
Send Your Machine to Us
Machines or parts can be sent to any Schleuniger certified service location. Simply fill out a "Return Material Authorization (RMA)" request online and we will contact you with instructions on where to send your machine.

To ensure your machine will be returned to you as quickly as possible, consider using our Call Ahead Service. With Call Ahead Service, an RMA will be issued to reserve your place in line and when it's time to send us your equipment, we'll call you with instructions for shipping your machine to us. When we receive your machine it will be placed next in the queue.
Priority Service
In urgent cases, our service engineers can move your equipment to the front of the repair queue to ensure that your machine is sent back as soon as possible. During standard or extended warranty periods this service is free of charge. After warranty has expired, priority treatment is available at a surcharge on labor rates. The premium rate also applies to on-site labor outside of business hours.
Field Service
If shipping is not an option, our professional engineers can repair your equipment directly at your location. Schleuniger field service is efficient, convenient and customer friendly.