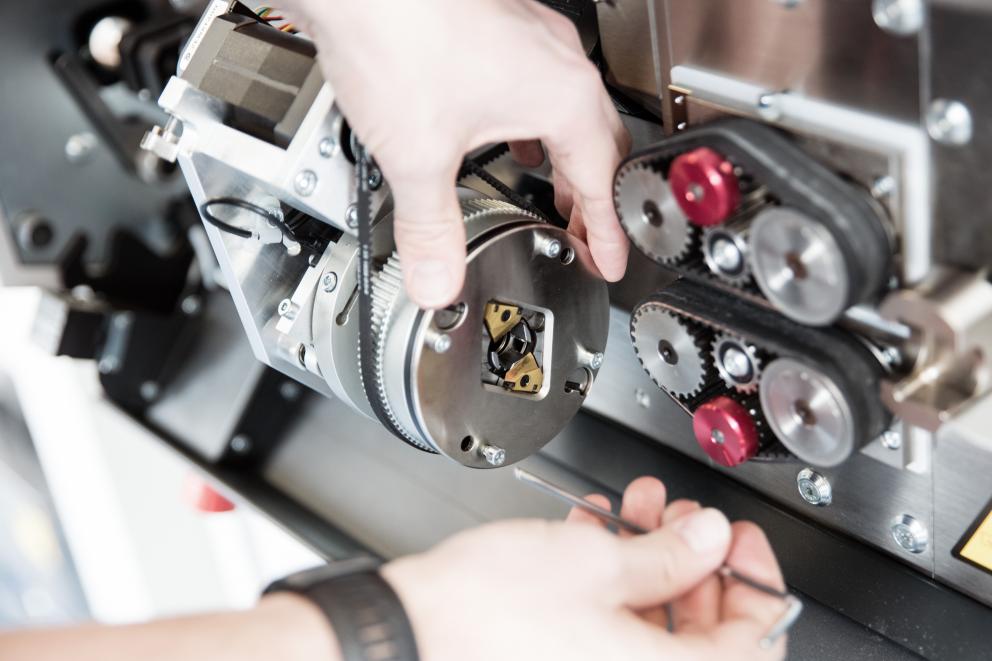 Preventive Maintenance
Extend the life cycle of your equipment and optimize performance with the professional care of Preventive Maintenance. Send your machine to a certified service location or schedule a local field service visit. Schleuniger offers a significant discount on field labor with Preventive Maintenance agreements at your facility and we can schedule maintenance in advance to fit your production schedule.
Includes
Inspection
Cleaning
Lubrication
Calibration
Exchange of consumables (optional)
Software check, upgrade if required
Application sample and analysis
Recommendations for repair
Comments on production optimization
Standardized Maintenance
During Preventive Maintenance, the engineer carries out a detailed list of activities, informs you about the results of the inspection, and lists recommendations to optimize your individual production. Confronting potential risks and service requirements will avoid breakdowns and errors in advance.
Consumable Kit
Exchanging consumables is necessary to ensure high quality calibration results. You can purchase the optional Consumable Kit at reduced costs with a Preventive Maintenance program.
Recommended Intervals
A service engineer will recommend the frequency of Preventive Maintenance depending on your local production schedule and application. We are convinced that you will lower the risk of expensive machine downtime substantially, which is why we offer a discount on our Extended Warranty if you schedule Preventive Maintenance as many times per year as you run shifts per day.
| | | | |
| --- | --- | --- | --- |
| Number of daily shifts | 1 | 2 | 3 |
| Recommended number of maintenance services annually | 1 | 2 | 3 |
---
Standard Global Warranty
Every Schleuniger machine includes a free Global Warranty, covering the first year after purchase, allowing you to move your equipment to new markets without losing warranty claims. During this period, we offer priority repair service at local Schleuniger locations during business hours and free exchange of defective parts (excluding consumables).
---
Extended Warranty
In order to assist our customers with long-term investment calculations and limit the risk of repair costs, we offer a local Extended Warranty. The conditions during the Extended Warranty period are the same as during the standard Global Warranty period. Multi-year discount programs are available for substantial savings.
Warranty Expiration Reminder
Schleuniger will remind you of local Extended Warranty options prior to the Standard Global Warranty expiration. Discounts are available if purchased with a machine.
Priority In-house Repairs Included
During Standard or Extended Warranty we move your machine to the front of repair queue at Schleuniger service locations, guaranteeing that your machine is back up and running as soon as possible.
Extended Warranty Benefits
Convenient cost allocation after standard Global Warranty
Limited costs for in-house repairs at Schleuniger locations
Limited costs for spare parts (consumables excluded)
Free in-house priority service (on-site service not included)