WireTwister 3300 AD
Double Head Twisting Machine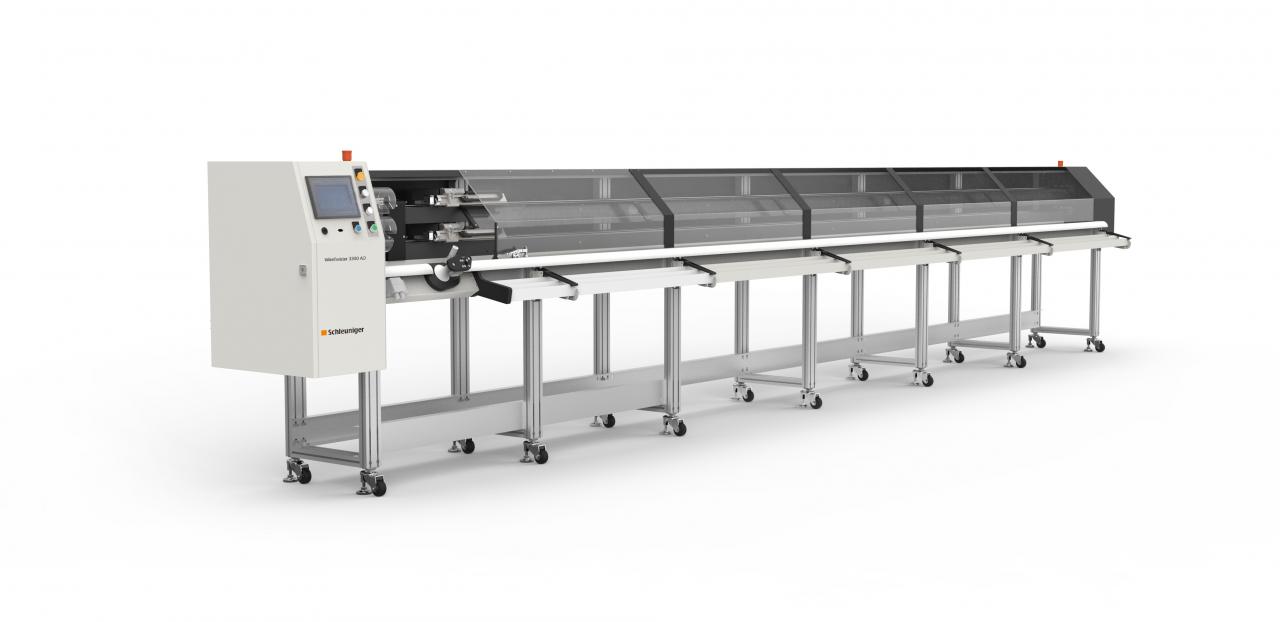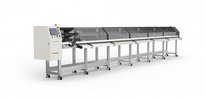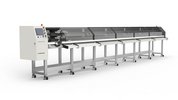 Overview
The WireTwister 3300 AD is an automatic dual head wire twisting machine. With two integrated twisting lines featuring high speed twisting heads and self-driven carriers, the machine achieves an unbeatable performance. The operator can easily load both ends of the untwisted wires into the machine from one standing position. The ergonomic access to the wire holders and twisting heads allows quick and easy operation. Dual palm button switches and multiple safety shields ensure safe operation. High quality linear guides and drive belts offer precise positioning, high quality and a long lifetime. A color touchscreen user interface with intuitive menus for parameter settings and job-management allow easy programming and operation. During setup, a guided pitch-correction menu helps the operator to achieve the desired pitch automatically. The WireTwister 3300 AD is available in different lengths to meet customer requirements.
Application Range
Thanks to its modular design, configurations from 6.4 m (252.0") up to 11.2 m (440.9") in length are available in 2.4 m (94.5") increments
Technical Data
Raw Material Length (untwisted)

600 mm up to 6,400 / 8,800 / 11,200 mm (23.6" up to 252 / 346.5 / 441")

Length of Lay (Pitch)

10 – 50 mm (0.39 – 1.97")

Conductor Cross-Section

2 x 0.13 - 2 x 3 mm2 (2 x 26 AWG - 2 x 12 AWG)

Length of Open (Untwisted) Ends

30 - 100 mm (1.18 - 3.94'')

Difference in Open Ends

0 - 60 mm (0 - 2.36")

Memory Capacity

Up to 1,000 programs

Twisting Speed

800 - 2,000 rpm

Power Supply

230 VAC +/-5%, 50/60 Hz, <1KW, Compressed Air 6 bar (90 psi)

Dimensions (L x W x H)

7,400 x 750 x 1,360 mm, 460 kg (291 x 29.5 x 53.5", 1,014 lbs.)
9,800 x 750 x 1,360 mm, 570 kg (385 x 29.5 x 53.5", 1,257 lbs.)
12,200 x 750 x 1,360mm, 680 kg (480 x 29.5 x 53.5", 1,499 lbs.)

Important Note

Schleuniger recommends that wire sample be submitted in cases where there is doubt as to the processing capabilities of a particular machine
More Info
Function
The WireTwister 3300 AD operates with two alternating twisting lines. While the first line twists the wires, the operator loads the next set of untwisted wires onto the second twisting line. The operator loads the right wire ends into the carrier clamps. The carrier pulls the wire precisely to the programmed position for initial wire length and the operator then loads the left wire ends into the twisting head. Each twisting line twists the wires with programmable tension control. When processing some applications, the twisted wire length shortens more than the tension stroke and the carrier moves automatically to maintain the proper tension.
A programmable relaxing sequence at the end of the twisting process ensures highly repeatable quality. The wire holders automatically eject the twisted pair cable into the integrated stacking channel and the carrier moves to the operator to be ready for the next pair of wires to be loaded.
Customer Benefit
Programmable high speed twisting heads for high twisting performance
Carriers move automatically for easy loading of wires while the operator remains in one position
Programmable wire tension during twisting and relaxing procedure
Integrated twisting-correction algorithm for easy setup and saving of a correct twisting pitch
Self-explanatory menus with intuitive navigation for programming, job-handling and operation with different password protected user levels