RotaryStrip 2400
Stripping Machine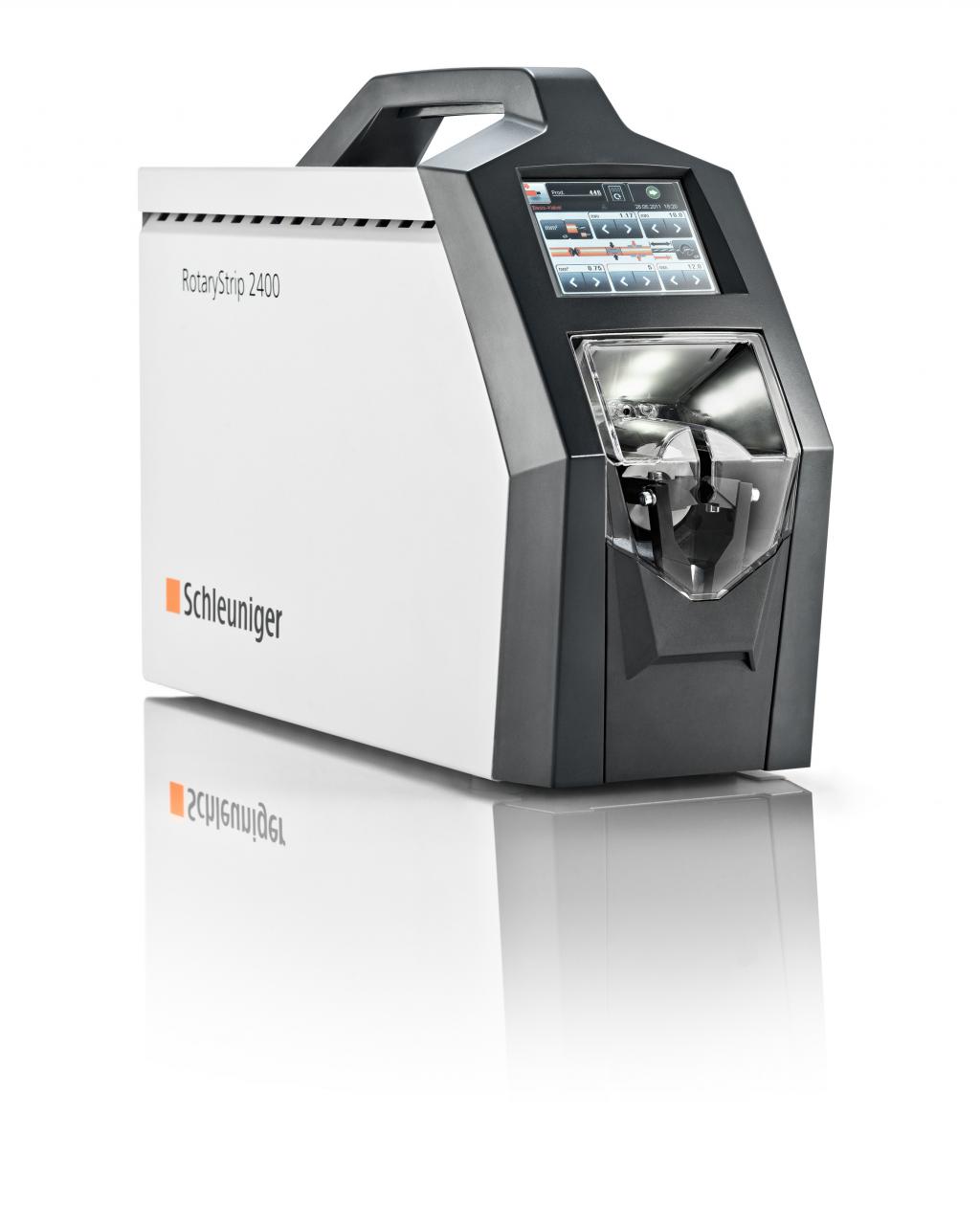 Overview
The RotaryStrip 2400 is an impressive, fully programmable stripping machine with high precision and flexibility. Wire sizes from 0.013 - 6 mm² (36 - 10 AWG) can be processed without any mechanical adjustments. The RotaryStrip 2400 can strip wires with various insulation types including Kapton, Fiberglass and Teflon. The RotaryStrip 2400 also has the capability to strip and twist wires ranging in size from 0.14 mm - 2.5 mm² (26 - 13 AWG).
Intuitive color touch screen user interface
No mechanical adjustments required when changing wire sizes
Very sensitive trigger sensor – works great for small, fl exible wires
Operator has clear view of the entire working area
Controlled twisting of inner conductors
Barcode scanning function
Application Range
The Schleuniger RotaryStrip 2400 strips wires ranging in size from 0.013 – 6 mm² (36 – 10 AWG) and jacketed cables up to 7 mm (0.27") in diameter. The main applications are diffi cult to process insulations and wires where a controlled twisting of the inner conductors is required. This innovative machine does not require any mechanical adjustments to process different wire sizes. Using the color touchscreen, the operator selects the desired wire size from the preprogrammed library and all parameters (incision diameter, clamping pressure, blade way back, etc.) are automatically set. The operator edits the stripping and pull-off lengths as required and the machine is ready for operation. The RotaryStrip 2400 begins the stripping process when the wire end touches the trigger sensor. The wire is automatically clamped and the stripping process is performed according to the programmed values. If desired, the program can be saved to internal memory for future use.
Material
Cable
Wire
Single-Conductor Cable
Solid Wire
Kapton
Discrete Wire
Multiconductor Cable
Teflon®
Stranded Wire
Fiberglass
Processing Capabilities

Discrete wire processing

Full strip

Multiconductor cable stripping

Multistep stripping

Partial strip

Twisting function
Technical Data
Conductor Cross-Section
0.013 – 6 mm² (36 – 10 AWG)
Raw Material Diameter

Maximum 7 mm (0.27")

Diameter Increments
0.01 mm (0.001")
Strip Length

Minimum 0.1 mm (0.01")
Maximum 34 mm (1.33")

Strip Length Increment
0.1 mm (0.01")
Cycle Time

1 s (0.75 mm² (18 AWG) wire, stripping length 10 mm (0.39"), pull-off length 5 mm (0.19"))

Cycle Start

Automatic trigger sensor or optional foot pedal

Raw Material Type

PVC, PUR, rubber, Teflon, Tefzel, Kapton, etc.

Clamping
Programmable clamping force
Memory Capacity

1,000 wires or cables (memory function only with "extended wire")

Interfaces

Foot pedal, USB "Host"

Options

Foot pedal, radius centralizers

Noise Level

<70 dB (A)

Power Supply

100/115 VAC, 230/240 VAC, 100 VA / 50/60 Hz

Dimensions (L x W x H)
390 x 130 x 280 mm (15.3" x 5.1" x 11.0")
Weight

10 kg (22 lbs.)

CE-Conformity

The RotaryStrip 2400 fully complies with all CE and EMC equipment guidelines relative to mechanical and electrical safety and electromagnetic compatibility.
More Info
Features
Intuitive color touch screen user interface
No mechanical adjustments required when changing wire sizes
Very sensitive trigger sensor – works great for small, flexible wires
Operator has clear view of the entire working area
Controlled twisting of inner conductors
Barcode scanning function
Programmable Processing Parameters
Pull-off with or without rotation of the stripping head
Pull-off speed
Stripping lenghts partial strip
Stripping lengths full strip
Extra spin time of the stripping head
Spindle direction of the stripping head
Rotational speed of the stripping head
Stripping diameter
Wayback (opens blades slightly before pulling off)
Feed rate of the stripping blades
Cable clamping force