Mercury-4
Laser Stripping Machine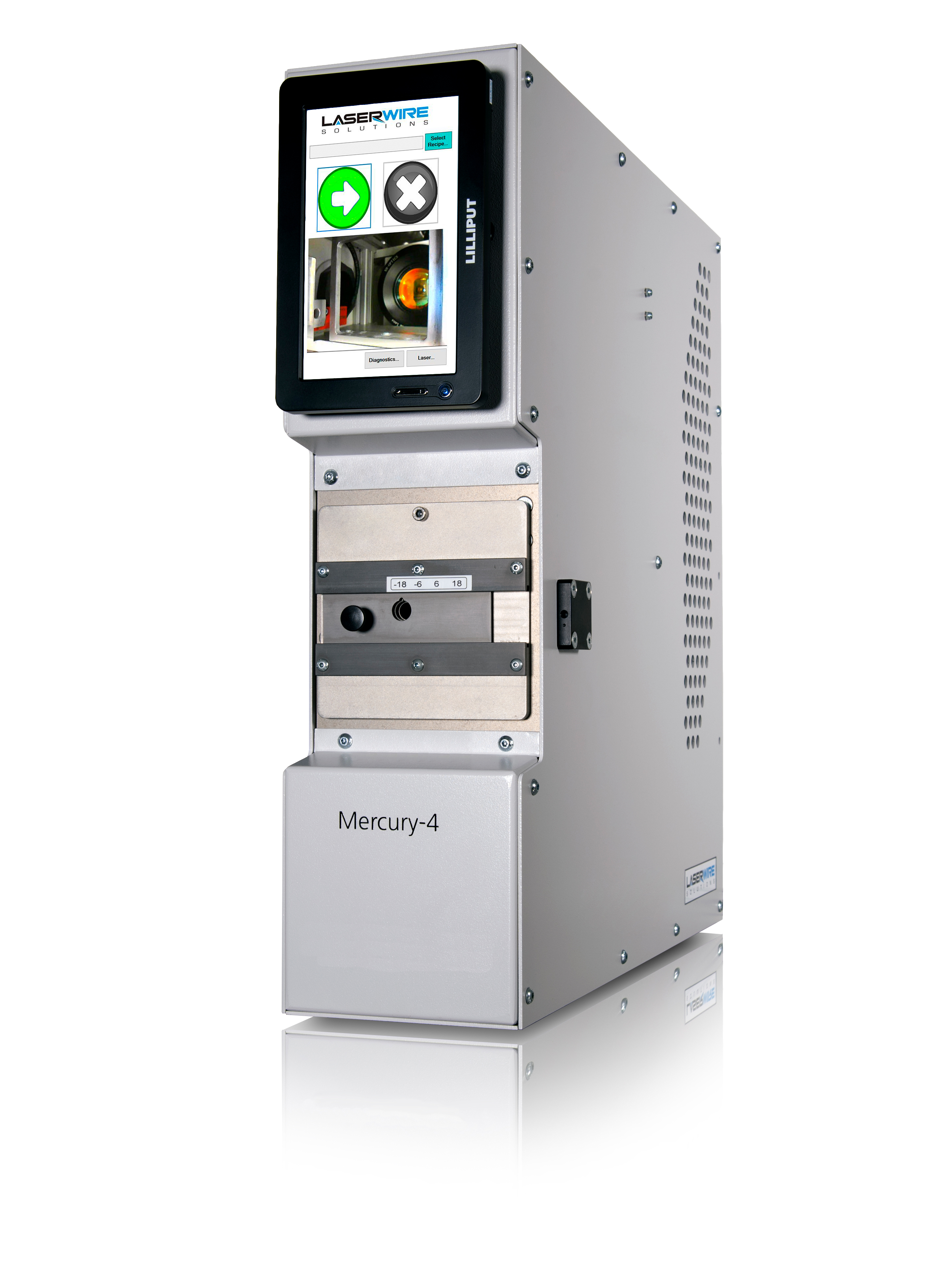 Overview
The Mercury-4 strips wires and cables ranging in size from 0.0010 to 16 mm2 (50 to 6 AWG). Using the color touchscreen, the operator selects the desired stripping parameters from the programmed library and all parameters (strip lengths, laser power and speed, etc.) are automatically set. Once the operator selects the required program, the machine is ready for operation. The Mercury-4 can strip cables inserted into the supplied fixture aperture to an end stop, or via a custom fixture plate. A camera allows the whole process to be monitored.
High-quality, nick-free stripping
Strips all polymer materials and colors
Noncontact – no wear parts
0.0010 to 16 mm2 (50 to 6 AWG)
Powerful and flexible processing capabilities
20 watt CO2 Laser
Application Range
Material
Kapton
Nylon
Polyester
Polyesterimid
Polyethylen
Polyimide
Polyurethan
PVC
Silicon
Teflon®
Tefzel®
Fiberglass
Processing Capabilities

Jacket slitting

Laser Stripping

Multiconductor cable processing (jacket only)

Out-of-round cable processing (jacket only)

Shield cutting twisted pair cable

Window stripping
Technical Data
Conductor Cross Section

0.0010 to 16 mm2 (50 to 6 AWG)

Raw Material Diameter

Maximum 6 mm (0.24"), other applications upon request

Strip Length

Minimum: 0.5 mm (0.02")
Full: Maximum 50 mm (2.0")

Slitting Length

Maximum 50 mm (2.0")

Length Increment

0.1 mm (0.001")

Laser Beam Speed

Up to 80"/s (2,032 mm/s)

Lens

High speed, dual axis galvo scanners

Cycle Time

2 s for most materials

Cycle Start

Via touchscreen or optional foot pedal

Operation Type

Circumferential strip, linear slit, ablation, any stripping pattern in a 50 x 50 mm (2 x 2") strip area

Raw Material Type

PTFE / Teflon, Tefzel, PVC, Polyurethane, Silicon, Kapton, Polyimide, Polyesterimide, Polyester, Fiberglass, Polyethylene, Nylon

Memory Capacity

Unlimited

Interfaces

USB, external trigger / busy

User Interface

7" color touchscreen

Noise Level

<80 dB (A)

Power Supply

100/115 VAC, 230/240 VAC, 1.5 kW / 50/60 Hz

Dimensions (L x W x H)

500 x 150 x 560 mm (20 x 6 x 22")
250 x 400 x 500 mm (10 x 16 x 20") control cabinet

Weight

20 kg (44 lbs.) Bench unit: 20 kg (44 lbs) control cabinet

CE Conformity

The Mercury-4 fully complies with all CE, OSHA and FDA guidelines relative to mechanical, electrical and laser safety. Class 1 enclosure incorporating a Class 4 laser product.

Important Note

Schleuniger recommends that wire samples be submitted in cases where there is doubt as to the processing capabilities of a particular machine.

To comply with health and safety requirements, air extraction must be provided when using any laser wire stripper. If this is not available in your factory, Schleuniger can provide air extraction systems to remove smoke, particles and fumes from the laser stripping area and return clean air to the room. For PVC applications, PVC specific extraction systems are available and should be used. It is the responsibility of the end-user to ensure that adequate fume extraction is utilized.
More Info
Options
Custom designed fixture plates
Barcode job selection
In-line cut & strip integration - unlimited strip length
Foot pedal
30 watt laser
40 watt laser
Fume extractor