UV Laser Marking System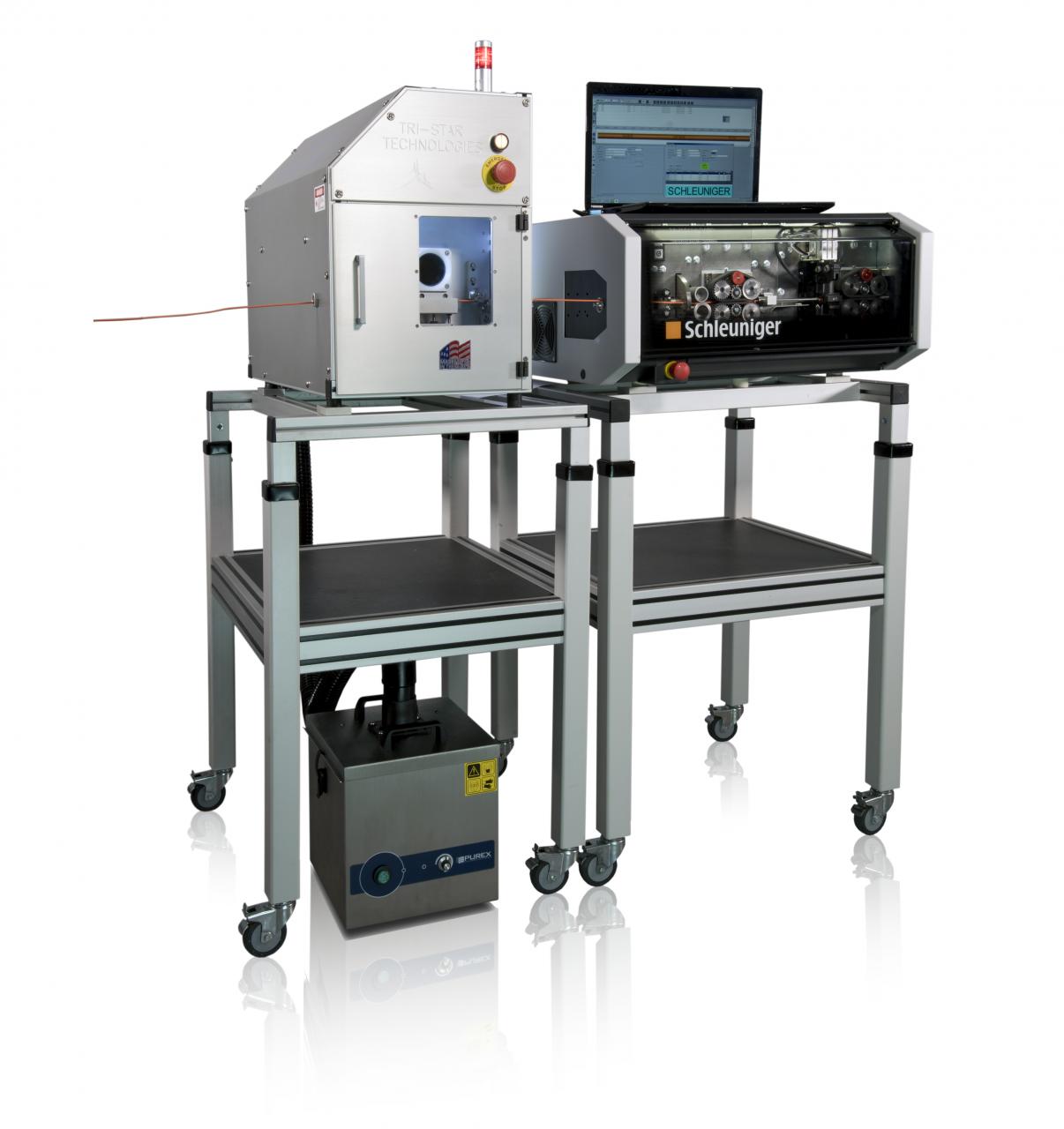 Overview
Schleuniger has partnered with Tri-Star Technologies to create a fully integrated laser wire marking system. Tri-Star Technologies is a leader in laser wire marking for military and aerospace applications. They developed a special version of their popular M-100LFG Series UV laser wire markers that can be fully integrated with Schleuniger's line of cut and strip machines. The fully integrated system is controlled by Schleuniger's CAYMAN wire processing software.
Marks any UV laser markable wires including Kapton, Tefzel and Teflon insulated wires and cables.
System controlled via Schleuniger CAYMAN wire processing software.
Apply marks anywhere along a wire or cable.
No waste when running wires in a wire list.
Print in any font, size and orientation.
Meets mil-spec MIL-W-5088, AS-5088L, BAC5152 and SAE ARP5607.
Application Range
The laser wire marking system marks the wire using a UV laser, cuts the wire to length and strips both ends. Additional accessories are available for coiling or stacking the finished wires.
Technical Data
Conductor Cross Section

0.13 – 13.0 mm² (26 – 6 AWG)

Raw Material Diameter
Standard: 0.75 – 10 mm (0.030 – 0.394")
Optional: Up to 25.4 mm (1.0")
Marking Speed

Up to 0.5 m/s (100 ft/min), depending on font size

Power Supply

120 VAC, 6 amps

Dimensions (L x W x H)

671 x 356 x 620 mm (26.4 x 14.0 x 24.4")

Important Note

Schleuniger recommends that wire samples be submitted in cases where there is doubt as to the processing capabilities of a particular machine.