UniCrimp 200
Crimping Machine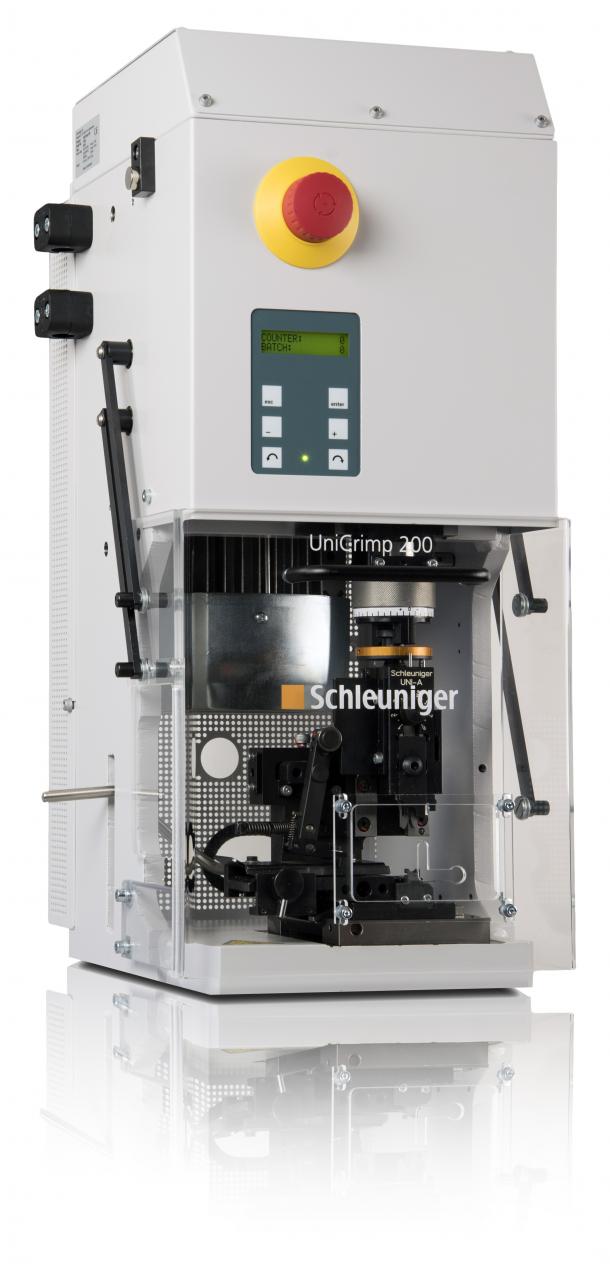 Overview
Meet the most powerful crimping machine in its class! The UniCrimp 200 benchtop crimping machine is designed for crimping open or closed-barrel terminals with up to 3.4 tons (33 kN) of crimp force. The machine easily handles wire sizes up to 6 mm² (10 AWG) and accepts most standard mini-style applicators (mechanical or pneumatic) for crimping side- and rear-feed terminals. The UniCrimp 200 ensures fast cycle speed as well as extremely quiet and safe operation.
Economical & user-friendly
Quick-release applicator base for easy changeover
Adjustable crimp speed
Standard toolless, incremental crimp-height adjustment (micro adjust)
Split cycle capability for closed-barrel contacts
Application Range
Processing Capabilities

Discrete wire crimping

Multiconductor cable crimping
Technical Data
Conductor Cross Section

Up to 6 mm² (10 AWG)
Material thickness up to 1 mm (0.04")
Length of the crimping zone up to 8 mm (0.31")

Crimping Force

33 kN

Stroke

40 mm (1.57")
Optional 30 mm (1.18")

Shut Height

135.788 mm (5.34")

Crimp Height Adjustment

± 0.25 mm (0.01"), in increments

Cycle Time

Adjustable from 350 ms to 1 s

Activation

Foot pedal

Noise Level

<70 dB (A)

Power Rating

0.75 kW

Power Supply

115 VAC to 230 VAC, 50/60 hZ, 855 VA

Dimensions (L x W x H)

400 x 320 x 750 mm (16 x 13 x 30")

Weight

80 kg (176 lbs.)

CE Conformity

The UniCrimp 200 fully complies with all CE and EMC equipment guidelines relative to mechanical and electrical safety and electromagnetic compatibility.
More Info
Function
The UniCrimp 200 crimping press is for terminating stripped wires up to 6 mm² (10 AWG). The press accepts most industry-standard, mini-style applicators for crimping side-, left- and rear-feed terminals.
Quick-change applicator base plate
Quick-change terminal guides for easy changes between side- and rear-feed terminals
Counters for lot size, batch size and total machine cycles
Variable press cycle speed for difficult applications
Programmable air feed timing for pneumatic applicators
Programmable split cycle functions control speed and stop point
Jogging function (left / right) with home position display and automatic home position function
Fine adjustment of crimping height (micro adjustment)
Welded steel, machined base and frame
Guided frequency converter. Machine cycle guarantees an optimal force action.
Options
30 mm (1.18") stroke
Pneumatic valve to activate pneumatic tools
Crimp-force monitoring
Carrier strip cutter
Terminal oiler
Paper winder
Work light