CT 34
Pneumatic Crimping Machine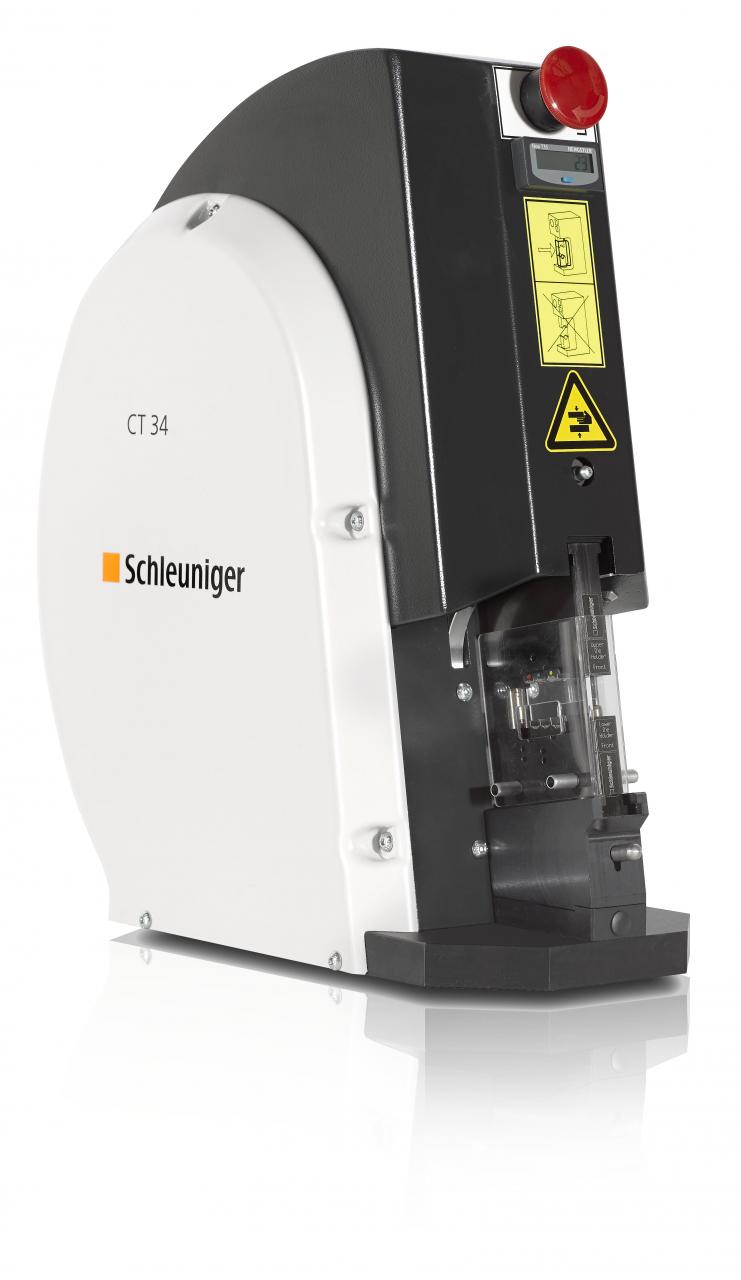 Overview
The CT 34 Pneumatic Crimping Machine is designed for loose-piece crimping applications. Its parallel crimping action delivers up to 35 kN (3.9 tons) of force. The quality of the crimp is guaranteed by a full-cycle mechanism that assures that the dies have closed completely before they are reopened. The ergonomic 15 degree tilt of the machine provides an optimal viewing angle and the LED light enhances visibility of the crimping area.
The new Quick Change die adapter system allows for fast changeover times and to prepare for upcoming jobs by using additional (optional) die adapters. The CT 34 is very simple to set up and operate. A wide range of crimping dies can be used by choosing the corresponding die adapter.
Parallel crimping action
Full-cycle mechanism ensures dies close completely before they are reopened.
Ergonomic 15 degree tilt provides clear view of work area
LED illuminated crimping area for accurate, fast and safe positioning of the terminal
Integrated safety shield surrounds the crimping dies.
Electronic piece counter
Easy footpedal operation
New Quick Change die adapter system
Includes one die adapter to choose from. See "Application Range" in the following tab.
Application Range
Processing Capabilities
Crimping applications requiring up to 35 kN (3.9 tons) of force
Insulated and noninsulated crimping applications up to 35 mm2 (2 AWG)
Includes one die adapter to choose from:

For all new Schleuniger male-fitting die sets
For all new CSV10 type Schleuniger die sets
For previous CT series female-fitting die sets

By using the proper die adapter, a wide range of die sets are available to crimp:

Insulated & noninsulated terminals
Closed and open barrel terminals
Ferrules
Butt splices

It is compatible with previous CT series female-fitting Schleuniger die sets by using the proper die adapter.
Technical Data
Conductor Cross Section

Up to 35 mm² (2 AWG) on insulated and & noninsulated terminals. Larger sizes may be possible depending upon the terminal type.

Crimping Force
3,200 kg (7,055 lbs)
Crimping
Parallel
Stroke

18 mm (0.71")

Ram Speed (Idle)

Approximately 1 cm/s (0.39 inch/s)

Safety Cover
Included
Compressed Air Connection

6 bar / 90 psi, 2.3 l (140.4 in3) per stroke

Power Supply

110 - 240 VAC (Only for low consumption LED Light)

Noise Level

<62 dB(A)

Weight

25 kg (55 lbs)

Dimensions (L x W x H)

390 x 175 x 440 mm (15.4" x 6.9" x 17.3")

CE Conformity

The CT 34 complies fully with all CE and EMC equipment guidelines relative to mechanical and electrical safety and electromagnetic compatibility.

Important Note
Schleuniger recommends that wire samples be submitted in cases where there is doubt as to the processing capabilities of a particular machine.
More Info
Options
Custom die holders to accept other manufacturers' die sets are available upon request.
Custom crimping die sets available upon request.