CT 150
Hydraulic Crimping Machine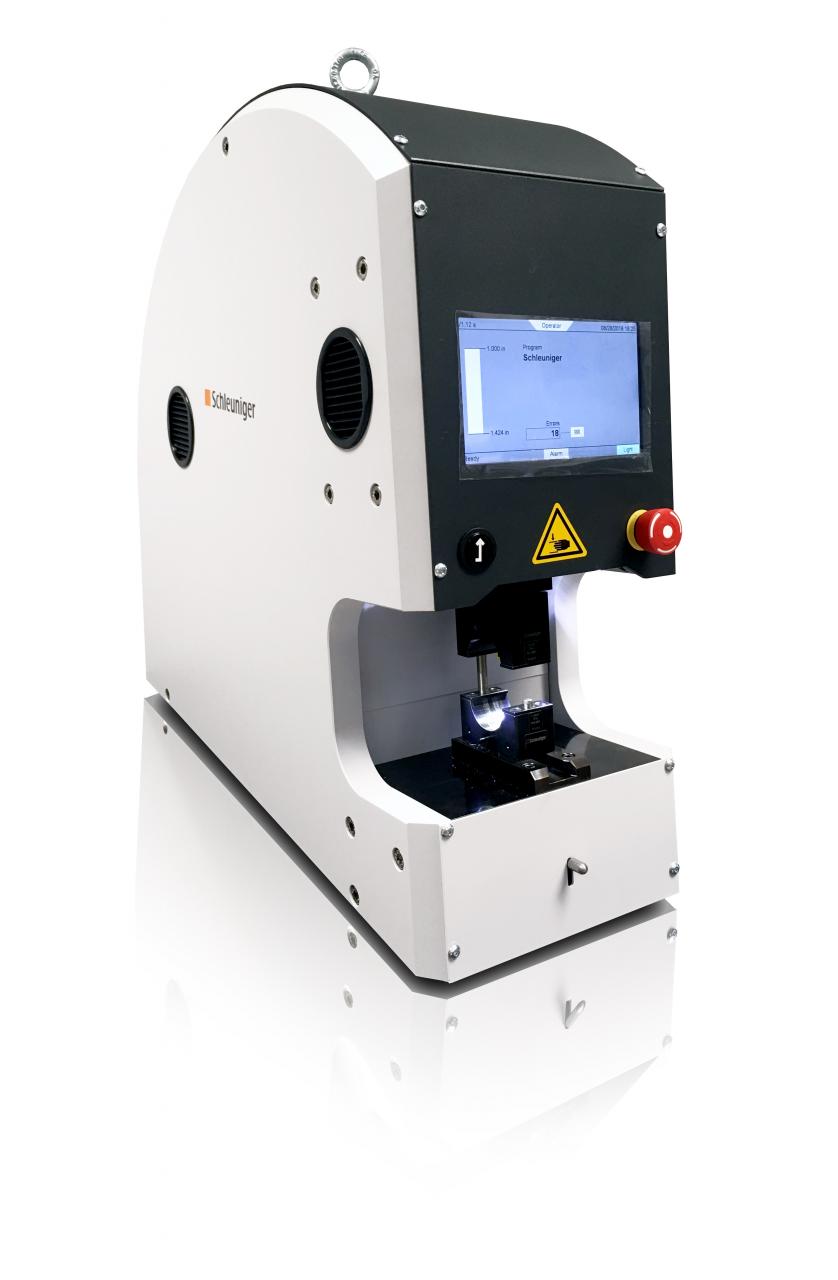 Overview
The CT 150 hydraulic crimping press offers power, efficiency, and precision for heavy gauge, loose-piece crimping applications. Its parallel crimping action delivers up to 150 kN (16.9 tons) of force
for applications for open barrel, closed barrel and heavy duty, 4-indent crimping applications.
Throughput is optimized by simultaneously minimizing the travel of the crimping head and an increased closing and opening speed. The fullcycle mechanism coupled with the integrated crimp monitor ensure high quality output to adhere to even the most demanding specifications.
Touchscreen interface for easy programming
Programmable stop positions increases productivity.
Integrated crimp monitoring and user authorization
Flexible platform can accommodate a range of applications.
Variety of crimp dies and adapters
Quick-change die adapters
Application Range
A variety of crimp dies are available for the CT 150 for a wide range of applications. U-die adapters will accept some industry standard U-shaped crimping dies.
Heavy duty
Stamped and formed
Closed barrel
Preinsulated
Technical Data
Crimping Force

150 kN (16.9 tons)

Conductor Cross Section

Open Barrel
Insulated Closed Barrel
Non-Insulated Closed Barrel
4-Indent Closed Barrel

Up to 150 mm2 (300 MCM)
Up to 400 mm2 (800 MCM)
Up to 400 mm2 (800 MCM)
Up to 150 mm2 (300 MCM)

Display

Touchscreen

Units (distance / pressure / temperature)
mm or inch / bar or psi / ºC or ºF
Programmable Increments

0.01 mm (0.001")

Programmable Stop Positions

3

Crimp Force Monitor
Hydraulic pressure / monitoring parameters and crimp profiles saved with job
Memory Capacity

100 Jobs

Remote Maintenance

Available via Ethernet

System Feedback/Diagnostics

Error list, Fluid temperature, Electronics temperature, I/O Status, I/O Response

User Levels

3 (2 levels password protected)

Stroke

40 mm (1.58")

Ram Speed (Idle)

Down: 10 mm/s | Up: 12 mm/s

Cycle Speed

Approx. 7 seconds at full stroke (without back stroke limitation)

Safety Cover

Fixed around crimping dies

Activation

Foot pedal

Interfaces

Ethernet

Noise Level

69 dB (A)

Power Supply

110/230 VAC, 60 Hz

Dimensions (L x W x H)

692 x 242 x 656 mm / 27.3 x 9.6 x 25.8"

Weight

174 kg (382 lbs) / 194 kg (428 lbs) crated

CE Conformity

The CT 150 fully complies with all CE and EMC equipment guidelines relative to mechanical and electrical safety and electromagnetic compatibility.

Important Note

Schleuniger recommends that wire samples be submitted in cases where there is doubt as to the processing capabilities of a particular machine.
More Info
The CT 150 features a touchscreen display for fast, simple programming and memory for up to 100 different jobs. Three programmable crimping profiles allow you to maximize efficiency by minimizing the travel of the crimping head thereby eliminating wasted movement and time.
Profile 1 allows the user to program the bottom of the stroke. After the crimp, the crimping head opens completely. Profile 2 allows the user to program the bottom of the stroke and the top of the stroke. This minimizes the travel and cycle time for the overall process. Profile 3 allows the user to program an intermediate stop position in addition to the top and bottom of the stroke. The intermediate position is to hold the terminal in position before the crimp cycle.
The quick-change system allows for fast changeover times between a variety of optional die adapters. A variety of crimp shapes and sizes is available to meet your applications. The large work surface is also conducive to custom applications and fixtures for customers who prefer to design their own tooling.
User access levels ensure that only those authorized can make changes to job or quality information. System diagnostics provide feedback on system temperatures, error list, I/O status and responses with remote access to aid in trouble shooting and resolving issues quickly. An ethernet interface make it simple to collect job data and parameters for trouble shooting or other purposes.
The ergonomic 15º tilt of the machine provides an optimal viewing angle and the LED light enhances visibility of the crimping area.
Due to its open construction, a variety of crimping or pressing applications can be handled on this powerful, yet relatively compact press.