Schleuniger Wins the 2016 tekom docu Award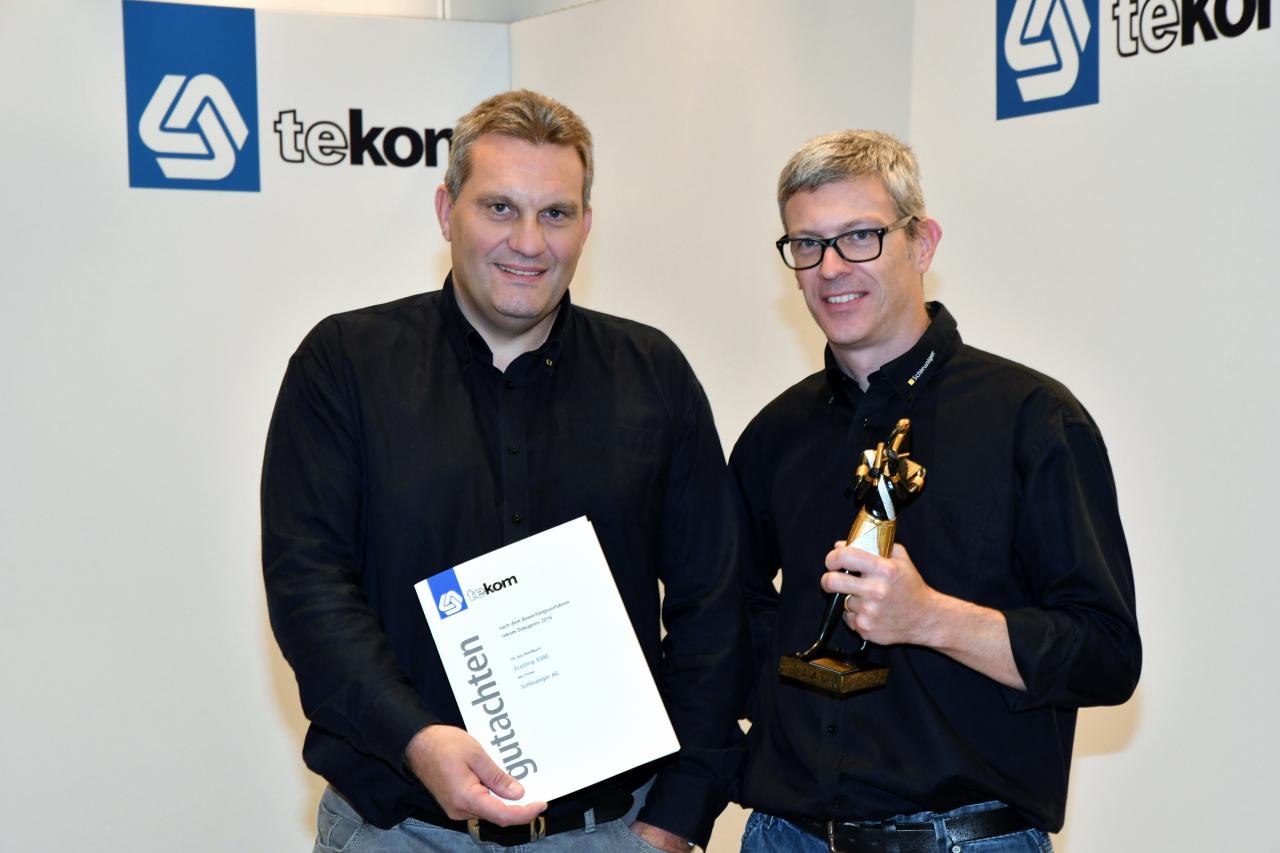 Roger Steuri, Head of Machine Development (left) und Michael Lehmann, Team Leader Technical Documentation, accept the tekom docu award (Dokupreis) 2016.
Schleuniger Global
11/24/2016
"Simple, understandable, precise." In Michael Lehmann's opinion, these are three essential characteristics for which Schleuniger was awarded the 2016 tekom docu award for the EcoStrip 9380 reference manual. Michael Lehmann is the Team Leader for Technical Documentation at Schleuniger AG in the Swiss town of Thun and he is visibly delighted about the award, which the Association for Technical Communication, tekom, presents on an annual basis. With its docu award, tekom pays tribute to well-executed user manuals and operating instructions with particular emphasis on topics of safety and practical applicability. The award is considered to be the most significant of its kind in Europe. Before the prize is awarded, an independent team of 37 recognized experts carries out an in-depth evaluation of the submitted publications. This year, after the pre-screening, a total of 26 analogue and digital publications were admitted for further evaluation, of which six user manuals and operating instructions and one multimedia application ultimately won awards.
In their evaluation report, the experts underlined, in particular, that the EcoStrip 9380's reference handbook includes far-reaching and easily understandable safety instructions. In addition to other points, the expert panel also commended the correct and plausible guidelines and the very good and helpful illustrations. A well-executed reference handbook helps minimize a machine's non-productive time, Roger Steuri, Head of Machine Development at Schleuniger AG emphasizes. "The fact that we earned the tekom docu award proves: In this respect too, Schleuniger customers have a competitive edge. They can produce instead of racking their brains trying to figure out unclear and incomplete handbooks", Roger Steuri explains and adds that the quality of Schleuniger's documents are a reflection of the company's self-conception: "Our claim is To Be Precise and this covers not just products that function with precision and that we work with high-precision at all our locations, but amongst other things also that we communicate accurately," Roger Steuri says.
The tekom association awards the tekom docu award on an annual basis. The association's goal behind this prize is to present the subject technical documentation in a positive manner both to the general public and the professional audience and simultaneously to increase awareness for the quality of instruction manuals. tekom is headquartered in Stuttgart, Germany, and is the largest European association in the sector with 8000 individual and 725 corporate members.