Schleuniger GmbH in Radevormwald Named Best Training Company 2016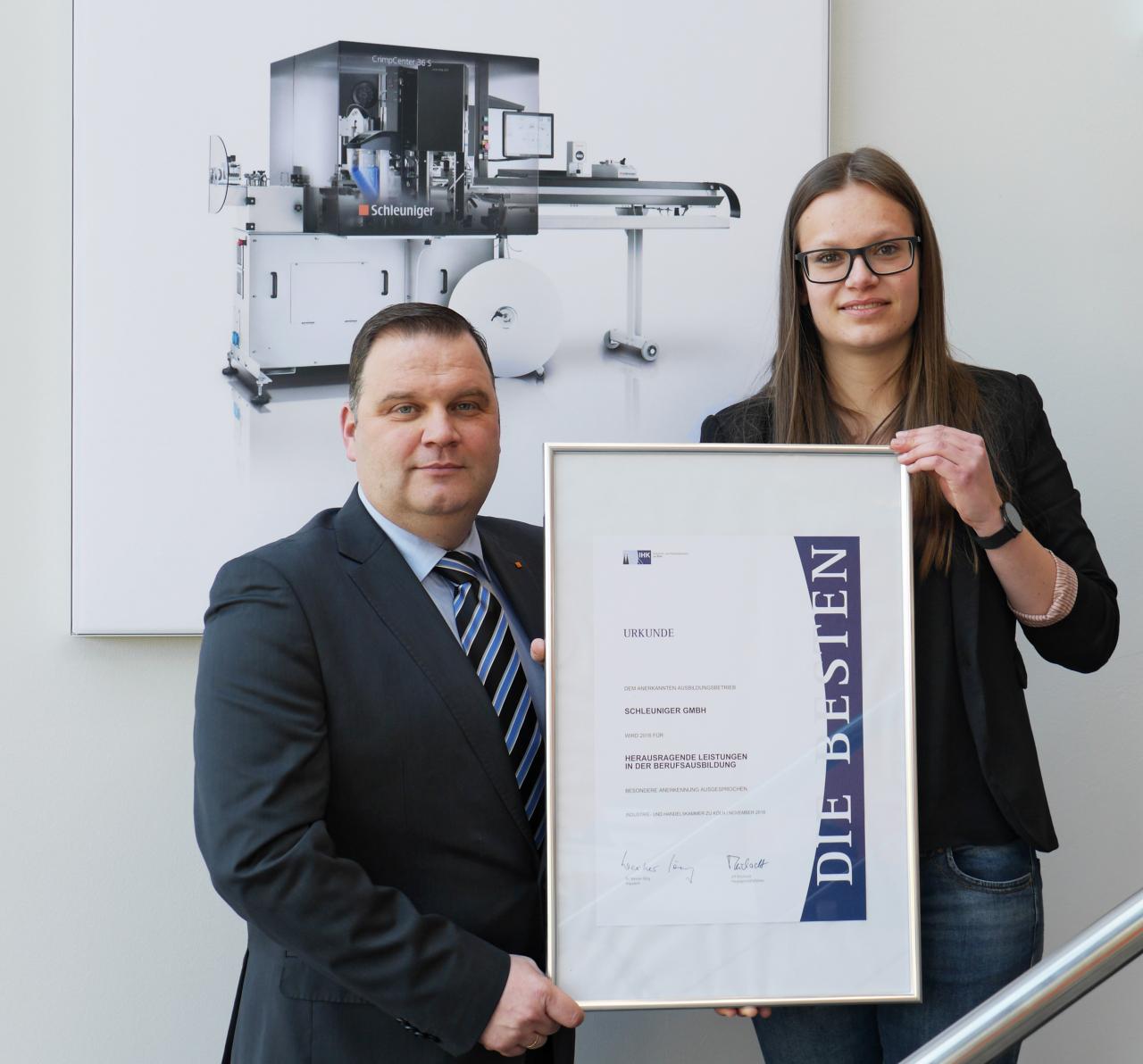 Thorsten Genske, Commercial Director at Schleuniger GmbH, and Mona Brunsbach, Industrial Management Assistant, with the award. Mona Brunsbach was one of the best in her year at the 2016 final exam.
Schleuniger Global
02/17/2017
At the end of 2016, the Cologne Chamber of Industry and Commerce (IHK) awarded the Best Training Company 2016 in the Cologne area to Schleuniger GmbH. The award was presented in Radevormwald by Michael Sallmann, Managing Director of the Oberberg office, on behalf of the Chamber of Commerce and Industry. This honor is awarded primarily based on the results achieved by apprentices at the respective companies in their final examinations. Another factor in the decision is the training environment within the individual companies. Thorsten Genske, Commercial Director at Schleuniger GmbH, is proud Schleuniger GmbH has been recognized for its dedication to high-quality training. "We distinguish ourselves through our very high level of commitment to vocational training. This is reflected in the extremely high levels of satisfaction expressed by our apprentices and in their positive assessment of their training."
In Radevormwald the company is not only proud of its apprentices, but also of the training team and the numerous training officers in the company's different departments. It is thanks to these employees that apprentices receive comprehensive support that is both prompt and unbureaucratic. "Since 2014 we have been working on offering interesting and varied apprenticeships for industrial sales people, mechatronics engineers, and industrial mechanics," explains Thorsten Genske. Numerous projects, such as participation in education trade fairs, an Open Doors Day, cooperation with vocational schools, internships, and the change in the vocational education system, have significantly increased the impact of Schleuniger GmbH as a training company. "We have succeeded in no longer being perceived as an alternative to large companies in our sector, but are now viewed as an interesting training company," says a pleased Thorsten Genske.
Schleuniger's principle is, to train the skills required for the future of the company in-house as best as possible. This also applies to the Radevormwald site. A retention rate of about 99 percent proves the successful implementation of this principle. From their very first day, apprentices are considered members of the Schleuniger Family. The distinction, awarded by the Cologne IHK, confirms that Schleuniger GmbH attaches great importance to commitment, reliability and a willingness to take on responsibility. "We impart the Schleuniger DNA of creativity, openness, and commitment to our apprentices from their very first day with us," adds Thorsten Genske.