New Production and Training Center in Thun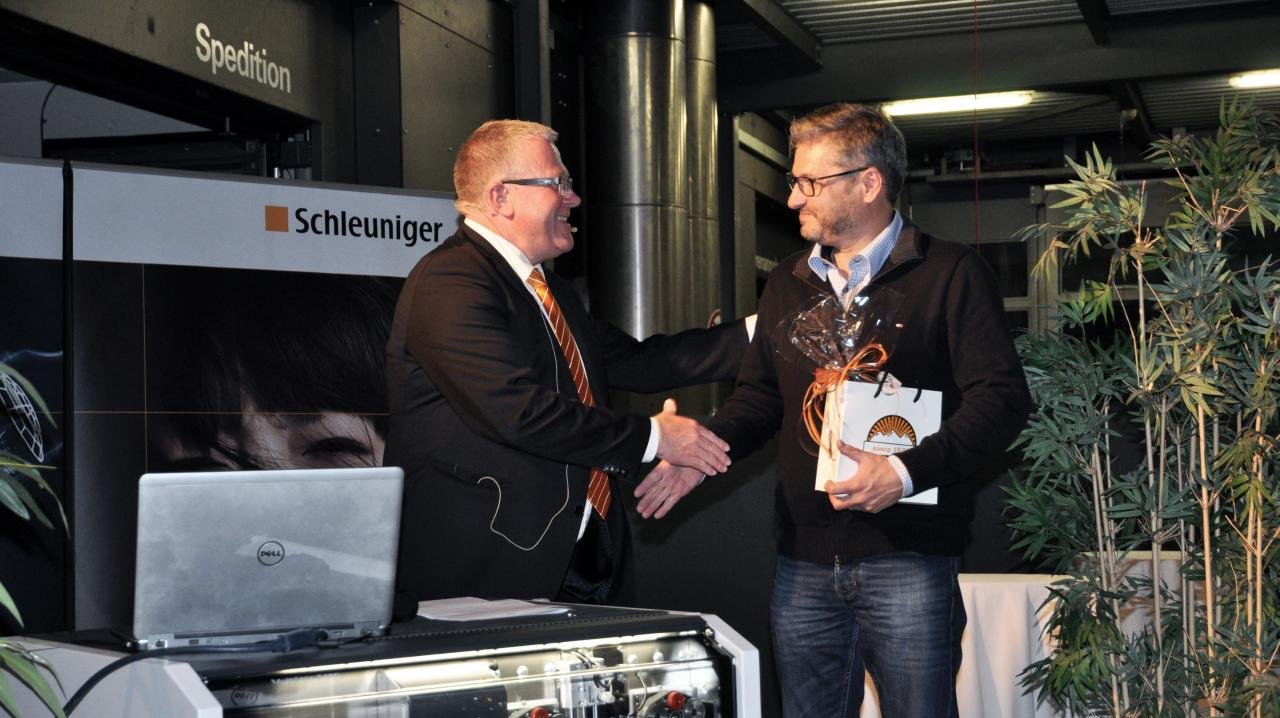 Urs Frei, President Business Unit Cut & Strip | Semi-Automatic & Marcel Pfammatter Projectmanager
Schleuniger Global
11/11/2016
Following nine months of construction work, Schleuniger opened its new production and training center in November of this year. Now that the new factory has been constructed, an additional 1,100 square meters of production area and 150 square meters of office space are immediately available for use at the factory in Thun.
The investment, totaling several million Francs, also includes the purchase of new, state-of-the-art, highly productive tool machines. This will ensure the company's own production in Thun will continue to become more competitive and also ensure the precision components manufactured there are of the highest quality. On the back of this investment, our factory in Thun can further cement its role within the Schleuniger Group as a competence center for complex, mechanical functional parts that can be produced at a high level of automation. "We can also manufacture products competitively here in Switzerland under these conditions," explains Urs Frei, Head of the Cut & Strip | Semi-Automatic business unit based in Thun. The mechanical parts produced in Thun are then built into Schleuniger cable processing machines, ensuring that central processes proceed reliably there.

Schleuniger's vocational education program will also benefit from the construction work. As an example, a training workshop has been merged with Mechanical Production in the new factory. This means that apprentices in technical professions will take on real-life orders for Mechanical Production in an even larger capacity. The goal is for them to be introduced early on to the actual working conditions that await them after they finish their apprenticeship. "The already high quality and attractiveness of our vocational education program will be increased even further by this," says Urs Frei with conviction. Schleuniger is already training 20 young people in seven different professions in Thun. This number will continue to grow once the training workshop has moved.When planning the new factory, Schleuniger set great standards for energy efficiency and thus protecting the environment. Therefore, wood sourced from Switzerland and nearby countries alone was used to build the factory. "The amount of wood required for the factory grows back in Switzerland within 17 minutes," explains Urs Frei. Wood is also a CO2-neutral raw material. The walls of the hall also meet Minergie Standards, which means comparatively little heating is required during colder months. This is not the first time Schleuniger has done its part to protect the environment. As an example, the company has been operating its own photovoltaic system in Thun for the past two years, and approximately 200,000 kilowatt hours of electricity were generated this year alone. This covers approximately one quarter of Schleuniger's on-site electricity needs.